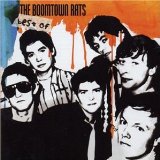 Synonymous in most people's mind with Geldof
Once upon a time, five rather middle-class lads from Dublin got together and pretended to be bad boy rockers. They produced some rather good singles, some of which I bought on vinyl.
Then we had the Geldof-Yates saga and the incredibly silly names for their daughters.
We had Sir Saint Bob saving the world.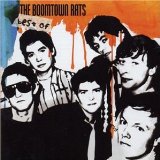 We had Gert buying this album
And now we have two of the hilariously-named daughters behaving like pointless vacuous spoilt brats in the downmarket media. What is that they do? Would there be anybody who would declare "I'm a big fan of/I really admire P. Geldof"?
I have to say that I am a major sucker for celebrity, I like hobnobbing with famous people, name dropping and the rest. But I like celebrities who have achieved something and excelled in their field. Logically there is no reason to lionise someone who has sold many pop records rather than somebody who delivers good prompt honest customer service. But that's the way it is.
Talking of pop records The Best of the Boomtown Rats contains several items of dross; would have benefited from reducing the number of tracks from 19. Despite some smash hit number ones they were never the greatest band around, and even though two of the tracks are from 1984, the rest span just four years. Perhaps 12 would be a better number.
The packaging is really nothing special. A standard jewel case with a twelve-page inlay booklet. The final page contains a track-listing. The remainder of the pages contain poor quality photos and an essay entitled Banana Republic: Memories of a Suburban Irish Childhood by someone called Joseph O'Connor. I suppose I could read it, but the print is very small, and two pages of it are white type on black background. If they can't be bothered to make it legible, I won't be bothered to read it. I like my Greatest Hits albums to have song lyrics and maybe some facts and figures on chart positions. this doesn't.
Still, it was worth getting the turkeys on this 19-track CD for the jewels. I am playing it on random and the noteworthy tracks are
Drag Me Down, a 1984 track I don't think I had heard before I got this album - great harmonies
Diamond Smiles, probably my favourite Rats track, tells a story, has a decent melody and harmonies
Rat Trap, the track that got me into the Rats, another great story and an edgy pulsating track - yeah, there was edgy in 1978, it's not a new thing. And I can sing along word perfect, the product of a Suburban English Childhood, by Gert Blog
Like Clockwork - Johnny Fingers' second finest hour on keyboards
I Don't Like Mondays, their most famous and probbaly greatest song, with some fantastic piano work. An excellent narration of a story, one of those songs that remind one just how crap modern pop music is
Someone's Looking at You - perhaps their most under-rated song, perhaps because it's a bit abstract and philosophical for the three minute pop market, although also more relevant to the present day than to 1980 when it charted.
When the Night Comes: this was the 'B' side to either Diamond or Someone. It's actually a pretty good song, but, in general, if you put B sides on your 'Best of' album, shouldn't it be a sign that the album is too long!
Banana Republic - just strange and not in a bad way. Innovative and different.
Most of the rest are not unpleasant but do seem to be taken from the handbook on how to write a soft rock song for 1970s middle class boys.
Except for (I Never Loved) Eva Braun, which is neither pro-Nazi or anti-Nazi, but sounds like some immature attempt to be thought-provoking, without there actually having any thought process going on. Basically, a bit of pretentious tosh with no intrinsic value
This is a revival of my attempt to blog my entire record collection by 40, which, considering I abandoned it at 39½ has been mysteriously renamed Blog My Record Collection As and When.