A strange review - Domingo picks up a mantle (sort of).
(When I say strange, I mean amateurish and half-hearted...). A sort of vague allusion to some of the items on the programme, some passing surprise that
while it was billed as Domingo's first-ever full concert appearance in Boston, the program was shared with the Puerto Rican soprano Ana María Martínez, who sang almost as many solo numbers as Domingo did
As far as I can gather from the information supplied it was the standard, oft-repeated formula that has happened successfully many times before. I would wager that the first half also contained Winterstürme and Gia nella notte densa, not unimportant numbers from a couple of his signature roles. A programme that has appeared last year and the year before and the decade before...And in several US cities.
Then we get
Even if he did not whip the crowd into a frenzy, at least before the night's deadline forced me to leave following the first encore
- well, at least it's honest. But I do think that reviewers, as well as concert goers, ought to grasp that encores, especially for this sort of 'numbers' concert are not an optional extra. If you miss three encores, you miss a substantial portion of the concert.
The formula is: First part - opera; Second part, operetta, musical theatre, zarzuela (almost certainly finishing with No puede ser). Third part, time to be light-hearted and have (even more) fun. Almost certainly Granada, another 'signature' song.
Still
there was a lot of intelligent and deeply committed singing with Domingo, at age 67, in remarkably healthy voice. On the first half, among others, Domingo delivered the selection from "Le Cid" and one from Francesco Cilea's "L'Arlesiana," with his trademark heft, power, and smoothly burnished tone.
and really, one can't argue too vociferously with
Domingo's unpersuasive yet still somehow endearing attempts at Broadway standards
And I can't be too critical of an article that publishes this picture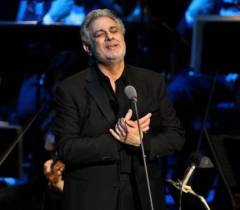 Meanwhile, the Gloucester Daily Times reports A Rockport man found himself in the middle of a "collision of two entourages" as he welcomed a member of international opera royalty, and some real royalty, to the Boston area.
David Gibbons, general manager of the Taj Boston international hotel near the Boston Public Garden, was there Friday when renowned tenor Placido Domingo bumped into a member of real Spanish royalty in the lobby: Her Royal Highness, the Infanta Cristina Federica de Borbon y Grecia.

The Spanish maestro was on his way to a press conference when the elevator door opened up to the lobby and he found himself face-to-face with Princess Cristina.

"It's peculiar, I was just in Madrid yesterday where I saw the king and queen, and today I see their daughter," he said to an international press corps
Janice Mancini Del Sesto, general director of Boston Lyric Opera, said Domingo is as beloved and admired by all those who work in the industry as he is by his fans around the world.

If the press provides any indication of that admiration, at the end of the event, many members of the media rushed to the podium for his autograph.

"He is legendary for his missionary zeal, not only contributing to the art form as a performer and a singer, but also as conductor and an impresario who has responsibility for two large and important opera houses in this country. And the work he has done with young singers through his Operalia contest you have seen on our stage because there are many singers who made debuts with us that were winners and finalists in that competition," she said.

Sharon Daniels, director of the Boston University Opera Institute, said Domingo has had a phenomenal career because he is a great performing artist, who is as convincing on stage as an actor as he is as a singer.

"Placido Domingo is beloved by a new generation because he is a true supporter for their cause," said Daniels. "He supports the creation of new works, new artists, and new audiences. This is a tremendous gift for an artist to give back to the world. He just keeps on giving."
All-round good guy!