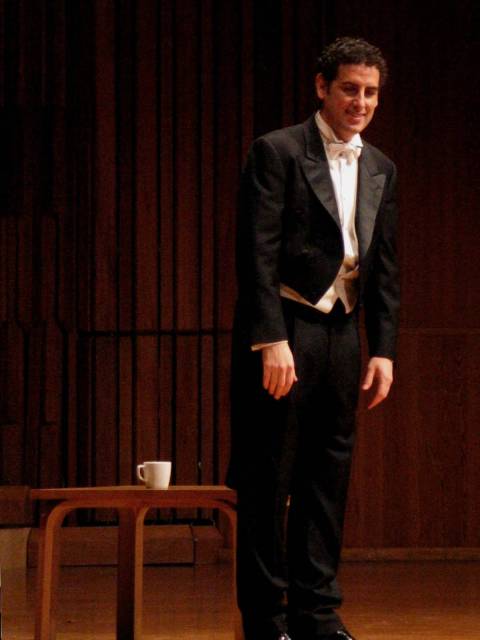 A thoroughly enjoyable evening. What a gorgeous singer!
He came on the stage looking a bit nervous and started by addressing the audience explaining that he had cancelled a concert in New York last week, but he couldn't let us down; however he wasn't feeling 100%, so he was changing the programme slightly, and would have a cup of tea on a table next to him.
And he started to sing - all arias and songs were accompanied by Vincenzo Scalera on piano (who played all the right notes). Programme below the fold.
Oh boy, did he sing! If he hadn't warned us about his cold, or if I hadn't already known about the cancelled New York concert, I wonder whether I would have noticed. I did notice a few examples where the sound was less than perfectly shaped and filled; in the Rossini L'Esule it was particularly noticeable. But for the main part, it was like "he sings like this with a cold; what's he like without?"
He has a very different voice and sings very different repertory from the type of tenors I usually favour. If you don't know his voice it is difficult to describe relative to a Verdi/Puccini tenor, and quite quite different from an "English tenor". Sometimes you can kid yourself into thinking 'this isn't a particularly masculine sound' but that's silly, it most definitely is - he is a tenore di grazia. Most of the interesting and thrilling vocal colour is towards the top of the range. There is a very distinctive sound towards the top, especially when he's pushing the volume. It's not to everybody's taste but I love it, mainly. There were one or two occasions where it sounded a bit squeaky or shrill.
But it's not just about high notes, indeed I am not a high note freak*. What is just as thrilling is the flexibility and agility in negotiating brilliant runs of very rapid notes, with trills etc in florid passages. Apparently, no one ever comes away from an opera or concert lamenting that they missed the tenor's low notes, but I would definitely say - perhaps exacerbated by the cold - his low notes are not great...
However, it is hardly fair to dwell on notes here and there, when the overall performance was excellent. He is assisted by exceptional good looks, which no photo does justice to. He is lithe and moves well. He is not an exuberant performer and is tempting to think of him as a bit cold, but he is very expressive in subtle ways. A very naturalistic style of acting: the occasional hand gesture, or flicker of expression across the face, more expression with his body. Giving the impression that he's feeling rather than thinking the emotions and their physical response.
I was not over-familiar with the programme, and to my surprise I greatly enjoyed the Rossini. I am not over fond of Rossini, a couple of arias and overtures apart (admittedly I have not much made effort to familiarise myself with him) but I did love the execution of these songs and suspect I shall end up buying the Rossini Arias CD I have been avoiding because it's Rossini.
I thought the Mozart was fine, if nothing special. I was not sure about the Il mio tesoro. I've become a bit obsessed about this aria. I like it to be sung with balls, even though most tenors prefer to reflect the wimpish character in their singing. This wasn't ballsy but nor was it wimpish.
I thought the Latino pop songs were nice and delightfully sung, but they left me a little indifferent. Before the encore, the highlight was the Donizetti Linda, si ritirò, which was just gorgeous, and brought the concert to an end on a high, and the audience into enthusiastic applause. I'm afraid Faye and I were screaming a bit like fan girls. We were sat on the front row of the block with nothing really between us and the stage and his passage to back stage. As we screamed at him he twice gave us an amused-bemused glance. She had come down after the interval to sit in the spare seat next to me after unfortunately finding herself next to the Notorious Soap-Dodger for the second week running.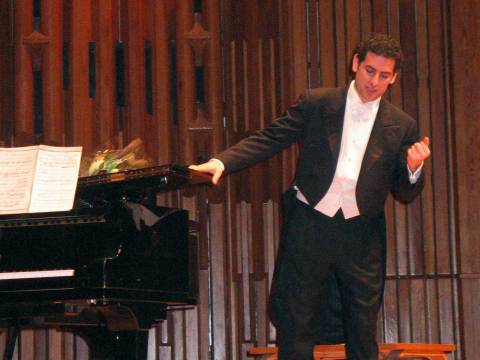 After a uncertainty-causing delay he came back and said he would sing Una furtiva lagrima. He sang it gorgeously. The pianist struck up a few notes and a buzz went round the audience. Ooh I said, he's singing my song! His one concession to the heavier Verdi rep La donna è mobile. And he sang that gorgeously too, hanging onto that final note for seemingly ever, bringing the audience to its feet in a roar of approval. Then he disappeared, perhaps not to return. Some audience members were getting ready to leave - and he came back. He gave the impression of not really being sure what to sing, and there was considerable muttering in the centre block. Someone called out "Ah mes amis...?" Casually he dismissed this,saying he'd be singing it at Covent Garden. He conferred with his pianist, they flicked through some music. He turned back to the audience and said "Okay, I'll do the end of Ah mes amis..." to great cheers. So he played the closing phrase on the piano. Ha, ha very funny. But he obliged and finished off in style with the final section of Ah mes amis from La fille du regiment. This is a very special aria because it contains the legendary nine High Cs which most tenors don't even attempt outside their shower. One of those ultimate tests. And it is fabulous to hear, even for non-high-note-freaks such as me. Cue more adulatory screaming!
Afterwards, he did the obligatory signing session. Just as I had texted off to Twitter that all my friends had disappeared, I spotted Caro and we queued together. It was a fleeting encounter, reinforcing my belief that he is a shy and private person. I suspect that it was a bit of an ordeal for him, but much appreciated by fans such as myself.
Before the concert started there were a couple of amusing announcements, the first being "Ladies and Gentlemen, Boys and girls, Fairy BowBells is on her way," then a few minutes later, I missed but was informed that there was a request not to take photos because it scares the animals and fairies. Dick Whittington was playing in panto in the Barbican Theatre...
* no surprise there...
Mozart Dies Bildnis (Die Zauberflöte); Ah lo veggio (Cosi fan tutte) - replaced by something from Il re pastore; Il mio tesoro (Don Giovanni)
Rossini L'Esule; Intesi, ah, tutto intesi (Il Turco in Italia); Deh troncate (Elisabetta d'Inghilterra)
Bellini Vanne, o rosa fortunata; La ricordanza; Per pietà, bell'idol mio
Donizetti Linda, si ritirò (Linda di Chamounix)
Clotilde Huiracocha - replaced by two other Latino Pop songs
Rosa Mercedes Ayarza de Morales Malhaya; Hasta la guitarra llora
Encores:
Donizetti: Una furtiva lagrima
Verdi: La donna e mobile
Donizetti: Ah mes amis