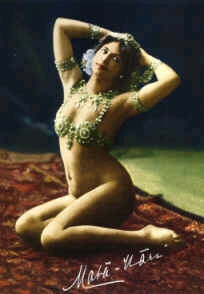 A Dutch exotic dancer and courtesan who was executed by firing squad for alleged espionage during World War I.
Now that's beginning to sound a bit more wild. Married, two children, emigration to Java, where the housekeeper murdered the son, and divorce, with the ex-husband taking custody of the daughter. as was customary in olden days.
No doubt penniless, she moved to Paris, where she performed as a circus horse rider and went by the name Lady MacLeod. Struggling to earn a living, she also worked as an artist's model.
In 1905, she began to win fame as an exotic Oriental-style dancer.
Promiscuous, flirtatious, and openly flaunting her body with a mystique that captivated both her audiences and the public, the act was spectacularly successful because it elevated exotic dance to a more respectable status. Her style and her free-willed attitude made her a very popular woman, as did her willingness to wear or perform in exotic and sexually explicit clothing. She posed for provocative photos, and mingled in wealthy circles.

She was also a successful courtesan, and had relationships with many high-ranking military officers, politicians and others in influential positions in many countries, including France, Russia and Germany. She was not known for being remarkably beautiful, but her spirit was overflowing with eroticism.

In happier times prior to World War I, she had been generally viewed as an artist, a free-spirited bohemian, but as the times grew more grim she began to be seen by some as a wanton and promiscuous woman, and perhaps a dangerous seductress. Her relationships and liaisons with powerful men took her across international borders frequently, which eventually would lead to her downfall.
Now that's what I call wild. Although, frankly, it could also be said that she was an abandoned wife, and unable to make a living 'respectably' she was forced into exploitation. Some women are destroyed by the abuse and degradation; others turn it to their advantage. She did the latter.
Her name is one that has lived on for a nearly a century after her execution, fictionalised and mythologised. A suitable role model? Hardly. But it's difficult not to admire a woman who turns necessity into legend. The internet seems to think there is little evidence that she was actually a double agent. My speculation is that she was,but she was really rubbish at it. I think she probably passed information to and from officers on both sides, but it was worthless tit bits they fed her to flatter her.
Were a I to produce a new 'Wild Women' t-shirt, I'd definitely have her on the short-list for inclusion.
I'm doing a series of blogposts based upon a much-loved t-shirt