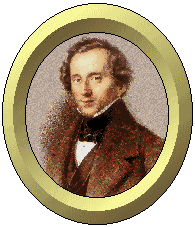 Top birthday person today is Felix Mendelssohn, born in 1809. Whenever I'm asked to list my favourite composers I always forget him, but whenever I hear anything by him, I'm always knocked by its beauty. I suspect I have barely scratched the surface of his repertoire, yet whenever I hear a unfamiliar piece, it's always so accessible. His violin concerto is amongst my favourite pieces of orchestral works. Elijah is one of my favourite oratorios, although I need to study it more.
1826 Walter Bagehot, author of "The English Constitution". One of my best Lambeth jokes was "In the words of Bagehot, committee meetings are the efficient part of the Constituion and Full Council is the dignified part. Only, Committees are not efficient and Council isn't dignified." (One of those jokes that relies on prior knowledge to maximise the laughs...)
1929 Val Doonican. Val Doonican has a very special place of respect on madmusings
1955 Kirsty Wark, Newsnight doyenne
1965 Maura Tierney, my favourite character - Abby - in ER, a programme I have watched spasmodicaly over the years.