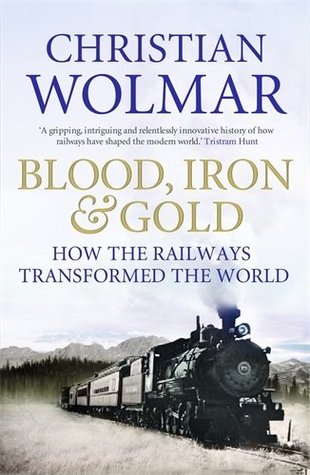 This almost exactly the sort of book I was looking for, especially, actually, after the same author's The Subterranean Railway. I wanted an insight into how railways created communities. I concluded that with the previous book, focusing on the London Underground, such a book might appeal in theory but would suffer in two ways. One would be that I would find the history of far flung places in other sectors of London quite dull without knowing the areas, whereas it would be strange to include the amount of detail I would require for the areas of south London I know well, especially those in my immediate neighbourhood.
In this book Christian Wolmar states that he won't include lots of technical details beloved of railway geeks, looking, instead, at how the railways brought about social change. 
I say it's 'almost' the perfect book because Mr Wolmar also explains that he does not devote much time to Britain, given that he already covered it in Fire and Steam: A New History of the Railways in Britain. That's my mistake in not reading that first!
A couple of serendipities  occurred when reading this. I like to read a non-fiction concurrently with a fiction, and just after reading the chapter about the (incomplete) Cairo to Cape railway, I read Agatha Christie's The Man in the Brown Suit, which includes a significant amount of rail travel in Southern Africa. I have also been watching Michael Portillo's Great American Railroad Journeys. I'm sure neither man would be delighted at being bracketed together, given their party politics, but I'm sure both respect each other's passion for railways and for educating people like me about them! The TV programme illustrated many of the points made in the book and reiterated many, which is a great way of learning.
It was interesting looking at the different strategic reasons for railways. In Britain and the USA, they were developed as private initiatives, whereas in major continental European countries they were state affairs, developed for military as much as commercial or societal reasons, and played a major role in World War 1. Wolmar refutes that the War happened because of railways - the theory is that troops were moved as a precaution in case of War, which seemed imminent. Once they moved that made War inevitable. As is so often the case, the truth isn't so simplistic. Nevertheless, he illustrates, briefly but with clarity the strtegic role of railways in the Great War.
In addition, railways served to unite large disparate countries especially USA and Russia; the stories of Germany and Italy are also interesting. The 'geeky' details he provides are also interesting. My father explained different gauges when I was a child, but if he told me, I don't recall the historical context. for example, Russia deliberately chose a different gauge from (most of) the rest of Continental Europe, in order to repel invasion. Australia reads like a total mess, with every state (more or less) using a different gauge and some more than one. He also notes that as well as rail gauge, with which I am familiar, there is also a set gauge for the size of carriages, which, in effect, explains why France can have double decker trains whereas in Britain, our bridges are built to a smaller gauge.
He also discusses curves and inclines. It's cheaper to build railroad lines the American way - with sharp curves and significant inclines, rather than the European way, which allows for greater speed. Kind of obvious when it's pointed out, but I needed it pointing out to clarify some assumptions.
Wolmar doesn't stint on describing the human toll of railway building. It was bad enough in Europe and North America. Arseholes may complain about 'Health & Safety Gone Mad' but anyone who reads a history such as this will understand the importance of safe working on railway and other infrastructure projects, indeed any construction site. Particularly shocking were his description of the building of a mountain pass in India - partly covered in the BBC's recent series on Indian Railways - and the short but strategically important railway across the Isthmus of Panama, a considerable challenge for engineering and human endurance. It was pretty much made redundant by the building of the Panama Canal not long after, a rare example of railways preceding canals.
He mentions the tragic role that railways played in World War II, transporting the millions of Holocaust victims, and the slave labour that constructed the Burma Railway. Rightly, he doesn't dwell on these subjects, which have been written about at length in more specific publications, but he notes more than once the horror that railways facilitated. More surprisingly, he doesn't mention the genocide of the North American natives 'Indians', which Portillo covered, perhaps surprisingly poignantly. Partly because their brief is different - Portillo looking at history around the railways and Wolmar looking at railways made history. 
The final chapter is looking to the future. The book was published in 2009, which is surprisingly a long time ago in railway history. An optimistic note, that shows the increase in both long distance High Speed Lines and in Metros/light transit around cities - again something that surprised me in Portillo's rides through the MidWest was the number of European-style tram, or streetcar, systems, similar to those in Manchester, Croydon, Sheffield and Nottingham, which did surprise me.
My politics are similar to those of Christian Wolmar, who, as a journalist, has influenced my thinking on transport more than anyone, probably more than everybody else put together. His vision makes sense - how railways can reduce congestion on the roads, by focusing on HS and Metros, and the movement of heavy freight.  
Overall, it is an extremely readable book and very interesting to anyone with an interest in the subject. It's not a book for railway geeks as such, but is for anyone who is interested in the development of the modern world, and indeed in those aspects of public policy that interact with transportation.