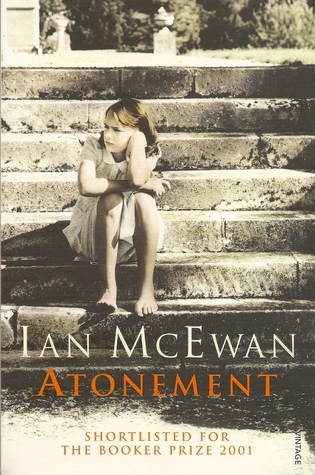 This should be read in conjunction with Atonement by Ian McEwan - one third through and Atonement - Part 2
Contains spoilers
Part 3 of this book deals with Briony's time as a nurse probationer before and just after the Dunkirk evacuation. I wasn't far into it when I googled Bunyan Bags, and found this article:
An inspiration, yes. Did I copy from another author? No
Ian McEwan has a reputation for the thorough research he undertakes before writing his novels. But yesterday, a Sunday newspaper claimed he had "copied" the work of another author for his Booker-nominated novel, Atonement. Here, McEwan refutes the claim, and explains how he drew on research and reminiscences for one of his most celebrated books
In my previous blogpost I alluded to the research that must have happened, and at the end of the book he acknowledges the various sources. So in my mind there is no suggestion of plagiarism. However, when reading historical novels, it is important to remember that their veracity is dependent on the - often unsung  - work of others; the less input from primary sources, the more made up is the historical bit.
Taken on one level, the description of Briony in St Thomas's is worth reading for its own sake, as with the retreat to Dunkirk. It's a decent use of Primary sources. So far so good.
The final part of this section of the book sees Briony having a day out. She walks from St Thomas's to Clapham Common to Balham. This is very much my 'manor'. I get a bit tired of novelists using it but not actually living there -and as far as I can tell the writer lives in North London. But this is far from being the worst case, although it beggars belief that he refers to Balham as an Underground station even though it's obviously both Underground and 'mainline' - Southern Rail nowadays.
There is a coherent narrative that moves forward logically. The reader might not agree with the choices made by Briony and other characters, but no cause for complaint - one of the great things about fiction in general is being free to disagree with characters' choices.
You may wonder why I have expended time and energy writing three blogposts abot a book I care little for. Good question! It's about expectations. It has been drummed into for me years that there are 'better' books and 'lesser' books, and it's only recently dawned on me that this is not really a comment on their actual content, but about their genre. I know I'm not supposed to use 'genre' to describe 'literary fiction', but why not? It's just another category. It's the category that is eligible for various awards such as the Booker, but that doesn't mean that it is inherently superior, or better written, or more meaningful than other genres. for example, I suspect that Charles Dickens would not have been eligible for this category, not being literary, preferring to tell stories about characters and events. Too populist, I guess.
I suppose there is a judgement made by the English Literature industry that this certain category is more worthy than others. If others of us, outside The Industry, protest the merits of books in other categories, it shows that we are uneducated. It's an argument you can't win, because if like me, your education is in politics and history and your life experience is in politics and public admin, this only goes to prove their point. by being expert in anything applied, physical, technical, by definition you're outside The English Literature Industry. I know this could be interpreted as a post-truth lurch at Experts. Far from it. The English Literature Industry is packed full of experts in that industry. It's as if I were to present to you my expertise in audit, such as Detailed Controls Examination, Precision Gap Widening or the respective roles of first and second reviewers, rather than reflections on how well managed systems deliver for the public good, and what makes for a system that's able to deliver.
But we're told that about 'must read' books, books nominated for Booker and so on. In reality most of us read books that are dismissed by the snobs as genres. I admit, there are genres I have grown out of, and ones that just don't interest me (supernatural, dystopia, science fiction). I don't assume that readers of those genres are thick, for all sorts of reasons. Sure, I hate GoodReads 5 star reviews that basically say 'OMG, Wow, this was awesome, I got this as a free Advanced Review Copy' because, where everything is 5 star and awesome, nothing stands out. But there is no evidence  that books classified as literary  are objectively or subjectively better than books classified into other genres. 
Below I outline specific criticisms of the book with a spoiler warning.
Definite spoiler below. Do not progress if you haven't read the book
We get the Epilogue, which acts as a huge betrayal to the reader. We discover that it is actually a novel within a novel, that it's the umpteenth redraft of an account by Briony, and is probably entirely fictional. This is where logic starts to tie us in knots. Of course it's fictional. But there's an unspoken contract between author and reader that everything in a work of fiction is 'true' in that time/place reserved for Fiction. What happens here is the book equivalent of breaking the fourth wall in the theatre.
There are things that don't make much sense in the Epilogue. Some don't really matter, such as upper middle class people born in the 1920s having numerous great grandchildren in the 1990s. Unimportant. Then there is the oddity of Briony and family suddenly being all chummy with Pierrot and Jackson's family, when the impression given elsewhere was that they had no contact except for that one summer of 1935. There is the oddity of Lola, ostracised by her family - the Quinceys as well as the Taliises. Why? Because she was raped?
And then it all begins to fall into place. Lola is the true villain of this piece, guilty of being raped as a fifteen year old. Or was she - did she in fact consent to the sexual encounter but being a silly little girl she cried rape because, after all, that's what women do, isn't it?
The final thing that repulsed me was the 'revelation' that Cecilia had been killed in the Balham station bomb. This was a real incident that truly happened, killing 60 civilians, real people with families and friends. It is entirely distasteful to insert a fictional character into a real tragedy. Many authors have written of characters killed in non-specific WW2 incidents and that's fine, no different from writing people off in a road collision. 
As a parenthesis, I watched a programme called Mistresses. It was entertaining and a decent stab at some of life complexities. Early in the first episode it was revealed that the husband of one of the characters had died in the Twin Towers on 11 September 2001. That got my back up and seemed insensitive and exploitative. It turned out he had used that catastrophe to fake his death, which is something entirely different.
I feel the same way about this use of the Balham bomb. It emphasises what I felt throughout both the Dunkirk and St Thomas's chapters, that the writer was taking other people's lives and memories in act of showing how awfully clever he was. If it's bad taking someone's life, it's even worse taking their death.
I'm left with an overall impression that this is a good example of writing-as-showing-off. I suppose all creativity is, ultimately, a demonstration of 'aren't I clever?'. Most good authors imply that they are merely humble vessels of a someone else's story, whereas with this, it really is all about the author shouting 'look at me, look at me'. Even more than this is the astonishing absence of empathy. It's all one big attempt to get into the heads and inner lives of these people, but it fails miserably, because they never seem anything other than artifice. Predictable, two dimensional, and barely human. 
At the end, I asked myself, what was this book about? It's title is Atonement. For a brief moment we get the impression that Briony has made sacrifices in order to atone for what she said in 1935. But on closer examination, there is nothing of the sort. Yes, she decides not to go to University and instead turns to nursing. Part of me says that that is brilliant, and it takes a special courage to do that war nursing. But there is a much bigger part of me that says 'so what'? Just because her sister went and studied  English Literature at Girton College in Cambridge doesn't mean that this is Briony's predestination. I  put in my usual comment that there are other universities and other subjects. 
But more to the point, this was 1939, and my very recent reading of Millions Like Us by Virginia Nicholson tells me clearly that is what women did in those days. An 18 year old woman deciding to go into nursing is no different from an 18 year old man signing to the armed forces or eg the Merchant Navy. 
And it's pretty clear from the epilogue that, war work aside, there was nothing in Briony's adult life that suggested sacrifice or similar. Married, living in monied luxury, a circle of friends, contact with her extended family. Nothing really. And, this is supposing the incident even happened, when it is strongly suggested in the epilogue that it's an invention by Briony.
So, a hugely unsatisfactory and illogical book, notwithstanding that there is some excellent, if derivative writing about Dunkirk, and, to a lesser extent, about nursing in the aftermath of Dunkirk.