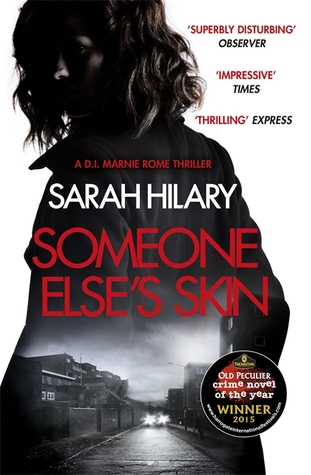 Early in 2015 I joined Goodreads and took a more systematic approach to my reading. I drew up a 'To Be Read' list, which now stands at over 300 authors (not books, authors) and I select the next one to read on a random number basis.
Something appealed about Someone Else's Skin; before I had chance to read it, it won the Theakstons Old Peculier Crime Novel of the Year. So my expectations were set high, and it didn't disappoint. As chance would have it, my random number system suggested the sequel No Other Darkness almost immediately, and this, if anything was even better. 
That was over a year ago, and it was only this month that Episode 3 Tastes Like Fear came due for reading. 
I must admit that I had some trepidation. In the year that has passed I have read many books, especially police procedurals or domestic noir, and I would hope that I have become more discerning. I think also, one's attitude to a book can be affected by the state you're in when you read it. I took a week to read this because I kept falling asleep. Not a comment on the book; this would have happened whatever I read (the week before I was falling asleep in front of the TV and feeling wide awake at bedtime - reading time!).
As one would expect from a series there are several recurring characters, especially DI Marnie Rome and her sidekick Noah Jake. In between reading books two and three, I have read three of Marnie Riches books, and follow her on Twitter, so I now imagine that Marnie Rome looks like Marnie Riches!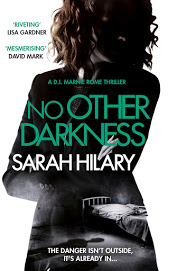 At a basic level the books fulfil my requirements for well written. This covers syntax and use of language, the plot structure, and the characters, including the differentiation between characters. In series fiction, characters don't need to develop within a single episode and not all issues are resolved. Running through the series is Marnie's past - in brief, her foster brother murdered her parents. This acts as a backdrop for three very different cases and influences Marnie's attitude.
On the surface, the series counts as police procedural, although it differs from some others in this genre. You don't get an insight into forensic process,  a Shetland-like series of meandering interviews with witnesses,  the dysfunctional slapstick of Logan and Steele, or Tony Hill's insights into psychopathy.
It uses the routine investigation of unpleasant crimes to lift a lid on society - looking at domestic violence and mental illness. The third book juxtaposes the lives of teenage runaways and people on a sink estate with the current development around Battersea Power station, starkly illustrating the wealth disparities in inner London.
In all books I'm impressed by the research Sarah has put in. For the first she acknowledges Daughters of Shame, which I blogged in 2010. All books show something more than dry research, a real empathy about the social problems and those who fall victim. I read an article just this morning Crime fiction is finally getting the critical respect it deserves. The article says 
Crime fiction reveals a world far removed from the middle-class bubble many of us live in. Crime fiction is always about the outsider.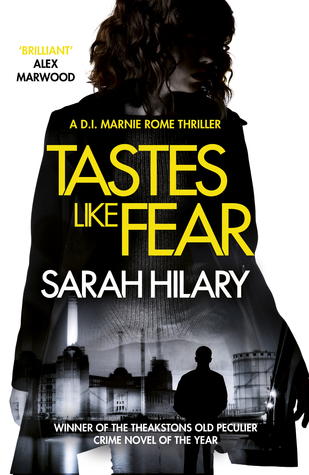 It's a fair point, but over simplified. Sarah Hilary's books are about 'normal' people, 'hard working families' and so on. Domestic violence is no respecter of class, troublesome teens can be from any background, and the perpetrators are not obviously outsiders. I live in a sort of middle class bubble, but that bubble also contains perpetrators and victims. 
There is ambiguity in all the books and in different ways. For example, in Tastes Like Fear, a victim wants to return to the man called 'Harm'. Marnie herself is ambiguous. We read about her troubled past, and I'm not entirely clear about how educated she is. DS Noah Jake is gay with Jamaican heritage and a 'bad boy' brother. You partly think he is too good to be true, but you also feel that there is a pressure waiting to erupt in his future. But the books are thankfully free of dramatic 'twists' - simply outcomes that aren't what one would predict.
The books are not excessively dramatic.  Some other series, books and TV, seem only too happy to bump off serving police officers, even though this rarely happens in Britain. Sarah's police are not mavericks with drink problems and failed marriages, although, like everyone else, they have their personal problems and psychological issues. There's a maturity in the approach to the police characters, in some ways they're quite boring, which makes than more realistic. And the perpetrators and victims are not portrayed as oddballs, making them
I do have criticisms of the book. I'm puzzled how the team manages to stretch across London - the three crimes happen in widely different areas. The third book is set in South London - Battersea and Stockwell. As an embedded Brixtonian I am hypercritical of anyone who uses my area eg I'm sure the fictional Garrett estate has to be Wandsworth, not Lambeth, and that matters to me, but probably not to almost anyone else! And, inevitably, there are certain formulae that have to go into a series - as a reader, when you know another book is due, the obligatory 'Marnie Rome is in danger' isn't frightening. 
To summarise, I would highly recommend this outstanding series. Like all series, it's worth reading them in order but, if needs must, I think you can get away with non-sequential reading. They are entertaining and engrossing and exemplify the best of crime fiction, which, for me, is the best of 'genres'. I'm drawn less to thrillers with cliffhangers and more to stories that use engaging characters and crimes to shine a light on our society. This is stronger than fiction that relies solely on one aspect:  character, plot, place or fancy words. 
I see broad similarities between the writing of Sarah Hilary and Val McDermid. I wouldn't push it too far: Val is graphic in her gruesomeness and focuses on the exceptional psychology of the perpetrator, whereas Sarah is more sociological and rather depressingly reminds us how chance can make us a victim or perhaps even a perpetrator, whilst also reminding us of the power of empathy. 
Out of the three books so far, I think that No Other Darkness  is the best, but that's entirely subjective, and, in any case, the other two are outstanding.