This was another walk suggested by the AA and one I think I would recommend. Pyrford lies just off the A3, using the same junction one uses for Wisley, which I blogged about last year. I like the A3, even though it gets congested in the parts near to me - Clapham, Battersea, Wandsworth and into Putney. But as it progresses through the outer suburbs, Kingston by-pass and out into Surrey becoming a motorway-standard trunk road, it retains a whiff of romance, some evocation of the interwar years when the road network was being improved and motoring was everybody's dream and many people's pleasure.
I love the 1930s architecture, mundane though most of it is, that we pass, even though I could write long essays about how damaging these roads are, ploughing their way through residential areas, and that now all urban planning seems to revolve around the motor car, and that's before I even touch on pollution. But there's a stage in the journey, around New Malden and Tolworth where in my imagination I'm back in that Golden Age of Motoring. 
Pyrford is only just outside London, but very much in Surrey, a suburb of Woking. It's a highly desirable area to live, with house prices that reflect that. But it's free to visit! 
As deserted rural churches go, St Nicholas was pretty interesting. Mainly because it dates from 1140 and has frescos also from about that age, which were uncovered relatively recently.
Nice little churchyard, too. I've developed a habit of taking photos of War Memorials in most villages I visit.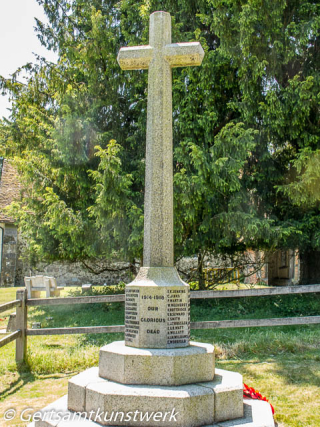 There was a larger graveyard across the road, with the graves tended by a woman, in what struck me as an act of futility. Probably most of the relatives don't specifically request it, and I suspect that the time spent on the dead is time not spent on the living. Will anyone miss her and tend her grave when she is gone? Not that it's any concern of mine of course!


Our walk took us across fields and through a small wood. Sun beating down, leeks growing, electricity pylons and lines strung across the fields. And no one to be seen.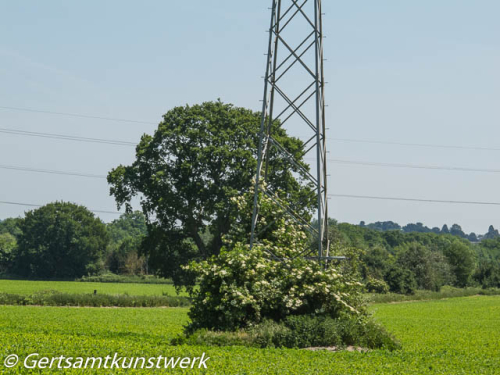 Despite the path being well way-marked by Surrey County Council we took a wrong turn from our AA route and started walking in the wrong direction through an opulent residential development. We almost bumped into some other human beings but when they saw us coming they hurried into their driveway. An odd area, deserted and zombified. There's actually a lot of history around Pyrford but their village website, pleasantly boastful in a likeable small town way, tells of how they have deliberately and systematically destroyed their historic village - the village green is now incorporated in a golf course.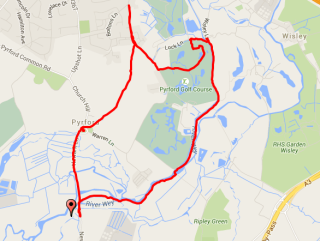 The footpath crosses - and pre-dates - the golf course, but the waymarking signs have been vandalised. An ugly place, a desecration of nature - mown grass, no flowers or productive plants. Trees planted under sufferance in a straight line, and the path through a small copse is criminally neglected. It takes you onto a footway-less road called Lock Lane, rather than the logical destination, Pyrford Lock. And all this for all of six people!
We ate lunch in the beer garden of The Anchor Pub at Pyrford Lock. Very pleasant. The fish and chips were decent enough, but that interlude beside the river is how you imagine lazy sunny days to be. Maybe you want to spend more time in riverside pubs on sunny days but, in the end, you don't because everyone else has the same idea and they're often too packed. But this was nice.
We walked along the river, which is a lot more difficult after a big plate of fish and chips and a pint of cider! Relatively little river traffic and many boats moored. Too many of them looking as if they  haven't been used in a long while. Do people buy boats and just abandon them when the novelty wears off?


We passed a house with its own riverside access, with landing and mooring. That's something I've always quite fancied in a passive way ie not really, but it sparkles the imagination.


Onto the next lock, Walsham Gates, which was really quite lovely. At this point in my life (little over a year ago) I didn't know how locks were constructed. I now know that locks are generally accompanied by a weir, to enable the water levels to be managed.
We were passed on the towpath by several serious cyclists. I only realised later that Pyrford was on the route of the Olympic road race in 2012, but I don't recall them going along the towpath! An elderly woman was sitting reading on a folding chair on the riverbank next to her moored-up narrowboat. Other than them, barely a soul. I did realise our walk was coming to an end when I spotted casual strollers, proof we were barely 100 metres from the car park. A man in normal clothes leaning on his bike on the riverbank, drinking from a can of lager, a family group including 70ish grandma, a toddler and a dog.
The remaining stretch of the river might qualify for my 'happy place'. Perhaps it was a trick of the sunlight, reflecting on the yellow fields. Perhaps because there were several elements that contributed to an English idyll: riverbanks not reinforced against flooding, meadows, a lone kayaker silently gliding by, geese in a field and a ruined Priory. We all know, at least vaguely, how the monasteries were sacked by Henry VIII. Perhaps stranger is how the ruins have been left slowly disintegrating but by no means destroyed for 450 years.