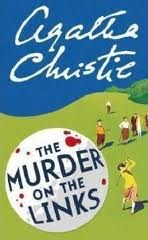 I have read a lot of books in the past 21 months, and posted reviews of them to GoodReads. Which is daft, because my blog should be the prime place for my writing.
Like most people I have seen  many dramatisations of Agatha Christie on the TV, which is perhaps why I didn't read her books. I read some Dorothy L Sayers when young but never Agatha. Perhaps I felt I would read them when I became old.
She wrote about 60 books; assuming I live another 30 years, I'd have to read at least two a year. Not overly ambitious. Daft not to. I currently find crime fiction to be my preferred genre. The best tells us more about society and human nature  than any other genre. The not-so-good is still reasonably entertaining.
Separately, I'm developing my interest in 1920s/1930s history. I'll no doubt write more about this in due course. The political history is interesting and important, but the more I think about it, the more I feel that the end of the First World War was the start of the current era. From urban development to motoring, to some small level of female emancipation to relative prosperity for the middle classes (albeit amidst the poverty for those in industrial areas already bring run down by globalisation). No, no, this is too simplistic. And that is the fascination of that period, Prosperity and the Great Depression, an amazing art form, Art Deco - not actually coined until the 60s but now universally understood - and fascism. Contradictions.
I've not actually seen many of the TV episodes of Poirot. Life getting in the way of TV (Marple was different, being shown mainly at Christmas). But I have seen this one and didn't think much of it. And, I have to say, I don't think much of the book, either.
Agatha Christie is the world's best ever selling novelist. There comes a point with 'great' or 'popular' where it looks stupid to criticise them, at least in generality. For a start, nobody wants to know. So I draft my criticism of this book carefully. 
It was her third, and her second Poirot. Looking at GoodReads, I'm struck by how many readers say, having read many more of hers, this really isn't the best. I'm encouraged by this, because I found it less than memorable. I wonder, if I had read it in 1923, would I have persevered with further publications? Fear of missing out is a bad reason to read a book. On the other hand, it's worth listening to the voices of experience, a luxury we have today in respect of Agatha Christie.
No point me regurgitating the plot - don't you hate it when reviewers do this! But, you know, there were murders.
I don't especially like the character of Hastings. From the distance of over 90 years, he seems like a caricature of a stereotype of the posh but dim type. Clever enough to fit in into his social echelon, and competent at knowing facts and so on. But never trained to think analytically or laterally, a great failing of many British men, and not only of that era. I enjoy Hugh Fraser's portrayal on the TV, playing him absolutely straight as an upper-middle class man educated beyond his intelligence.
More particularly I don't like the structure she adopts in this book. I believe it doesn't feature in most of them - of Hastings narrating a tale. What this boils down to is lots of reported speech - or Hastings telling us what Poirot told him. It gets a bit tedious and makes Poirot seem several steps removed. It also means a lot of dialogue. I think, but can't be sure, that books of this era featured a great deal more dialogue than those of our era. But nowadays, great advice on writing is 'show not tell', and this has Poirot doing a great deal of telling.
Series have the advantage of being able to show character development gradually over time, and a reader coming to this in 1923 would be learning about Poirot. I think we 'all' know a great deal about Poirot now. And i suspect that he will be forever David Suchet's interpretation - which is brilliant and inimitable. But it does mean that I, as a middle-aged woman in 2016, am coming to this book with preconceptions which would not have existed for my equivalent in the inter-war years. 
I'm currently working my way through ITV's dramatisations - I've just finished Series 1. Above all, and notwithstanding the brilliance of Agatha Christie and David Suchet, I love most of all the visual art. Some lingering camera shots just for their aesthetic value. Use of period buildings and cars, and the exquisite interiors. I even like that the clothes are not high fashion but have convinced me that they are what prosperous people wore then.
To conclude, not a great book, but one that needs to be read in my attempt to read all of Agatha christie over my remaining decades.