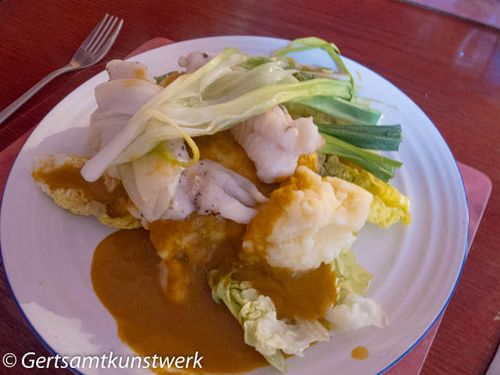 This dish was taken from Nathan Outlaw's British Seafood book. Somewhat mixed results.
I first made the seafood stock back in May and is now a firm favourite in Gert Cottage - it formed the centrepiece of our Christmas dinner.
It's not in the slightest difficult to make, and not really time consuming, although you do have to plan for 'time elapsed'.
You start by roasting some frozen prawns.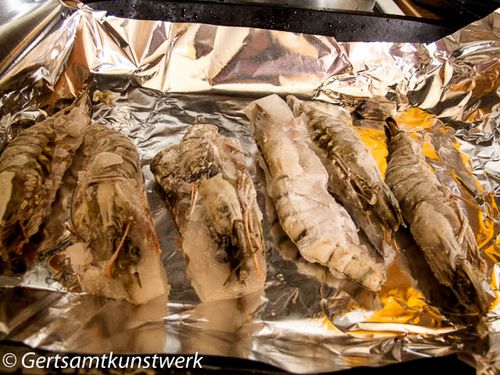 Meanwhile prepare the vegetables (or fruit!) for the stock: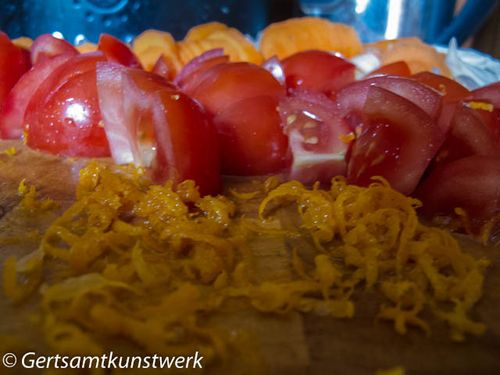 Put them in a pan and leave them to bubble away
Once you've strained the stock you'll want to reduce it to an exquisite intensity, and then add some more flavour.


Nathan suggests serving with leeks or spring onions. Because of the time of year, I chose spring onions. they rather detracted from the dish. The bedof lettuce is a nice touch, although I'm not a massive lettuce fan. As you can see, this is crispy and fresh.
 The sauce is made with fish stock. Nathan gives a recipe for making this. At this time we had some shop bought fish stock to use up.
My Top Tip is to let the sauce cool before putting it in the liquidiser - or use a stick blender. Trust me on this. Turns out to be a beautiful  sauce.
Another top tip is to make sure you remove the membrane from monkfish. Supermarkets generally don't have fishmongers on their fish counters. It's actually quite laughable. In some paces they're not actually allowed to fillet fish because they have had no training, either in fish or in using a knife. And in one upmarket supermarket three of them didn't know about the membrane and insisted that monkfish was only good for curries.