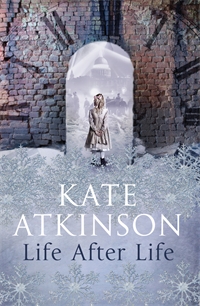 I must have read a tantalising review and downloaded this to my Kindle. I had just finished reading several short reasonably good books. Enjoyable, but all containing several reasons to criticise (poorly constructed sentences and flaws in the logic or basic premise, to name just two). And then I started reading this. And read it over only a very few evenings. I had not previously read any Kate Atkinson, although I enjoyed the TV series Case Histories, based on her Jackson Brodie novels.
Kate Atkinson's website summarises the book thus:
During a snowstorm in England in 1910, a baby is born and dies before she can take her first breath. 

During a snowstorm in England in 1910, the same baby is born and lives to tell the tale.

What if there were second chances? And third chances? In fact an infinite number of chances to live your life? Would you eventually be able to save the world from its own inevitable destiny? And would you even want to?

Life After Life follows Ursula Todd as she lives through the turbulent events of the last century again and again. With wit and compassion, Kate Atkinson finds warmth even in life's bleakest moments, and shows an extraordinary ability to evoke the past. Here she is at her most profound and inventive, in a novel that celebrates the best and worst of ourselves.
 The chronology is confusing until you get what's happening, and perhaps it might annoy people to find that the plot is far from linear. It didn't annoy me, and each time something unpleasant happened to Ursula, it was nice to know that in her next life she would avoid that situation and survive. 
Aside from the slightly odd conceit of a plot, the story is full of warmth. I really like Ursula as a character. All the other people are nicely two-dimensional. On the whole we know nothing of their inner lives or thoughts, which serves to make one identify even more fully with Ursula. I am left with a distinct impression that nothing happens in the book without Ursula being present, so we the reader knows what Ursula knows.
And most of all, this contains some of the best fictional writing I have ever encountered about life in the Blitz, painting broad strokes and intimate details of what it was really like - or so it seemed - not simply the morale raising chirpy tones of a Pathé News reader - abject fear, broken bodies, dear friends and warm acquaintances suddenly taken. 
And, like everyone, I felt the scenes in Germany rather let down an otherwise splendid book.
Five star review from the Telegraph
Themes of fate, family life and renewal are brilliantly explored in this story of a life lived in wartime Britain, from the Guardian - WARNING, contains a lot of plot
KATE Atkinson turns a morbid conceit into a life-affirming riddle, but it's hard to take her history seriously - The Scotsman
Subject to revision - New York Times
Kate Atkinson's new novel follows the multiple lives of an Englishwoman trying to get her own story just right - Salon
More than one reference to Sarah Waters' The Night Watch. I've seen the BBC adaptation, twice. PErhaps I should read the book