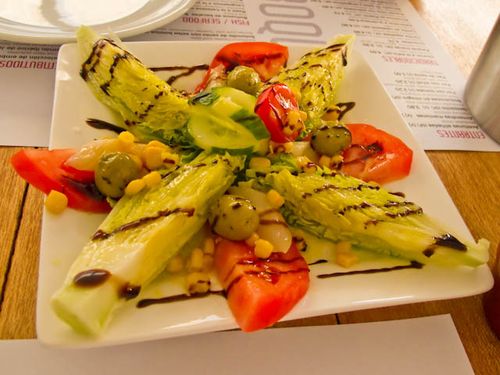 I am so behind with my blogging that before I have got round to writing about my June visit to Boqueria on Acre Lane, I have revisited. We have been three times this year, which is probably an indication of how much we like the place.
It helps that it's very close to home, eminently walkable - but why walk when there's a bus service practically door-to-door! The staff are lovely, can't fault them. Don't interrupt you when eating, in order to ask spurious questions about 'everything okay'* and yet are very approachable. Also, as happened on Saturday, we didn't quite finish everything on our plates. The waiter, who I think is also manager, asked with genuine concern whether there was a reason we hadn't finished. I reassured him that we had been in that awkward position of being hungry but perhaps not hungry enough to eat a full meal, had had rather a large breakfast (and rather a large snack at the Lambeth Country Show).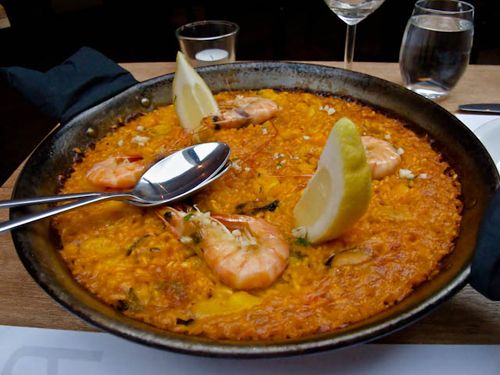 Boqueria do some things extremely well. The seafood paella we had in June was exceptional, better than paellas I have had in Spain. I enjoyed the Rape a la Catalana con gambas - monkfish and prawns I ate Sturday (but forgot to photograph!) And you can see from the photo above an excellent example of how to present a simply described 'Mixed salad' with fresh succulent ingredients.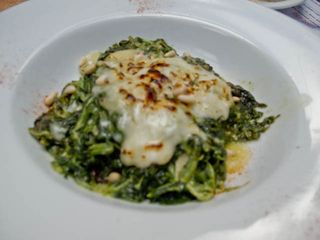 Less successful was Espinacas a la crema gratinada con piñones (fresh spinach with melted cheese raisins and pine nuts). It was eatable and not unpleasant, but I found it to be surprisingly bland - perhaps I expected more of a piquant taste from the goat's cheese. It was a generous portion of spinach, which led to the dish seeming unstructured.
I also enjoyed the Crema Catalana. Although, it  wasn't as delicious as the supreme tarta I ate in January, and, to be honest, it's difficult to find a commercial Burnt Cream to match my own!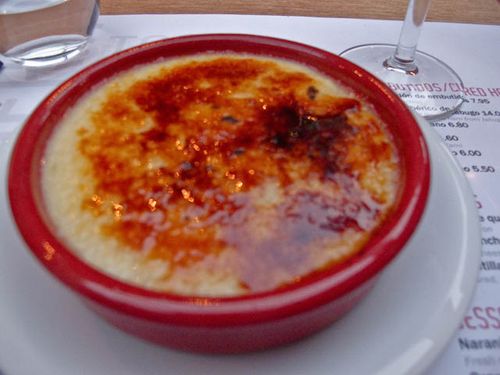 On Saturday, I started with a gazpacho, which was perfect, especially given that I had arrived somewhat dehydrated from a trek through the Lambeth Country Show.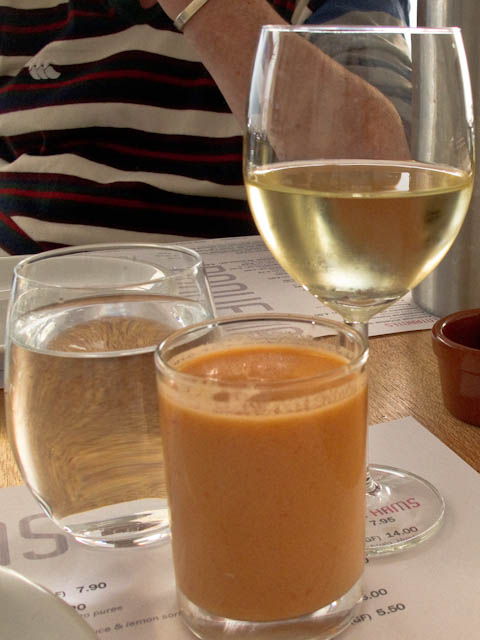 As we left, I said to the staff "See you again soon". A welcoming and relaxed restaurant with good food and friendly staff. 
*I hate it when restaurants do that - it's paying lip-service to some artifical notion of customer service. Good restaurants such as Boqueria are sufficiently observant to tell that customers who are chatting away and eating their food are probably very happy. Interrupting conversation diminishes this.