This is newly opened, and, as I write, still doesn't have a website, except for booking.
It is related to the superb Trinity down the road, although aiming at a different slice of the market. I commented to our waiter that I was expecting red gingham tablecloths - the tables are actually bare - and he commented that at Trinity they iron the tablecloths.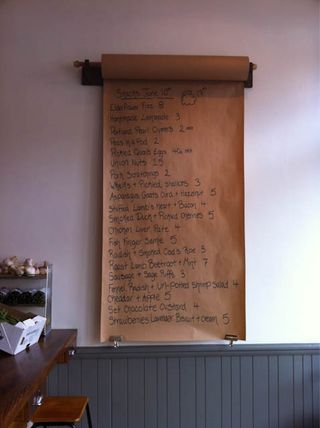 They run a very good Twitter account, posting photos of their current food choice, which looks so tempting. This photos is theirs, showing their barsnack menu
They've put a lot of thought into the decor and theme. Clearly designed to be a bit reminiscent of school or the 1950s, or both, but not quite.
The menus are presented in a folder which is essentially a school exercise book such as I remember from the 1970s. The water glasses are like these Gigogne ones. Ours at school were Arcoroc, but essentially the same. The dishes and plates were similar to the odds and sods that still populate mother's kitchen, dating from the late 50s and early 60s.
I noticed on the drink menu that if you wish to buy your spirits by the bottle, you can store your bottle in a locker above the bar - you keep custody of the key. Very clever, I thought. Encourages the customer to return.
The bar is at the front, and you can have the full menu as well as the bar snacks. At the back is a dining room. I think we arrived at 7pm, with twenty minutes or so it was full. A noticeably young crowd, compared to many restaurants.
We both started with mussels in cider, and were very pleased. Mussels aren't that hard to do, and handy for restaurants because they're so quick. But so many places get them wrong. These were cooked just right, juicy and succulent. Good ingredients.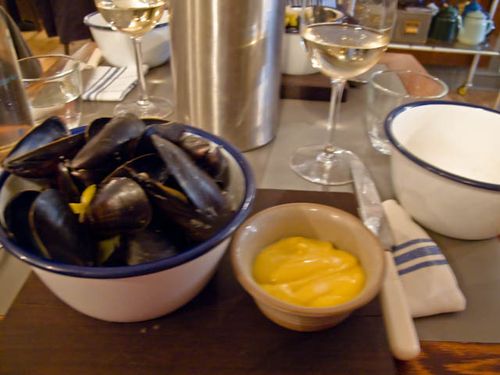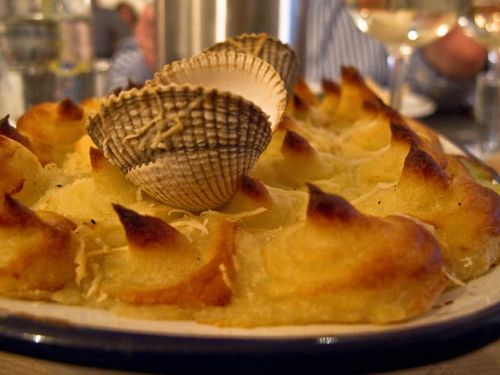 I followed with a fish pie. This was reasonably good. It was packed with salmon, and I'm pretty certain it was farmed. It could possibly have contained a greater variety of fish, although the clam decoration was a nice touch. The mash was well done, smooth but with a crunchy top. However, the portion was far too big, even for me, and I rarely have problems tucking things away. And serving it in a metal dish was a big mistake, because it never got a proper chance to cool down to a temperature where you could eat it properly. It was, overall, veering to the slightly too salty. (Note, I have a slight aversion to salt. Note further, this does not affect my ability to enjoy eg salt-caramel, or butter sprinkled with sea salt). 
This photo adds no further info but I like it as a work of art!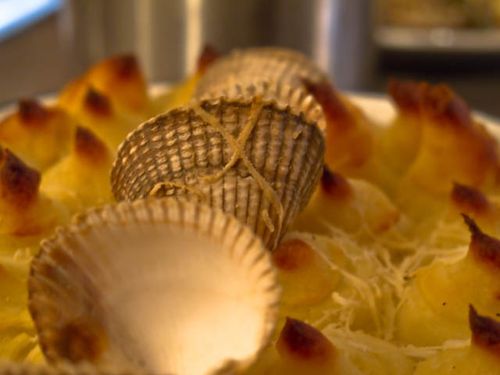 Jimmy went for the catch of the day, which on that day was John Dory. He was not impressed. I don't think he'd ever had John Dory before. I'm not sure I'd even heard of it until a couple of years ago. The bones: flesh ratio isn't satisfactory. Additionally, the menu hadn't made clear he should have ordered a side dish, too. It did come with a horseradish type sauce, which he thought was horrible. He noticed the woman on the next table also abandoned her horseradish and was struggling with the bones:flesh ratio. To be honest, I'm surprised he ordered it: there were other dishes on the menu I'd have thought were more him.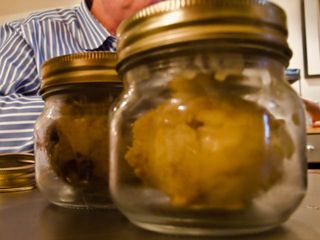 We finished with pudding. Again, he chose ice-cream, and again was disappointed. He ordered three scoops, which isn't clear in this photo. Each scoop came in a separate jar. I thought that was a bit gimmicky. One was described as mint, but didn't really have a mint flavour. The others had beguiling flavour-titles, and he confirmed that they tasted all right. But he didn't rate the quality of the ice cream. I think he has finally realised - ably abetted by his new favourite place, Nardulli by Clapham Common - that if you want decent ice cream, don't order it in restaurants.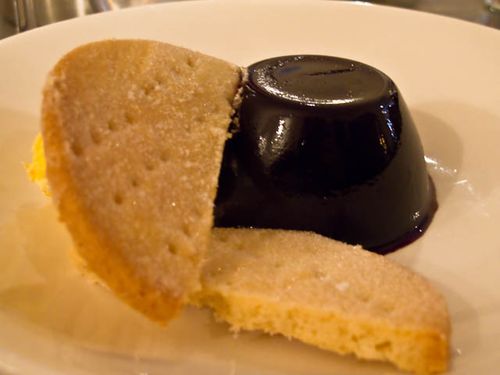 My pudding was blackcurrant jelly, shortbread and clotted cream, which, all things considered, is a perfect little pudding. Everything just right, and so beautifully presented. The shortbread was delicate and mouth-melty. the jelly was the right balance between sweet and sharp. And who can resist clotted cream?
I would go back to Bistro Union again, but I think Jimmy would need some persuading. He feels that - setting aside alcohol prices (and he only had two glasses of wine because he was driving) - it's no cheaper than Trinity. The food is aimed to be more 'cheerful', not 'fine dining' and the service was less formal - although very good.
I've looked at a few 'professional' reviews. Once you've waded through the hackneyed 'I didn't know restaurants existed south of the Thames' crap, or describing Abbeville Road as a 'backstreet', (which suggests the 'professional' critics know less than they think), they seem to concluded that there are some real strengths in the place but also some weaknesses. I hope - and assume - that as a new place, they can address the weaknesses, because, Jimmy's reaction aside, I think it has a lot of promise. And seems like a breath of fresh air.