It was one of those days. I was taking the day off Sick. I was told in no uncertain terms that I would never not be sick if I don't get out and do some moderate exercise. The plan was, to walk across Tooting Commons and catch the bus back. But the sky looked ominous. I didn't want to be out, let alone walking, and I certainly didn't want to be caught in a downpour in the vast open space of Tooting with no shelter. Change of plan and bus to Clapham.
Stroke of genius, rather than get off the bus at the Underground station, as one usually does, stay on for an extra stop, traversing the Common by bus along the A3 and alighting north of North Side.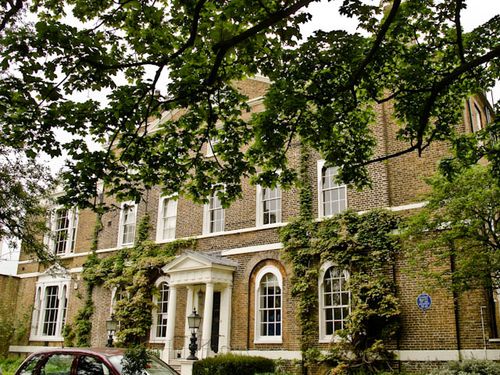 The fun is in observing the detail. Cedars Road is flanked by two glorious 19th century buildings now converted into modern 'luxury apartments' ie Yuppie Flats. I tried to take photos but the view was blocked by a constant parade of coaches and bin lorries. Instead we strolled along to Trinity Hospice. Trinity Hospice is a well-loved local institution providing skilled compassionate end-of-life care. The blue plaque is for Eminent Architect Charles Barry, who lived at the house long before it was a hospice. 
There are some very attractive houses along North Side. I pass occasionally on the bus, and very occasionally indeed on foot. I have often thought about stopping & photographing. Today was my opportunity.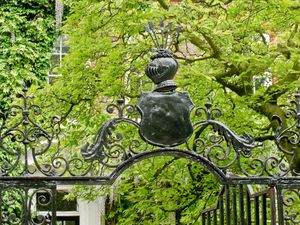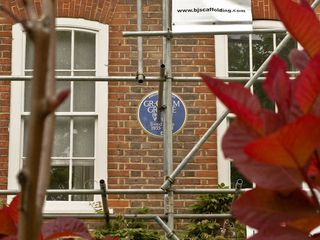 The row is full of history.  Two new blue plaques were installed in 2011. One, by The Music Hall Guild of Great Britain and America for Marie Kendall and one by English Heritage for Graham Greene, whose The End of the Affair was partially set locally. The internet tells me there is also a blue plaque for Edvard Grieg, but I overlooked it.
Indeed, another blue plaque was actually being installed on The Chase by a man in red trousers as we walked past, so I went to have a look. And nearly fell over laughing. There was already one up to commemorate a street party held for Edward VII's Coronation. This second plaque was to commemorate a street party held for the wedding of Kate Middleton. I later saw that that particular road got BBC Dumbed-Down London News to film their Diamond Jubilee Street Party. I have to say, if the zenith of your life's achievements is organising a barbecue, I'd keep quiet about it and reflect upon the empty pointlessness of your life!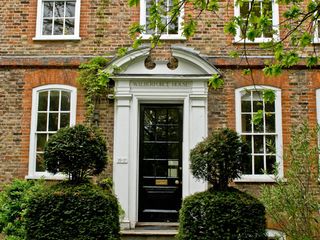 Clapham is synonymous with the Clapham Sect, known for their tremendous work in abolishing Slavery, lead by William Wilberforce. They were Evangelical Christians within the Church of England, but their reforms were opposed by the always conservative/reactionary Church of England no doubt eager to protect its entrenched privilege of maintaining slaves on its Caribbean Plantations.
They attended Holy Trinity church. This is actually - and, at least in my experience, unusually - on the Common. The 'Trinity' in its name is lent to other local institutions not least Trinity Hospice and the ought-to-be-Michelin-starred Trinity Restaurant.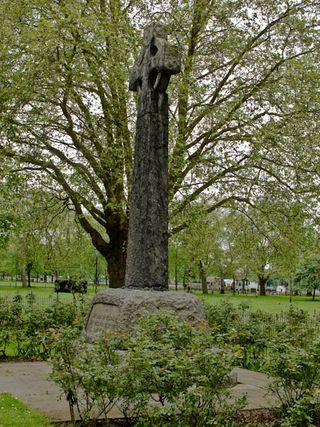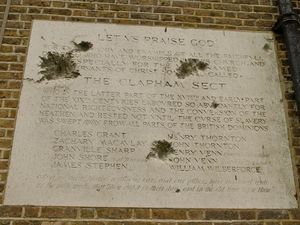 The Church seemed to be closed - entirely understandably - and, to be honest, it doesn't seem particularly appealing as a building, at least from the outside. Rather stupidly, I wondered what could possibly have caused damage to this plaque, stubbornly denying it was bomb damage. It was almost as if I hadn't walked past the Graham Greene plaque and mentioned 'that film we watched' which was set on Clapham Common!
From the Church we strolled along to Old Town, most famous for being a bus terminus and hard standing. Also, site of closed down toilets. I think I have forgotten more about toilets on Clapham Common than most people ever needed or wanted to know, but they are good solid brick public conveniences and could probably make a nice chic on-trend café.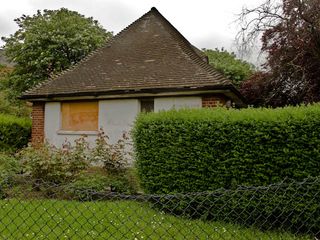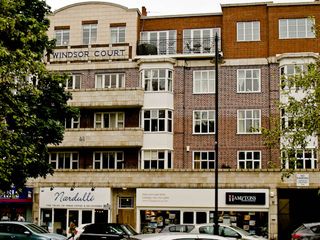 Instead, we went to Nardulli's. A decent enough coffee. Remarkable neither as excellent nor poor, I would return. My ice cream boy tried a couple of scoops of their ice cream. He has returned several times. It has become a destination for him out on his bike, when I'm working, or not well enough to go out. He says it's the best he's had in this country. He says it's better even than Lab-G in Brixton. I'm happy he has ice cream places to go to in both Brixton and Clapham.
When you've lived near somewhere for a long time, you tend to take it for granted and often just see it as a transition, so it's actually nice to stroll around and look at soem of the details in just a small area.

I was intrigued by this building. Granted, I haven't searched the net exhaustively or asked a direct question of Claphamites, but I don't really know what it was.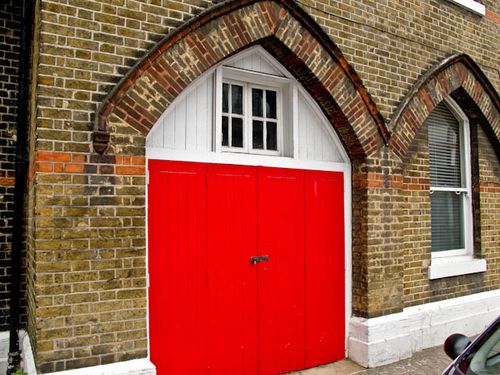 Then there's the statue to Temperance. Jimmy pretended to be quite angry later that I had 'dragged him' along to look at such blasphemy.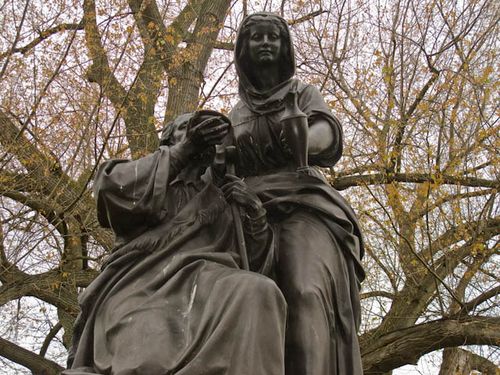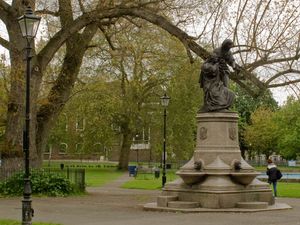 While we were standing there, something very odd occurred. I think there was a drop in air-pressure but that may be the product of my post hoc imagination. But, suddenly, all the birds swarmed. There was n eerie silence. They hadn't been disturbed by a dog, a siren or a bang. But they all swarmed and sat at the top of just a couple of trees. Vaguely Hitchcockian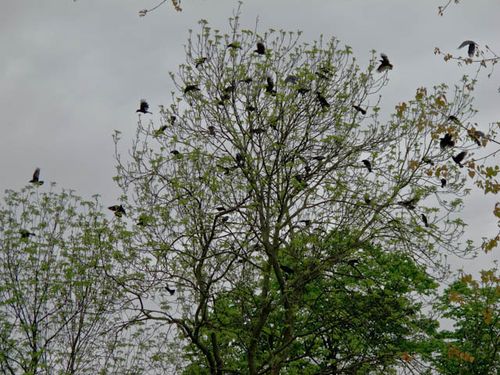 We walked to the bus stop as it started to drizzle. Just after we got home, it started to rain properly. And I went for a lie-down.