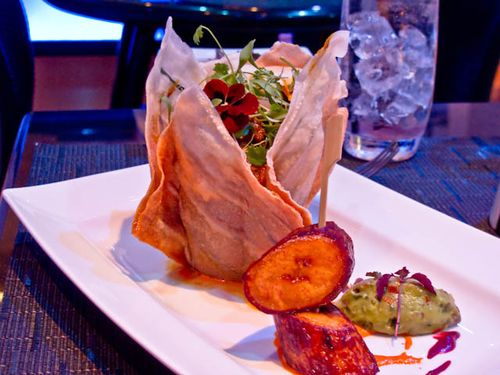 We went here in mid-April, a month after it opened. I don't go to first nights, for restaurants or for operas. The critics cast their judgements and this becomes the accepted wisdom. I don't fully trust professional critics, anyway. I read a review of this restaurant which suggested that the customers were 'uncomfortable' with the 'formal setting'. A restaurant that is owned and managed by Black people, with a Caribbean-influenced cuisine, and, going by both their own photos and what I noticed when we visited, quite a lot of Black customers.The professional critic thinks Black people are uncomfortable in formal surroundings. Hmm.
Location. Challenging for professional food critics. With no parking. It's converted out of part of Tulse Hill Station, even having a ticket machine outside. But once inside, I didn't hear any trains and forgot I was near a station. Just along the South Circular from us, but too far (for me) to walk. So we bussed it, because loads of buses pass nearby.
Bloggers who had been before us made a big deal of the blue light. A blue light that makes photos of the food look either washed out or strangely, well, blue. I would say my biggest criticism is the blue light. It's not just about photography; it tinges companion and food (less obviously) with a slight but disorienting blue rinse. If I had one piece of advice, I'd say, get rid of the blue light.
Otherwise, I liked the decor. Clean and crisp and clear. It even smelled of new-ness. Lights that were optical illusions and looked like they were small alcoves with a distant vanishing point. I've been to restaurants where the decor is tasteful, modern and crisp - and bland and impersonal. Take away the blue light and Bubba's would verge on this. I prefer some details or touches that give it individuality and personality. There again, I don't like places where the decor becomes the dominant statement. It's a fine balance to achieve.
I'm not familiar with Caribbean food despite my decades living in South London. Jimmy, on the other hand, claims to be an expert. And this is where I made a mistake. He ate jerk pork and curried goat. Classic dishes with a 'fine dining' twist. Being that I don't eat meat, I didn't have those, but I should have stayed close to what I am familiar with.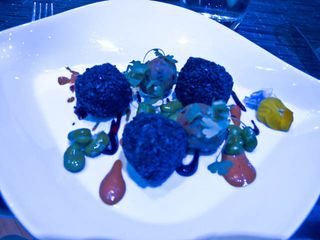 We started with cocktails. I had a Gin Smash, which was luscious. My starter was Black sesame, kidney bean camembert fondants with plaintain smalls and glazed boad beans, elegantly presented and interesting to taste. I really liked the taste, but bizarrely, I'm not sure I'd necessarily have it again. A lot of complex flavours battling with each other, satisfying but perhaps rather heavy-going for a starter. Jimmy declared his jerk pork belly with apple and nut crunch and apple and cinnamon puree a great success.
Service was of a high standard, perhaps veering towards the deferentially subservient. The front-of-house manager and the waiter both introduced themselves, but didn't then give their life stories or attempt to engage in unrelated chit-chat. Attentive and prompt, without hovering and intruding. We'd booked for 8pm but arrived closer to 7.30pm, when there was only one other party. By 8.30, the place was full, with a good lively buzz. I've read reviews praising the RnB soundtrack, but I can't say I noticed, which is good, because RnB is one of those genres where I can get very quickly annoyed at the mediocre formulaic offerings.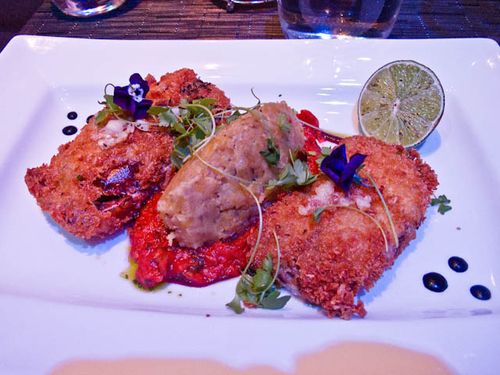 I made a mistake with my main course. I saw the word 'crab' and pounced, not noticing or processing the words 'soft-shell'. And I have to be honest, I didn't like it. I think that was me, not a criticism of the restaurant. I liked everything else on the plate but really struggled to eat the crab. I just felt that it was a lot of salt water. So many other things on the menu I could have chosen. But I loved the plaintain chive mash and rustic tomato sauce. I ordered a Singapore Sling, but I don't think the drink that turned up actually was. In a fog, I'd recognised the phrase 'Singapore Sling' as something I like but not being able to remember what it was or what I liked about it. (And, no, I'm not stupid. the fog is a side-effect of fibromyalgia; not only does it occur, but it also diminishes one's confidence so you doubt you're remembering properly).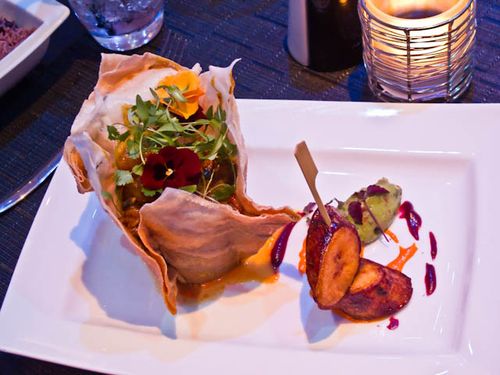 Jimmy was very pleased with his Authentic Caribbean curried goat in a roast petal tuille basket served with avocado puree and plantain rings. The goat was tender and well-flavoured. He didn't eat the filo basket, but, looking around, nor did other people. It makes for attractive serving, but I'm sure isn't really intended to be eaten.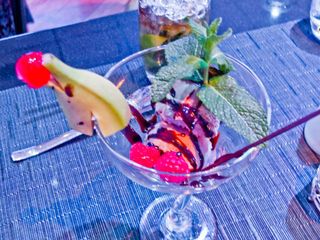 Jimmy finished with a selection of exotic ice creams. Yet again. He loves ice cream, almost invariably picks ice cream as his dessert and, more often than not, the ice cream isn't what he expects, and he's disappointed. I'm sure everybody else who likes ice cream would love these, but he only cares for ice creams made from organic unicorn tears and the noble perspiration of passionate artisans. This wasn't!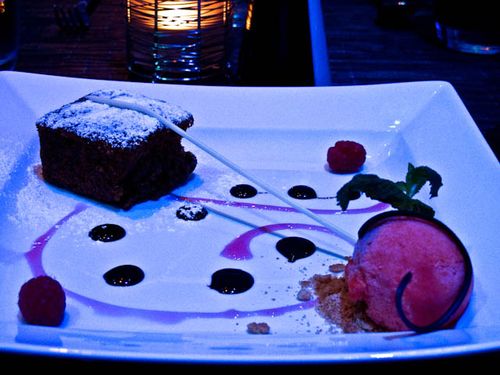 I had carrot cake with carrot and rum sorbet and spiced puree. The carrot cake was beautiful, dense yet light. Too many carrot cakes are stodgy; this was melt-in-the-mouth but substantial. I also enjoyed the trimmings. But the sorbet wasn't for me.
So, I am definitely going back to Bubba's and would urge other people to go, too. Remember, right next to Tulse Hill station, and close to a plethora of buses. And a cab office just round the corner. Next time I go, I shall opt for dishes that are closer to my comfort zone.
I think I concur with several other bloggers that there are a few hesitations about the place, but I feel that these are inevitable when an establishment is clearly ambitious and wants to be innovative. If you want to avoid this go to a chain restaurant or somewhere that has been cooking the same old same old for twenty years. 
Other blogposts:
The Picky Glutton - special thanks for photographing the menu
The restaurant has its website but as I write it's not really up and running. They are active on Facebook