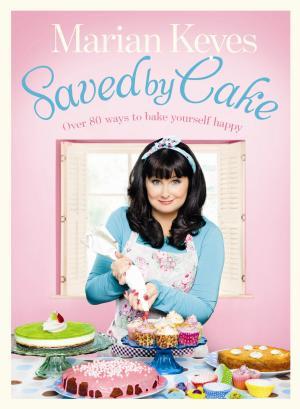 I bought the book impulsively. When one of your favourite authors writes a book on baking, you buy it, don't you? And, of course, having bought it, you have to use it, don't you.
To summarise, Marion has suffered from depression for years and has tried all sorts of different treatments. But, almost by accident, she discovered that obsessive baking somehow has worked.
Now, I like the book. It has some lovely ideas in it and some gorgeous photos, so it seems almost churlish to be critical. But I do have a major question. Apart from the recipes she describes as having been handed to her by her in-laws, what is the source of the other recipes. Sure, once you've grasped some basics, it's easy enough to experiment. It's easy enough, even when baking, to mix and combine elements of several different similar recipes, and, in effect create something new. But I have read nothing that suggests she experimented. So, I'd rather appreciate a credit to the source of the recipe.
She recommends using muffin tins with an 8 cm diameter. Mine are only 7 cm - at the top. less at the bottom. In retrospect I should have followed mu instincts and made more smaller cakes rather than trying to squeeze all these ingredients into six cavities just because it was convenient.
Other than that, it's very smple to make, but you do have to make it the day before.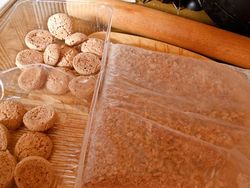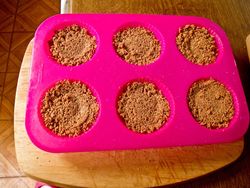 Take some amaretti biscuits and bash them into submission, mix them with melted butter, and squash them into the muffin tins. Bake them blind, them cool and then refrigerate for an hour.
In one bowl mix cheese, egg yolks and sugar. In another, beat egg whites.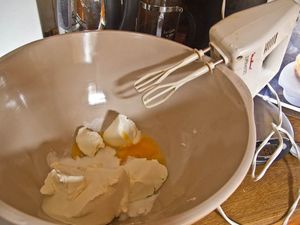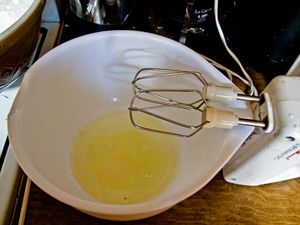 When the egg whites are in stiff peaks fold them into the cheese mixture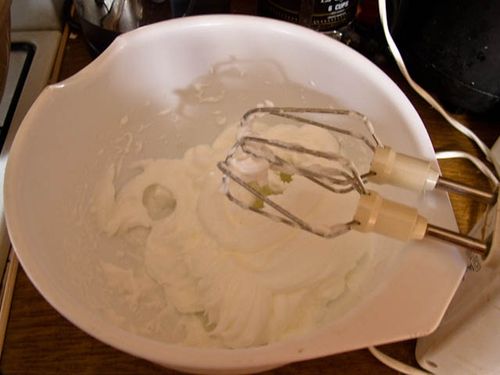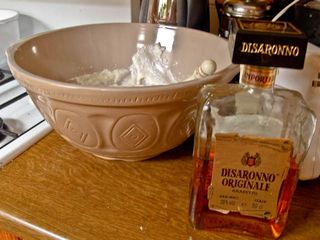 At this point, you must remember that you should have added the amaretto to the cheese mixture even before you'd added the egg whites.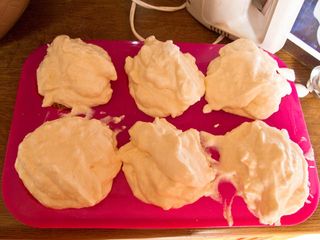 No worry, though. Just dollop the resulting mix into the biscuit base. At this point I realised that my earlier instinct was right. Too few muffin tins (or sufficient too small muffin tins). I was just piling the mixture into greater and greater piles, a precarious balancing act entirely dependent on it being fairly stiff as a result as the beaten egg whites.
Bake them in the oven for 40 minutes, then switch off the oven and leave the cheesecakes in there for two hours while the oven cools down. And refrigerate them overnight.
The finished article shouldn't overflow the sides like this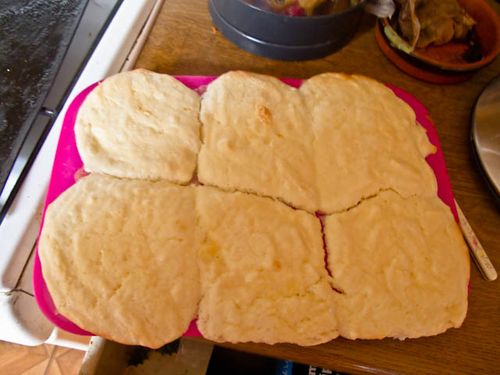 Althugh in practical terms, this really isn't a problem . You just get mushroom-shaped cheesecakes rather than ones suitable for food porn.

And if you want them to look neat, just trim round the edge, like so. But remember to co-ordinate the camera settings and ambient light, like I didn't!
Very very nice. I shall make them again.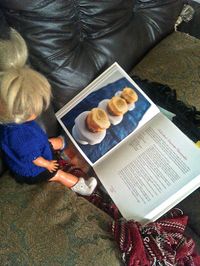 Meanwhile, my trusted assistant shows how theu should look!