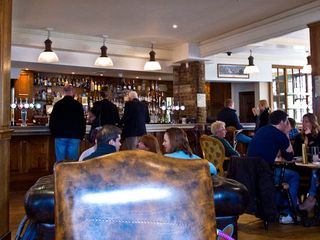 Sunday was a beautiful & sunny day and relatively mild. Ideally, we would have gone for a walk or a cycle ride, but quite apart from my low energy/stamina levels, Jimmy has manged to injure his toe (well, according to the doctor, it's either injured, or gout, or arthritis). So we had a choice of staying in (and ordering takeaway) or going out to eat somewhere.
We were reluctant to go to a pub for Sunday lunch. We did used to think we had bad luck that, so often, a meal out was all-but-ruined by out of control children neglected by their uninterested parents, or, worse a certain type of SmugMarrieds who feel obliged to TALK VERY LOUDLY to show what marvellous parents they think they are. Insecure, much! But one of the beauties of Twitter is discovering that this is a scourge that is sweeping the nation. Twitter also provides information on local places to eat. We decided to risk The Manor Arms.
It's been open a good few months now since refurbishment. Under previous management we have attended family christening, wedding & funeral, but it was a very different place then. We must have looked like the wide-eyed yokels from the up-the-hill when we saw how big the place is, and absolutely packed. It was like we got the last available table - and there was plenty of turnover whilst we were there.
They seem to have found a successful formula. Eminently affordable, and a small menu, they must serve several hundreds on a Sunday. My criticism of the menu was that there were two vegetarian choices, both of them pasta-based, which was a weakness in planning.
Jimmy opted for mushroom soup & olive tapenade, followed by Free Range Pot Roast beef. He didn't have a pud and I let him tuck him rather than wait for me to photograph. He thoroughly enjoyed both courses and was particularly impressed by the roast potatoes, which can be so badly done in pub Sunday roasts.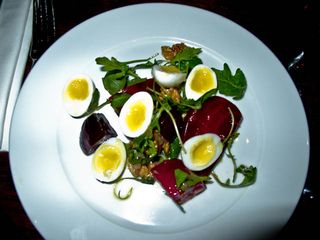 I started with Mixed Beets, soft quails eggs & Walnut salad, which isn't normally the sort of thing I'd go for, I have mixed feelings about beetroots. I can never properly predict whether I'll like them or not! But obviously, they add so much colour. Very nice, very fresh ingredients, prepared and presented with a light unfussy touch.
We weren't in the best place, positioned between the fireplace and the Ladies loos, so my view of the pub was limited, and my sight-line was constantly interrupted by the trail of women and girls heading off to there. Also, in a niche behind my left ear was a speaker, probably inaudible to everyone else, pumping out grating prog rock. On the next table was a three generational family, the youngest being only a few weeks old. They were fine actually, although only Grandma seemed to know how to hold a baby with wind. I got a bit antsy when Dad went and stood behind me - in my space - swaying in and out of my peripheral vision. I suspect he only did that while Jimmy went to the bar.
They moved off, and the table was taken by a party of two young couples. Until the waitress told them it wasn't their table. They insisted they had booked for 2.30, and although they were late, the restaurant was running late, too. The waitress pointed out that another party had been waiting longer, this was their table. With an enormous sense of wounded Entitlement the Mouthy Woman demanded to know who had decided. The waitress stated firmly "My boss". Mouthy Entitled Woman protested they didn't want to sit at two tables for two, trying to intimidate the waitress. I'll forgive a restaurant a lot if they don't stand for Inflated Senses of Entitlement. Not that there was much to forgive, really.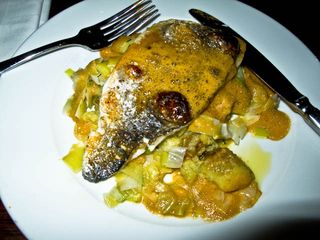 Main course arrived. I had Grilled Sea Bream, Charlotte Potatoes, buttered Leeks & Shellfish Bisque. A good combination of flavours. Excellently cooked, good ingredients. Froth is obviously a big thing at The Manor Arms, for Jimmy also had froth with his soup. 
I should know better but I'm a sucker for puddings. Again, in an effort to break out of predictability, I opted for bread and butter pudding with caramel ice cream. I suppose, after the first two courses, I had high expectations, which t didn't live up to. It was 'fine' but I don't think it was anything special. And I can't decide which photo I prefer.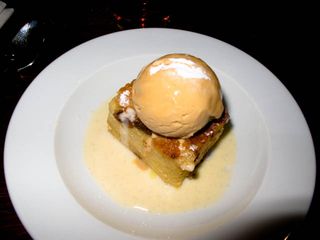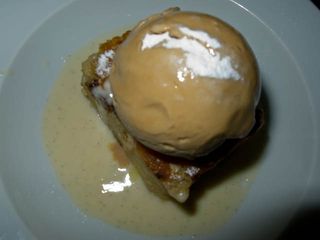 Although, actually, food on white plates doesn't look that great against the white background of the blog...she realises after 9 3/4 years of blogging...! So I've also added them to my Food and Drink photo album, which has a grey background!