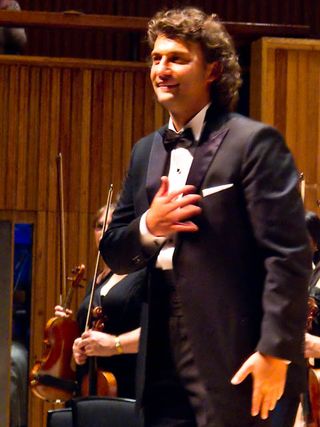 Jonas Kaufmann has a remarkable, amazing, nearly perfect voice and a strong musical sense. I couldn't imagine not loving to hear him sing, even in roles that don't especially suit him (as I have heard him, as Nerone in La clemeza di Tito, at this same venue nearly 8 years ago). And so, naturally I enjoyed Monday night's concert.
However, I have reservations about the whole thing. I thought the tickets were exorbitantly priced. Granted, I opted for the most expensive ones, but largely because I thought the cheapest weren't significantly cheaper. I thought it was a good example of why a single singer shouldn't do an orchestra-accompanied concert. I've been to performances with one singer and a piano, and concerts with singers alternating, with the odd duet and one or two orchestral interludes. But last night was a concert of generally poorly conducted orchestral excerpts with the occasional vocal interlude. In terms of organisation and programming it lacked the smooth, high production values of Plácido and Angela's O2 concert in July. The long slow orchestral pieces went on too long, but the breaks in between just dragged - the chap next to me was reading his Evening Standard, and I started reading it surreptitiously. Whereas in the Plácido/Angela concert, the next singer would be coming on as the previous one exited, with no discernible break in proceedings.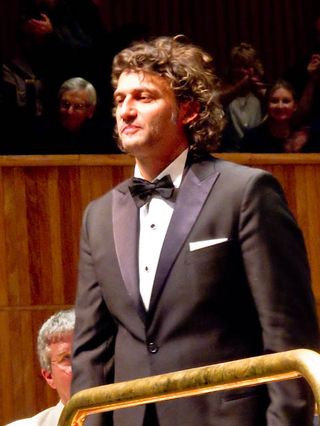 Unfortunately, the orchestra pieces were mainly unexceptional and generally performed at rather dragging tempi. Or perhaps I am mistaken about the tempi. Perhaps it was simply that there was nothing in the interpretation that made me think anew about the pieces, a technically competent (orchestra) but deadly dull (conductor) performance. They were all excerpts from operas and mostly lacked impact without the surrounding opera and, in some cases, onstage action.
Nor did I think highly of the programming. Sometimes, it seemed that the orchestral piece and aria were cleverly teamed eg the Cavalleria Rusticana excerpts at the end of the first half, whereas La fleur que tu m'avais jetée was preceded by the 'Vorspiel' (as per the programme) from Catalani's La Wally, presumably because Carmen just lacks any decent orchestral music. And even though I could see the connection, prefacing Die Walkure with the Lohengrin Act III Prelude was somewhat tenuous.
It was also, surprisingly, the first time I had seen Jonas out of character*. I was disappointed that someone so animated and convincing on the opera stage was so wooden on the concert platform. I was about to write 'uncommunicative' but the timbre and colour of his voice communicate so clearly. I was on the fairly far right of the hall, his left, and it took until the 2nd encore before he turned towards me. I don't want lame jokes or silly Q-and-As at a concert, I think Angela/Roberto-style dedications to Roberto/Angela are strictly for them. I don't even want little speeches saying how marvellous it is to be in (checks notes) London. But I do want a singer to do more than stare straight ahead as if transfixed by a mark on the balcony. Not once in the main programme did I feel he was singing to me. So, moans over with...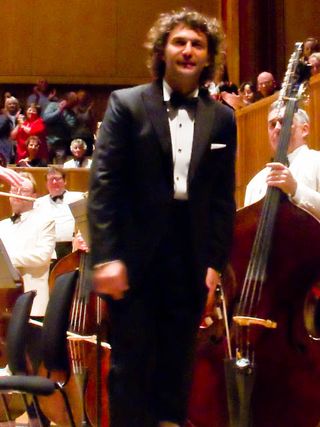 What made the evening a success was his voice. He makes it sound so effortless and yet so carefully measured. And yet again, so capable of passionate hearty singing as well as the sweetest most carefully placed pianissimi. And when on occasion, he was inaudible above the orchestra, I put this down to insensitive conducting in pieces which were written for an orchestra sunk into a pit.
There were four arias in the first half, one of which I didn't know Giuletta! son io (Zandonai). his first number was Cielo e Mar (Ponchielli) which was a stunning opening (after a lugubrious and incongruous I Vespri Siciliana. This was followed by a plodding and interminable Dance of the Hours, which took me straight back to school orchestra! I have to confess the idea of a friend of a friend sitting nearby, that Jonas would be singing this, appealed way too much (Hello Muddah, Hello Fadduh). Similarly, a schmaltzy Ave Maria might have brightened up the Cav Intermezzo. His La fleur que tu m'avais jetée sounded entirely stunning, but I'm afraid to say, having heard him perform this is character and seeing him standing stiff as a board staring straight ahead was a sharp contrast. But what a quandary! Should I be satisfied with a musically compelling aural delight or demand the total characterisation I know he is capable of.
So, there was barely twenty minutes singing in the hour long first half, but the second half bucked up considerably. The long orchestral pieces -the Bacchanale from Samson et Dalila -  and the Act III/Act I Vorspiels from Lohengrin were considerably brighter, although the orchestra sounded anaemic and without heart, playing the notes acceptably but not moving me. I reacted with physical pleasure to his Winterstürme, feeling bereft at its premature end, without Sieglinde's Du bist der Lenz -  a luxury rarely available in a numbers concert! The highlight was when he slipped on stage at the end of the Lohengrin Act I Vorspiel and broke into Gralserzählung, one of my favourite excerpts in Wagner's entire opus
(This YouTube clip filmed off a big screen but largely overcomes the obvious shortcomings!)
The concert finished with, if I recall correctly, four encores, which were neither listed nor announced. Two I didn't know, one I recognised but couldn't place at the time, and the final final number was Recitar! Vesti la giubba, which was dramatic, impassioned, heartfelt, convincing. And, because he seemed to have relaxed and realised that there was an audience justifiably adoring him, he regained his ability to communicate directly with the audience and leave us wanting more while knowing we had heard an exceptional singer performing superbly, notwithstanding the shortcomings of the programme!
* I once booked him for a Beethoven Prom, but we both cancelled, for me it was because of the heat. Another time, he bailed out of a Wigmore Hall recital I'd booked.