I attended Il Trittico at the Royal  Opera House on Tuesday 14 September and came away with distinctly mixed feelings. I definitely enjoyed myself, and I have generally high praise for the performers in the three operas I saw.
One of the operas I have seen before, the other two were unfamiliar to me. I can't say I have a burning desire to see any of them again; though may do, depending on the casting. It reinforced my feeling that though there are several Puccini operas I like immensely, there are also several I could happily do without. I don't know of any other composer about which I have simultaneously divergent feelings!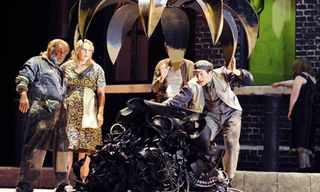 We started with Il tabarro; when it was finished I reflected on how dated it seemed. I don't know whether the blame lies with the composer or solely with the librettist, but trying to reflect the mores of their age, they seemed gratingly almost offensively out of step with today. There was a whole story there that was hinted at, and was more interesting than the one that was told. A married couple had suffered the death of their baby; this may be the reason they had grown apart and she was having an affair, or flirting, or something, with another bloke. So hubby killed the other bloke. End of story. But only after a sizable portion of the opera had been taken up with irrelevant trivia from peripheral characters.
The music didn't particularly grab me, except that I did hear some lovely passages in the lower strings echoing the gentle swaying of the waves in the Seine. I don't know the work, but none of the performances struck me as noteworthy either in their excellence or inadequacy.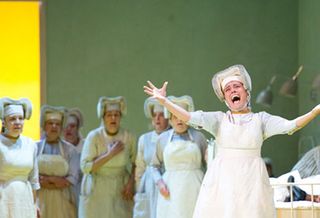 After the interval came Suor Angelica, which annoyed me intensely despite the fact that even I could tell that the music was searingly beautiful. The opera revolved around a story so poignant and painful it deserved to be told in its own right. Instead it was only hinted at, as a 'backstory' to justify the most mawkish maudlin tosh that could possibly be seen on an operatic stage.
Suor Angelica was high-born, the niece of a Princess, and because she fell pregnant and gave birth to a son who was forcibly removed from her after she had had the chance to kiss him just once, she was forced into a convent in order to save the 'good name' of her 'family'. She spent 7 years pining for her son, hoping just for a word on his welfare, until her Aunt the Princess turns up to get her to sign over her inheritance, and to mention in passing that the child died two years previously.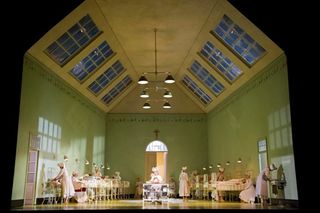 So we had three eighths of the opera taken up with a light-hearted almost but tediously not funny sketch of how these rather trivial women forced into a convent must do penance for school-girlish tiny pranks. And we had three eighths taken up by Suor Angelica very distressed undergoing a mental breakdown whilst spouting a pile of nonsense she's obviously been brainwashed into thinking is a normal psychological reaction to the most unimaginable grief. Then she committed suicide and immediately realised that this was a sinful thing to do. End of opera.
There is a story to tell about the unspeakable brutality of these aristocratic families who punished women for - probably - being raped and there is a story to tell about the seven years she ached and yearned for the son. But we didn't get this. Instead we got an all-female institution seen through the eyes of men who didn't seem to have much clue about how women behave, all-female institution or not, and a characterisation/narrative that would have put a Victorian shock-novel to shame.
Ermolina Jaho sang beautifully and was superb in an opera-long mad scene.  Anna Larsson was outstanding in the small but pivotal role of the Princess - I see she is listed as a contralto, a voice-type I rarely hear but love so much.
But I'm afraid to say I remained unmoved because I felt too aware of how my emotions were being manipulated, which I feel is too cynical and too false. I thought the staging and scenery of this to be the best of the three, the most evocative of a time and place.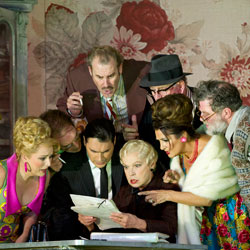 So, that left us with the third opera in the Triptych, Gianni Schicchi, the only one of the three I've seen previously, the only comedy, and the one with the two set-piece arias that are worthwhile in their own right. I may be wrong but I don't think that 'comedy' necessarily means 'laugh a minute'. Surely, it has more meaning as the opposite of tragedy. There were a couple of men sitting near me who got very annoying very quickly at their insistence on laughing at every line that contained the mildest of light-heartedness and every line that they knew, knowingly, was a set-up for a later denouement. I assume they had drunk  a little more than they could reasonably handle, and I do want to stress I don't think excess laughing in a 'comedy' to be an eject-able offence, just that I thought their attention-seeking 'aren't we clever' ostentatious display of 'we know this opera' to be tiresome and boring.
I have seen Bryn Terfel in the eponymous role and I will just say Lucio Gallo is no Bryn Terfel. The young tenor, in this case Francesco Demuro, has little to sing but one show-stopping aria. He sounded pleasant and tuneful, as one would expect from a pretty and bland Italian tenor. Until the final declamatory 'Gianni Schicchi' when he screeched in the most ugly screaming way. The other, most famous, aria is O mio babbino caro, which was sung by Anna Devin a late replacement - later than the deadline for the cast sheet. I am reluctant to criticise a 'Young Artist' and certainly I couldn't fault her on the technique/delivery of the aria. But unfortunately, I really don't like her voice, which seems to have a pronounced bleat. Maybe she's just waiting to mature into a dramatic sop; maybe that wouldn't be an issue in those roles that need some heft.
But I came away thinking that lesser 'comic' operas only need seeing once; I would have been equally satisfied, musically, by hearing the two set-piece arias performed in concert by singers more pleasing to my ears. 
I also thought it would be more enjoyable if the Royal Opera did a triptych of significant Acts from Verdi operas;-)
A footnote, because I didn't want this to dominate the blogpost. I was sitting on the third row of the Stalls Circle, in a seat costing a tad more than I would normally pay. Behind me were the standing places, usually filled by people who are there to hear and see the music, and not out for a 'night out' a 'social occasion'. Unfortunately, the opening few minutes of Il tabarro were ruined for me by the talking of the couple behind me. It was a familiar situation, immature little boy in his 20s takes girlfriend who barely knows him to a spot of culture so he can explain to her what's happening, show off how clever he is, and make sure she knows her place as his inferior. Well, sorry, I'm way too long in the tooth to be impressed by that, and also follow the rule - if no one else around you is talking, ask yourself if it's appropriate for you to do so. 
Having endured this for several minutes I turned round and told him to 'Shut up'. Arrogant little cock told me to calm down. I was not prepared to engage in conversation with such a tosser, but if I had done I would explained I had paid three times more for my one ticket than he had for two and I had paid to hear the singers not him. I didn't have the chance, anyway, because he left his standing place to walk over to the usher. He engaged the usher in conversation, and returned to his standing place. For the remainder of the evening he not only did not utter one word, but he barely moved and hardly breathed. Arsehole had, presumably, instructed the usher to get me thrown out but had had to retreat with his tail between his legs when it was explained that I was right and he was wrong. I take no pleasure or triumphant crowing from this victory, because it angers me that people can be such tossers that it needs to be explained to them that when their behaviour is so divergent from anyone else's it doesn't take a great deal of intelligence to realise they're in the wrong.
Il Tabarro cast:
Michele: Lucio Gallo
Giorgetta: Eva-Maria Westbroek
Luigi: Aleksandrs Antonenko
Tinca: Alan Oke
Talpa: Jeremy White
Song Seller: Ji-Min Park
Frugola: Irina Mishura
Lovers: Anna Devin Robert Anthony Gardiner
Suor Angelica cast:
Sister Angelica: Ermonela Jaho
The Princess: Anna Larsson
The Abbess: Irina Mishura
The Monitress: Elena Zilio
Mistress of the Novices: Elizabeth Sikora
Sister Genovieffa: >Anna Devin
Nursing Sister: Elizabeth Woollett
Alms Sisters: Gillian Webster, Kathleen Wilder
Sister Osmina: Eryl Royle
Sister Dolcina: Elizabeth Key
Novice: Katy Batho
Lay Sisters: Melissa Alder, Kate McCarney
Gianni Schicchi cast
Gianni Schicchi: Lucio Gallo
Lauretta: Anna Devin
Rinuccio: Francesco Demuro
Zita: Elena Zilio
Gherardo: Alan Oke
Nella: Rebecca Evans
Betto di Signa: Jeremy White
Simone: Gwynne Howell
Marco: Robert Poulton
La Ciesca: Marie McLaughlin
Maestro Spinelloccio: Henry Waddington
Ser Amantio di Nicolao: Enrico Fissore
Pinellino: Daniel Grice
Guccio: John Molloy