BBC Proms 1 to 7 -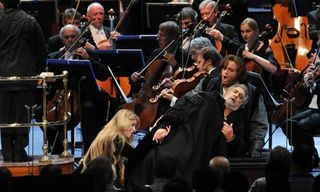 Observer
Plácido Domingo might be 69 years old but he can hurl himself to the ground with spectacular abandon.

PROMS 3: VERDI'S SIMON BOCCANEGRA, ROYAL ALBERT HALL, LONDON - Express
The evening showed Domingo at his dominant and generous best... His Boccanegra has grown in authority and depth, the voice darker but at times with glinting tenor notes... Most moving of all was the reconciliation between Domingo's dying Doge and his former enemy Fiesco, sung by that wonderful basso profondo Ferruccio Furlanetto.

(not sure about that basso profondo description)
when a performer has as much charisma and stage presence as Domingo does then nobody truly cares...the role seems to fit very comfortably within his range... his high notes still ring out across the Hall and his textbook technique ensures that his voice effortlessly cuts through the orchestra... one always gets the feeling that you are in the company of a very unique and truly legendary performer.  He manages to combine real star power with a sense of humility and modesty at all times, a very rare gift.

Placido Domingo Will Sing in Varna (Bulagria)
Next summer

Interview on the FIFA website
"It's been a fantastic World Cup and South Africa was a great host. In my time here I found the organisation and security superb. That said, my poor musical ears suffered a bit with the vuvuzelas. But there you go, they brought a lot of atmosphere to the stadiums," he concluded with a smile.

Verdi's Rigoletto given 'cinematic' makeover for BBC: Placido Domingo to play lead role in special performance of opera that will use real-life locations in Italian city of Mantua