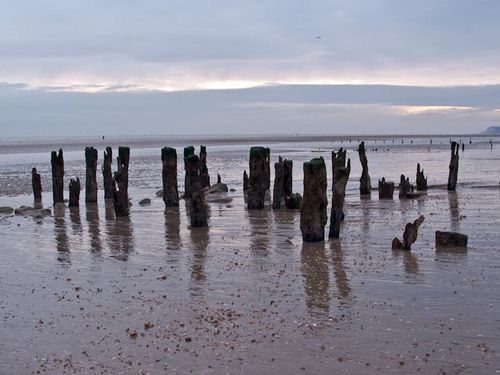 A couple of weeks ago, Jimmy and I went away for a few days, taking advantage of discounts available in the down  season of late January!
We didn't want to go too far afield; a bit of searching the internet found us the Flackley Ash hotel outside Rye. In the village of Peasmarsh; I only subsequently learnt that this is the village where Paul McCartney lives. We didn't see him walking round the village and there was no evidence of him in the village pub.
In retrospect it would have been slightly easier if we had stayed in the town of Rye, or had had a car. However, the hotel was excellent, we really couldn't fault it. We had a garden room ie one with French windows opening onto a private patio and a lawn/putting green surrounded by trees.
Being January we didn't really utilise the 'garden' aspect of the room, even so, it was a nice. The hotel had a pool, jacuzzi, gym etc. We took advantage of the pool and jacuzzi, although none of the other health club facilities. It's funny, I've stayed many times in hotels with saunas but I've never had a sauna in my life. I think part of the reason we didn't was because there were separate male and female saunas - why spend time apart when we could be together!
I know I spent the first evening tweeting the selection of 80s style liqueurs etc available in the hotel bar, but in fairness, no one makes a point of drinking in hotels. We couldn't really fault the food or wine selection.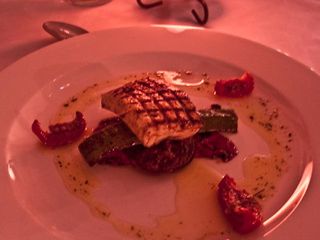 On the first night I had grilled halloumi served on  roasted vegetables. I can't quite remember what the main course was - except that it was fish, halibut maybe. I suppose our biggest criticism was that the so-called 'local seasonal' vegetables were in fact French beans, mange tout and asparagus. There was an item on the local news saying how there is now an enormous greenhouse complex in Kent that can produce green beans even in January. But I'm not sure there is any 'green' advantage in these over asparagus and mange tout flown in having been grown in the sun in Kenya or wherever.  Vegetables have to be local and seasonal to really count as green; it also helps one to be in touch with nature and the turn of the seasons! But as a criticism, good quality well presented vegetables is minor!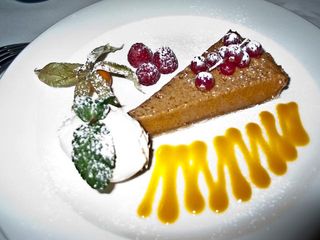 My pudding, a butterscotch tart, was gorgeous, and I got lucky taking a snapshot of Jimmy's pudding - he's so predictable, he almost always goes for ice cream, as long as he can be confident that it's good quality.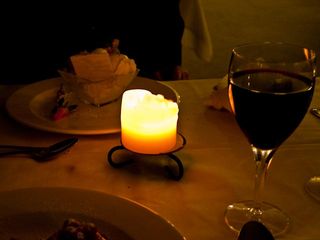 On the second night, we ate at The Fish Cafe in Rye. The less said about that the better - or perhaps I should devote an entire blogpost to it. Suffice to say, when a restaurant cares more about an image or a concept than its customers, all its good work goes down the drain, and it just comes over as desperately small-town. I have never before had an arrogant waiter sneering at me. I don't really give a flying fuck that he's worked with Raymond Blanc; I've worked with some bloody good people, doesn't necessarily mean I'm good at my job.
On the third night we tried several restaurants in Rye that had been recommended repeatedly. One was closed on Wednesdays, one was closed on January weekdays for refurbishment, and one was just closing as we arrived, I would guess for lack of customers.
None of this was surprising in an out-of-season holiday town, and I certainly wouldn't hold it against the businesses. Nevertheless it was disappointing.
We got the taxi back to the hotel for last service. Thankfully, we had another good quality meal: I seem to recall I had scallops, then sea bass, finished with a chocolate fudge cake. Again, very good quality. No criticism of the hotel food, but part of the fun of being away, especially in a foodie town, is the chance to eat in different places. And, obviously, hotel dining rooms in down-season don't have the most sparkly exciting atmosphere.
On our two full days we caught the bus from the village. We learnt on the second day that we could ask the driver to drop us off opposite the hotel despite the lack of bus-stop; I suppose it might be possible also to flag one down, there, too. Just a bummer if it sails past and the next one isn't for a while!
On the first day we strolled round historic Rye and on the second we went to Winchelsea Beach via Hastings...as we entered the village of Winchelsea Beach we asked for the best stop for the beach and he didn't bother telling us, so off we went to Hastings, got a coffee and got another bus back! Daft day and we barely snapped at each other at all!