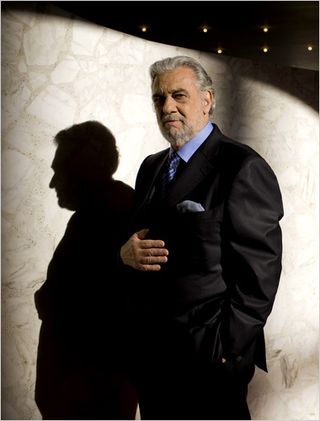 I am shameless. I read a few weeks ago that this transmission would be hosted/presented by Plácido, presumably because regular presenters Susan Graham and Renée Fleming were otherwise engaged, and he's in town anyway, due to conduct Stiffelio and sing Simon Boccanegra. I understand that he also presented the Thais last season. Of course, he is not associated as a singer with either of these operas; I'm not sure it would be a good idea to get him present something like Otello, Die Walküre or Tosca.
I'm not going to pretend:  I bought my cinema ticket specifically to see him presenting. I know it seems a bit petty and adolescent on my part; if you think that, you've got me bang to rights. However, I didn't cancel any alternative plans.
When I booked the ticket, I knew that Jimmy would be working, I knew that I wouldn't have been out for ages beforehand, I'm not due at another live performance for over a week. Although Der Rosenkavalier isn't my favourite opera, it's not like I was facing the prospect of Pelleas et Melisande or anything by Rossini that isn't Barber of Seville. So, although my motives are shameless, I did savour the prospect of the actual performance, too.
So, there I was sitting it Screen 2 at Brixton's Ritzy eagerly awaiting the start. the thought had occurred to me  - just because I read several weeks ago didn't guarantee that he's still going to be doing it: I wouldn't blame any singer for dropping out of a talking gig if they had a bit of a sore throat, for example.
So, the lights dim, blah de blah the titles roll, all the usual stuff, and this voice "Hello, I'm Plácido Domingo!" and more than half of the cinema went "ooh, ahh, sigh" (I kid you not!)
He introduced the opera and said "It stars two of my favourite ladies - Renée Fleming and Susan Graham as the lovers" (gasps from a decidedly non-Brixtonian* audience momentarily adjusting to the concept of two women being lovers!) "they there are looking very comfortable on the bed" to giggles all round.
I don't know if he does it on purpose. I think just about everybody who has ever met Plácido will attest to his flirtatiousness. He has this knack of saying things that, from  someone else would sound vanilla and inconsequential, but from him sounds laden with suggestion. He manages to couple this with an innocent, almost little boy, look.
He was looking good. In some ways he's showing his age - layers of make-up for the camera can't hide that his face looks weather-beaten, and he's not really greying so much as greyed to whiteness. But he's vibrant and energetic and enthusiastic, his eyes like pools you want to melt into. Looking trim and fit, dressed impeccably, in a shiny black suit and shiny royal blue tie.
At the end of Act 1 he interviewed Renée Fleming. As I tweeted, he's not a natural for reading off an Autocue and pretending he's ad-libbing. It's an art that few people can do convincingly. I can do it pretty well (but only in my native language!) - but you know, I don't think that makes me a better performer than Plácido Domingo!
He is a natural, however, for women positively throwing themselves at him. She really couldn't keep her hands off him. The interview was perfectly inconsequential. I don't like straight-off-the-pitch interviews in football, and I don't think they are any better in opera! I was amused when she was explaining how the Marschallin realises that she will have to let Octavian go, and it can be difficult when one realises that, but it has to be; he's nodding and empathising, and I'm thinking "Plácido, you've been married forty seven years..!"
Before the second act he interviewed Susan Graham, whom he introduced as one of his most favourite ladies. From some people it would just sound like showbiz gush, but it didn't from him. They were discussing her various roles, and he said to her "You've played my daughter in Idomeneo, my sister (in Iphigenie), when is it going to be more?" (at which point there was a general exclamation from the cinema: he's a tease, which some people get, but, obviously, others don't!). She deftly side-stepped the question by commenting that - dressed in her silver suit for presenting the rose - she doesn't look much like his sister!
Susan commented that she spends most of the opera on stage so at this point she gets jealous of Renée who gets to spend two hours in her dressing room 'typing emails'. There were splutters of laughter, perhaps as this sounded entirely incongruous coming from someone dressed in sumptuous 18th century attire.
At the end of the second act, someone from the Met broadcasting machine interviewed Kristinn Sigmundson. I thought "Oh, I see, Plácido doesn't get to interview men, cos he can't flirt with them like he can with the women!"
This broadcasting  person ("wardrobe by Valentino" - gah!) was more adept at reading from the autocue but had been scripted some pretty cheesy lines. Exclaiming her surprise that Kristinn has studied Biology at University (perhaps it's unusual in the USA but in Europe it's pretty common for people to study something that isn't music before turning to singing as a post-grad), and then asking him to say hello to people watching in the cinema in Reykjavik, like it was some 70s audience participation light-entertainment show!
Then she turned to interview Plácido, largely about Simon Boccanegra (which will be in cinemas on 6 February, my birthday - I've already got tickets for Clapham Picturehouse). He repeated what he has said elsewhere, how he had planned to sing this role at the end of his career but this doesn't mean his career is ending; that he doesn't pretend to be a baritone, but he is singing it as a tenor, pointing out that certain tenor roles such as Otello combine light notes with dramatic notes; how the role enables him to age twenty five years from the Prologue to Act 1, and how it's about the father-daughter relationship which was so important to Verdi, having lost two young children at about the time he wrote it.
He made reference to Verdi's intentions to write King Lear, and implied that Simon Boccanegra has echoes of Lear. The interviewer also mentioned that he is conducting Stiffelio; what is it he likes about Verdi. He mentioned how prolific Verdi's writing was, several operas written in a short period, and mentioned the melodies that Verdi wrote. The interviewer suggested that with singing and conducting he is the busiest person at the Metropolitan Opera, so he looked straight into the camera and said "I think when you arrive at the Met in the morning it is better to stay until the evening" - which caused a few 'oohs' among my local audience. 
Before Act III he interviewed Elina Garanca as a preview to next week's cinema transmission of Carmen. That was quite interesting; obviously she's very into the role (she was also Carmen at ROH a few weeks ago and I dare say she's sung it elsewhere recently, too) and he knows that opera inside out.
He then interviewed Christine Schäfer on her own and they were then joined by Renée and Susan again. Much flirting going on, and there was a discussion about whether it was love at first sight between Octavian and Sophie. Susan was of the view that it was; even though Octavian didn't actually realise in Act II, he has an inkling.
Then she turned to Plácido, looking him directly in the eye and said "I think everybody has experienced love at first sight." Not precisely flirtatious, it was heavier than that!
There was a certain amount of banter about Octavian (ie Susan Graham, in a trouser role) having to choose between her attraction to the Marschallin and to Sophie. It was all very 'innocent' but I detected that they were having a bit of fun, in a way that anyone in the audience could pick up on, if they wanted but not to offend anyone who would be inclined to offence. Plácido made some comment about the Marschallin being old at 32, although nowadays we don't consider 32 old, to laughter in my cinema which I don't think contained more than a dozen people under 40.
And then he introduced Act III by saying that Octavian (in disguise as a chambermaid) and Baron Ochs were set for a 'Hot date'.
I have to say, I don't think that Plácido is a great presenter. If I was in any doubt, this would have become clear when he was being interviewed. When he talks spontaneously about opera or about a specific opera, in this case Simon Boccanegra,  he is so eloquent and passionate and enthusiastic. His English is excellent but his pronunciation and cadences are wayward, which can be disconcerting at times.
But he looked lovely, and he's bundles of fun; he's very good at taking seriously what should be, but he's also light-hearted and always comes across as being singularly unegotistical, which is very endearing.
All the same,I was rather glad I wasn't there with Jimmy. when we watch a DVD and Plácido goes into seduction mode, Jimmy has a bad habit of saying "The creep. Grrr..." and I am pretty sure that would have been his reaction yesterday!
* I'm guessing: the only person in the audience I knew is a gay Claphamite I file under "Lambeth Labour friend" rather than "opera friend". Actually, the two women in front of me were carrying copies of the New Statesman, so I'm being very unfair on audience members!