UPDATE, UPDATE!!!
A first hand report from Fedora who travelled to Milan from Madrid for the occasion, and because it was so cold, went for a walk round the outside of the opera house and...oh, you'll have to read it
On Wednesday evening, to celebrate 40 years of performing at La Scala, Milan - the world's most famous opera house*, Plácido Domingo his signature role (one of them!) Siegmund in Act I of Wagner's Die Walküre. I think it was well received!
Ovazione di 20 minuti per Placido Domingo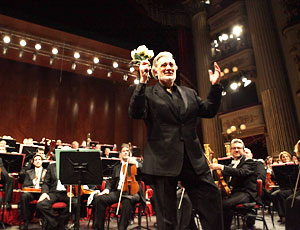 Alla Scala in delirio tutti pazzi per Placido
Insomma, non veniva da dire: che bel Siegmund per un 68enne o quel che è, ma: che bel Siegmund in generale. Qualche fatica, è ovvio, si sente e qualche prudenza pure; ma la voce è più ferma di quella di molti trentenni, il titanico «Wälse!» tenuto come da spartito e il la acuto finale una nota vera, non uno strillo


Domingo, un trionfo il galà per i quarant'anni di Scala
They stood and clapped...for 20 minutes
Actually, a pretty rubbish article, which states it was a 'valedictory appearance', before saying it was no cruise into the sunset, and no swansong. So, it wasn't a valedictory appearance then. (Also, the correspondent claims to be in Milan but has lifted most of his description from the Stampa article linked above).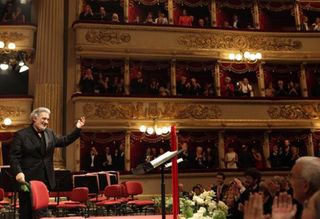 However, I had to include it for this photo, with friends from Switzerland clearly visible on the first row!
On Monday night Plácido was at the opening night Carmen, and has been quoted as giving the production high praise - but I suspect that if he considered it bobbins, he wouldn't say so - far too diplomatic!
Danny De Vito
was in attendance at Die Walküre

* apart from Sydney whose fame lies in its exterior architecture rather than its opera!