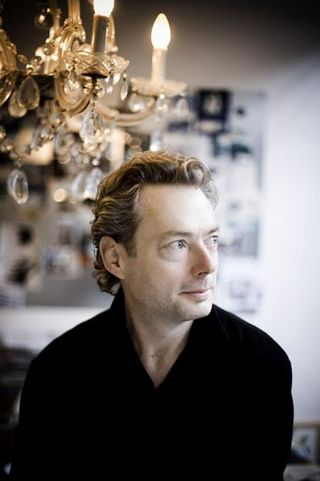 Thursday night found me at the Wigmore Hall for an evening of Baroque indulgence. Mark Padmore is a tenor I rate very highly but often forget to include in my pantheon of tenors, because I hear him more on the concert stage than in the Opera House.
I have decided mixed feelings about Purcell. I kind of like his music but I can never quite define why I don't feel passionate about it. I was pondering this during the first half of the concert, dedicated entirely to Purcell, when I asked myself - what's not to like? Pleasant tunes and equally pleasant instrumentation, with the song words of elegance and beauty.
And I got my answer in the start of the second half. A passage from George Frideric Handel's Joseph and his Amazing Technicolour Dreamcoat* Brethren - well, you only need to read the title: Where are these brethren - remorse, confusion, horror, fear, full of drama and despair.
Handel was writing as much as half a century after the death of Purcell and his most-performed works, and certainly the excerpts this evening, were the creations of his maturity, a luxury never afforded to Purcell, who died at 35. Indeed, the programme notes begin with this passage:
An anecdote tells that during a performance of Handel's last original oratorio Jephtha (1752), William Savage turned to the old (and now partly blind) composer, and remarked that a passage had reminded him of old Mr. Purcell. Apparently, Handel retorted that "If Purcell had lived he would have composed better music than this"


perhaps pre-empting the speculations as to what Mozart would have composed if he had lived long enough (to at least 58) to have heard Beethoven's 9th.
I suppose listening to an aria such as Let Me Wander Not Unseen from L'Allegro, il Penseroso ed il Moderato one can get an insight into why some people find the da capo aria tedious; a great 'A' and a good 'B' is then followed by an ornamentation of 'A', which works better in some circumstances than others. I thought this was probably the weakest of the Handel pieces, whereas I felt Descend, Kind Pity from Theodora worked so much better.

The final aria Waft Her Angels from Jephtha transformed the evening from pleasantly enjoyable to something magic. I have a CD of Mark Padmore singing this, and it is one of several tracks I put on repeat.
I know I have said that the beauty of Handel is that by sticking to a tried and trusted formula, one can enjoy his works without anxiety about the music being unfamiliar (with the best will in the world, one would need a great deal of spare time and a lack of interest in other composers in order to become entirely familiar as a listener to all his operas and oratorios).
However, as I know really, being familiar with the music and the text enhances one's understanding and thus appreciation of the piece.
I think also it helps that Mark knows this role inside out having performed it in concert and in staged performances. As the concert was drawing to a close, he seemed to relax and get right inside the character/aria, in a way that was truly moving.
Unfortunately, that was also the moment where I found myself having to stifle a cough. The more I tried to stifle it, the more it began to choke me up, and I was beginning to feel that I might actually deprive my brain of oxygen**.
My feeling about him relaxing and enjoying himself were confirmed by his sole encore, Tune Your Harps from Esther.
I thought the lowlight of the evening was the arrangement of Purcell tunes into a 'Purcell Symphony' which interrupted the Handel part of the evening.
I thought the arrangement, by the English Concert's principal trumpeter Mark Bennett was clever and worked on its own terms - a medley of tunes from King Arthur and Fairy Queen.
But it only served to show the relative paucity of Purcell's orchestration. One of the tunes - I got confused as to which - struck me as extremely familiar from some or other collection of incidental music, but as with the Rondeau from Abdelazar (that tune, as used by Benjamin Britten), familiarity doesn't disguise the plodding essence of the tune.
I know I should write in detail about the English Concert, and certainly they were worthy of praise - the stand out was the gorgeousness of the oboes in Tune Your Harp. But ultimately, I chose the concert for the singer, and Mark Padmore did not disappoint.
I love his voice, not least his impressive range. Soaring high with confidence and lyricism robustly and tackling the dramatic end of the range. I suppose if I have reservations it is that he can be a bit uneven - for all the evenings I have spent with him that have delighted me, there have been several where I have thought him a little ordinary.
He is quietly confident on stage, and introduced several of the numbers in a way that seemed both natural and polished. A consummate professional he nevertheless lacks a certain je ne sais quoi, a showmanship that reaches out beyond the proverbial spotlights.
However, his voice is sweet and true, his technique excellent, and his instincts for Handel so perfectly honed it would be churlish to proclaim the evening other than a great success.
Incidentally, for those of you who have seen him this year with shaven head, you will be relieved to know his hair has grown back. I assume it was shaven for the role of Samson
I don't often go to Wigmore Hall. Partly because I kind of forget it exists and then find I am too late to book tickets. Also, it seems that singers that interest me present programmes that don't (for example Iestyn Davies a week or two ago) or an interesting programme on an inconvenient night (Carolyn Sampson earlier this week).
I think I find it a little bit intimidating. I have a sense rightly or wrongly that a large number of people are Wigmore Hall 'regulars'. Indeed, on a previous outing I overheard someone saying that, as a sub-editor she works nights, and designs her shifts round the Wigmore Hall programme.
I can't really understand that, for me it is just one of several - many - venues in London, and I pick and choose what performances I attend. I don't feel a particular loyalty to any venue.
But of course, this leaves me perceiving, probably incorrectly, a sense of cliquishness which unsettles me.
So, it was a delightful surprise on Thursday to find some people I already know from around town, but who introduced me to several more, which rather belies my fear of cliquishness. So that was a bonus for the evening!
My "Handel Year" ends on Tuesday with ENO's staged Messiah (he's a very naughty boy), which I suspect will be 'interesting'. I seem to have cancelled more Handel performances than I have attended, which is a matter of regret, but sometimes stuff happens.
I suppose the year will be capped by the Royal Opera House's belated token offering in March of next year, which I might go and see if I've nothing better to do at the time - but who goes to ROH for Handel, really! (insert smiley of your choice here!).
* don't try and persuade me I was the only person who had this thought!
** I knew instinctively that it was neither a psychological nor phlegmy cough, that I was actually choking on something. Various finger nails had been splitting throughout the day and my fingers invariably end up in my mouth**. When the aria finished and the audience indulged in sustained and enthusiastic applause I coughed and coughed, eventually producing a strand of my own hair that had become lodged in my throat - it's not even currently long enough to suck, as I tend to do if I can