This week I faced two entirely different challenges in my attempt to take a photo every day.
Wednesday was dreich. I had the bright idea of walking to the river and using the weather to my advantage. But as I left the office it started to rain, and by the time I had crossed the road there were big wet raindrops falling on me, and more importantly, my camera.
So I decided to take a shot of some of the twee cottages on the road that link Great Peter Street with Smith Square. I found my spot and waited for a pedestrian to pass. As it happens, this was someone who was once an adviser to Tony Blair and was dubbed by Dolly Draper as one of the 19 people that matter. From my experience he's a decent and pleasant bloke, but, nevertheless, it was quite amusing to watch his inability to manoeuvre an enormous golfing umbrella on a narrow pavement between a house frontage and a street-lamp. By the time he had passed the empty parking space that had afforded me a good view of the cottages had been taken by a British Gas van.
So I am afraid I only have a rather indifferent photo of the upper bits of St John's to share with you.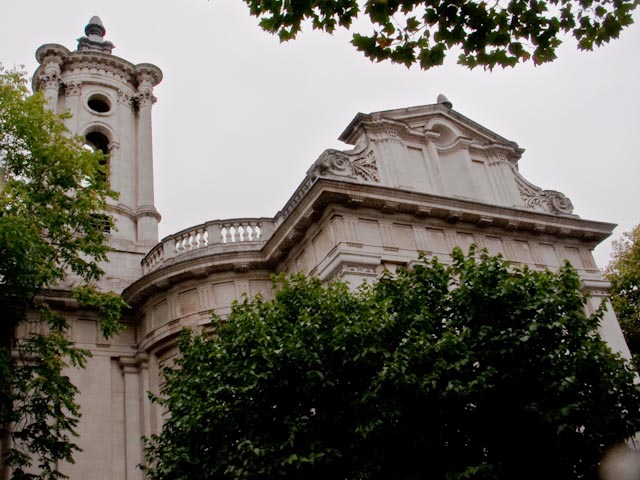 Thursday was a glorious day for photography and more. The quality of light was stupendous - blue skies during the morning, as the afternoon progressed a Canaletto-ish light across the neighbouring buildings. As I twittered, I caught the beginning and end of what appeared to a beautiful sunset. Unfortunately, the way my diary worked out , I didn't have time to choose a photo which might have proved to be memorable, and I didn't want to do a random point-and-shoot snap. I was due to go to a ward meeting in the evening and decided it might be a nice idea to take a photo of the community flat, to illustrate - as the meeting chair said - that politics isn't always glamorous! I did take a couple of photos but they were so unbelievably awful that I can't even publish them, even with a caveat and an acknowledgement of failure.
I took twenty photos at last night's Tristan und Isolde curtain call. Hopefully some at least will come out okay and I will publish them with my report.
Today I took half a dozen in my back garden, and another forty or so when wandering around near the Barbican.