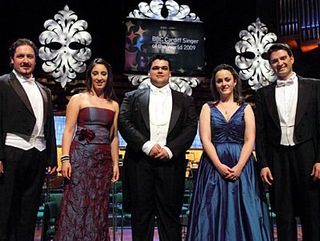 Also known as the Final Heat.
I tuned in knowing that it couldn't be as bad as last night
I found Wade Kernot, Marc Canturri and Dora Rodrigues to be much of a muchness. Competent, massively talented relative to almost everybody else in the known universe, but ultimately, simply not notable.
Helen Kearns was worse than last night's Welsh soprano who was worse than the previous night's Polish soprano. I actually ended up shouting 'shut-up' at the TV; that was after I had said ouch ouch ouch.
Fortunately there was Giordano Lucà. Looks like he desperately needs to get down the gym, didn't come over as the brightest buton in the box...Ladies and Gentlemen, we have an Italian Tenor! Only 21, he's already sung with Montserrat Caballe and Katia Ricciarelli. And really, he illustrates one of the conundrums of this competition.
I accept that different people, as well as different voice types mature at different rates, and that not everybody goes through music college, then post-grad and so on;  I can name several singers eg Christine Brewer and Marcelo Alvarez whose careers didn't even start until they were well into their thirties.
I also think there were several singers whose careers seem sufficiently well-advanced that it seems difficult to see how they can be improved by the exposure of this competition.
But there are several singers in their very late twenties or thirties where I want to say, look dear, if you haven't made it by now, you probably won't. You look at their biography and they've spent years doing competition after competition, provincial young artists' programmes, and singing in various even more provincial houses, and they still haven't been spotted. I can't blame them for trying and for dreaming, and no doubt they're assured a living.
I also know that there are numerous stories about people with great talent who never get anywhere, which may be true, but may only be half the truth, but the simple truth is that, in any field, those with real talent, coupled with a good work ethic and a readiness to work in a team,  will be noticed. Maybe not get to the very very top, but world-class singers don't get stuck in the provinces for ever, unless they lack commitment or drive or whatever.
But I suspect that all that this competiton and other high-profile competitions do is accelerate a process that would happen anyway, giving them maximum exposure and prestigious contracts now.
And when you get someone like Giordano Lucà, you know he's in a different League. When they said he was 21, I assumed Iwould be making a judgement about 'the future' and 'potential'. But that wasn't the case. I'm not suggesting he's the finished article, but he's the Real Thing. A reminder of why I think the tenor voice is special, really gorgeous, polished, in control. I don't know whether he will win - there is some stiff competition, especially from the male finalists - but he is definitely one to watch. He even made me sit up in Che gelida manina which is not exactly my favourite aria.
I suppose, being so young, he would be wise to spend several years studying and consolidating, but no doubt he will get plenty of advice from people who actually know what they're talking about.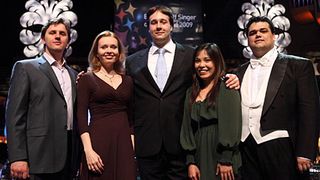 So, the final is, unusually,  made up of the five winners of the five heats - Eri Nakamura, Ekaterina Shcherbachenko, Yuriy Mynenko, Jan Martiník, and Giordano Lucà.