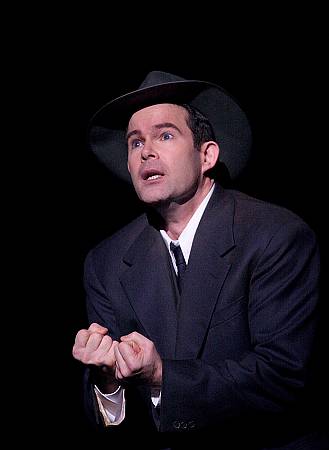 I went again on 16 March and I so enjoyed it. It was almost the perfect night out, except for...take this for audience bad behaviour...the bloke in front of me was really off-putting. He made various noises at different stages, like, when the music was getting emphatic, he went 'bam bam bam'. That was nothing though, compared to the fact that he spent the entire performance standing up waving his arms around. I wasn't the one who noticed, the orchestra spent most of the time looking at him,and the singers did a lot of the time.
Yes! I was so on the front row I could have touched Lawrence Renes!

It was a treat for me to be in the stalls, but I think I am going to do so again. Far more comfortable, and the absence of the miserable gits of the Upper Circle (Rear) make it worth every penny of the £76. Okay, I had an Essex blonde next to me, but you can't win them all.  The difference in one's perception of the performance is enormous. I had enjoyed it from Upper Circle but being so close to the stage meant that I could appreciate the fine acting even more - step forward the sublime Gerald Finley.

And perhaps even better than being in close proximity to the pit. Of course this meant that I could see the percussion, or, at least the timpanist and tubular bellist. And the climax - oh my! As a side issue, when the 'gadget' lowered for the start of Act I Scene iii and a high pitched warning siren went off, all the orchestra put a finger in at least one ear, as if it was choreographed.

The opera starts with the periodic table (or, at least, I guess, the 1945 periodic table) being projected onto the curtain. It wasn't quite in focus so I was not able to read it well. I reflected that there was a time when I knew at least what the top few rows abbreviations were for, but my memory has faded. I heard the bloke behind me explain it to his companion, who I took to be an eight year old child - 'there are some elements on there that are very obscure, did you know that Fe stands for iron?'. I looked round and saw the companion was a woman of my age; I would have clocked any man who had spoken to me so patronisignly.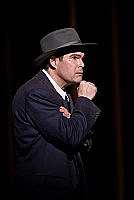 It goes without saying that the absolute highlight of the performance was Gerald Finley, in every way superb. I love his voice; I love his high notes, I love his low notes, and I love his legato. I love the mellifluous tone, the absolute consistency in his delivery, never the slightest question of pitch, never a hesitation, nothing that jarred even minutely. When I say consistent, I certainly don't mean undifferentiated or bland, because his voice is expressive, a fine example of great vocal acting. It is for all these reasons that I love listening to his CDs.

But with Gerald Finley, you don't only get the great vocalism, you also get the great stage presence. When I had seen it from up on high, I had been impressed by his stage presence, and I got a real sense of the persona of Robert Oppenheimer. Seeing it from close up I began to understand why I had got this sense. It isn't in the grand gesture or histrionics (although thinking back to his Mozart Conte at ROH, he can do those as well!), but in the subtlest of movements. I watched how he reacted to other characters, the dismissive jerk of the head, or the raising of the eyebrows. Up in the Upper Circle (rear) you don't get the nuances for £28, but you do get the overall impression of what's happening.

I think I may be repeating myself but the highlight of Gerald's amazing performance was Batter My Heart, which had been on pretty much constant ear worm for two weeks. When the strings played the opening chord, the hairs on my arms stood up, when the woodwind entered, a lump appeared in my throat, and the percussion caused tears to well up in my eyes. I know you are expecting me to say that Gerald's opening 'Batter...' caused the tears to fall. But no, because I was reeling from the impact of being thrown back against my seat. As an aria it has everything. The agitated high strings and percussion, the languid brass and low strings, the urgency of the woodwind - that incessant driving onwards od the beat and the music. If you think it's good on YouTube, it is even better live!
The music was definitely one of the highlights. I would say it is definitely worth getting to know. I guessed that, how many years ago,  when I first heard the audio broadcast from San Francisco, but I need visual stimulation for music really to sink into my heart. I finally got to hear the Wagnerian influence that people have been going on about; I then got a strong sense of Bernstein and overheard someone else saying the same. Finally, I got a hint of Angelo Badalamenti.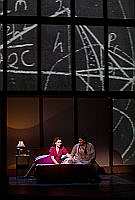 Not a one man show - the trio  of Brindley Sherratt, Thomas Glenn and Jonathan Veira, anyone of which could have stolen the show from a lesser lead than Gerald. I was again impressed by Meredith Arwady as Pasqualita the Tewa maid. Again I was unimpressed by Sasha Cooke (strangely, the only singer ever I have seen twice from the front row of the stalls!), but I wonder if it was because her vocal line was written so unmelodically. Ironically, my earworm the day after was her haunting opening  'Am I in your light?' - which was the nearest it got to melody.
You know, this opera has totally got to me. I have to confess that my main interest in it for the past three and a half years has been Gerald Finley, and I vowed ages ago that I would go and see it more than once even if I really hated it. I have often argued that it's okay to have singer 'crushes' if those crushes lead you to works that you might not otherwise have been drawn to; this is entirely vindicated by this. It's difficult to imagine it without Gerry, but, at the same time, I really appreciate the music. Furthermore, I am going to put my head above the parapet and declare that I also love the libretto - shock, shoot me down!
I accept that the libretto is disjointed and often impenetrable; I accept that the characterisation is less than fully rounded. And yet, that isn't really the point. It was a snapshot, just a few days in the summer of 1945.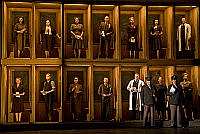 As a former member of CND and a continuing unilateralist, I did ponder the extent to which the ethics of the bomb were discussed. Basically, they weren't, very much. It was largely a scientific project and there was discussion of how one of these bombs would compare with a conventional bombing raid. There was mention of a letter from someone one who raised about whether the entire German nation was culpable for the war that had just ended in Europe. And the very end of the opera was a poignant recording of a Japanese woman asking for water for her child.
I don't think the moral near-vacuum diminishes the opera. I don't think I can project my 80s sensibilities onto 40s people and expect them to have my concerns and the benefit of my received hindsight. I suspect that is often the case in the world of scientific development. But I certainly don't think it glamorised nuclear war, nor did it even pretend to address Cold War issues.
Overall, it was an excellent night out, and I hope it gets revived soon and becomes part of the repertory.
I managed to get a couple of curtain call photos before an usher started waving at me.