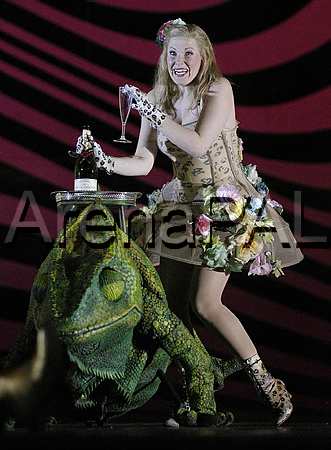 I went not really knowing what to expect. Sure, I'd read the reviews, so I had an inkling about the production. But I had never heard a note of the music, so was taking a risk. It was only the fourth performance at Covent Garden, the other three taking place in the last week or so. It is the oldest opera ever to have been performed at the Royal Opera House (which means, I suppose ,they have never performed any Monteverdi, which is odd).
It's Baroque, of course, but Baroque is the only era that doubles as a genre. You don't really talk about going to a Romantic Opera. Maybe 'Modern' but different people have different views on what is 'Modern'. I reckon, 21st Century, maybe 1990s. Some people consider Britten new-fangled. Heck,I even know someone who considers Puccini to be 'Modern'.
The opera opened with a Prologue, predicting that Calisto would end up as a star in the sky. And she did - Ursa Major! Bingo. I wasn't sure which was which out of Nature, Eternity and Destiny but it was creepy to see Ally McBeal's Amazing Dancing Baby rising, adult-sized, out of the orchestra pit
I've just twigged why - Ally McBeal is played by Calista Flockhart.
We then got into the opera proper. Unfortunately the ROH no longer condescends to publish a synopsis - why should it when it has a multimedia website, down and with it for the kids, with its video presentations and podcasts, it's very cutting edge - for 2005. And the Wikipedia article is only a stub.
However, it's about sex.
The main set was a 1950s Cocktail Bar- décor-wise, think Royal Festival Hall meets suburban Odeon. Very typical wooden wall,  curved sofas covered in white fluffy material, and pink swirly patterns.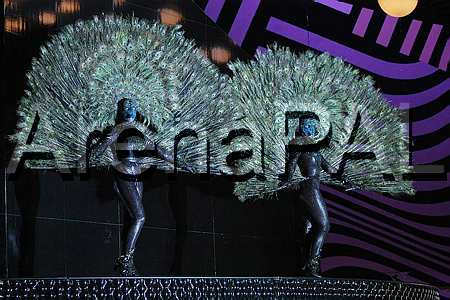 A notable highlight was the choreography-verging on puppetry of various animals, all of whom were humans in costumes.   A chameleon acted as cocktail waiter, bearing  a tray on his back. A serpent slithered and body-popped, clothed from head to foot in slimey black. The upright cow, always hanging around in the bar, amused me as he sucked on a straw from a carton of milk. But most impressive were the peacocks, Diana's entourage on earth. I loved the way that they strutted and preened, always in motion, shifting their weight as they moved their feet back-and-forth.
I have mixed feelings about the music. Style-wise, much closer to Monteverdi than Handel. It's difficult to judge on a first hearing, but I felt it quite dry and sparse. Perfectly pleasant, but I'm not sure I would particularly want to listen to it on radio - but I don't suppose Cavalli had Classic FM in mind when he wrote it.  As far as I could tell, the orchestra performed excellently, but overall I thought that they acted as accompanists. It isn't an opera of Big Arias, and some of the parts didn't exactly require beautiful singing.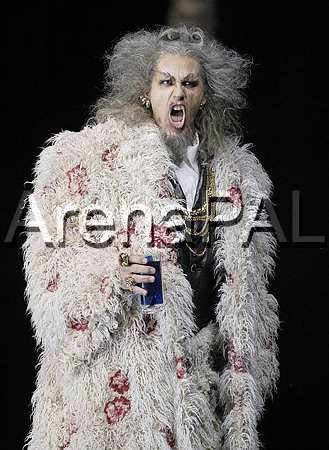 The cast came as an ensemble. Most  had performed in this production at the Bavarian State Opera, and elsewhere, too.  Not really tip-top star names but working extremely well as an ensemble. I had one of those moments when you realise that someone in a relatively small part - Pane aka Pan, him of the pipes - has a totally gorgeous voice that you really want to hear again, in a bigger role - Ed Lyon.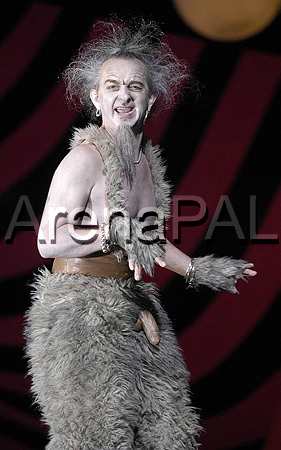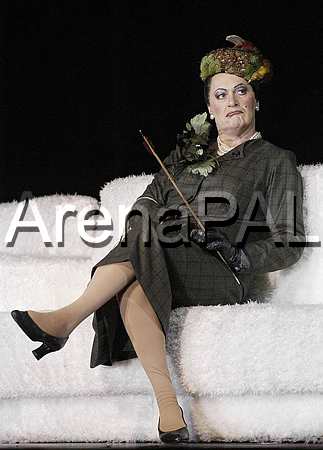 I enjoyed the performances of Umberto Chiummo and Sally Matthews in particular, and I thought Guy de Mey was a hoot in drag as Linfea. Dominque Visse was very entertaining as the Satyr, a good comedy performance. Vocally, he sounded much like a goat, which may lead to a reclassification  of counter-tenor from 'seagull' to 'goat'. It was fitting for the part but I can't say that aesthetically it did anything for me. There wasn't really a weak link in the cast, but I think I have a problem with Monica Bacelli. A lot of people speak highly of her, but she didn't do it for me in Tamerlano, nor in this. Overall, the singer who impressed me most was counter-tenor Lawrence Zazzo. A beautiful singing voice and a credible and effective stage presence.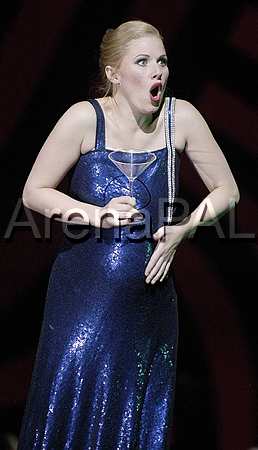 I am glad that I went, and I imagine if it were to be revived in three or four years time, I would go again. If it were shown on telly, I'd watch, but I don't think I would buy a commercial DVD. And I don't regret booking only to go once in the run.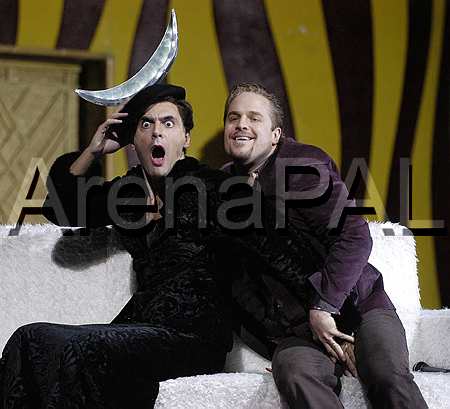 The Monteverdi Continuo Ensemble and members of the Orchestra of the Age of Enlightenment
Conductor: Ivor  Bolton
Giove: Umberto  Chiummo
Mercurio: Markus  Werba
Calisto: Sally  Matthews
Diana/Destinio/First Fury: Monica  Bacelli
Endimione: Lawrence  Zazzo
Linfea: Guy  de Mey
Satirino/Nature/Second Fury: Dominique  Visse
Pane: Ed  Lyon
Silvano: Clive  Bayley
Giunone/L'Eternità: Vèronique  Gens
Composer: Francesco  Cavalli
Director: David  Alden
Set Designs: Paul  Steinberg
Costume Designs: Buki  Shiff
Lighting: Pat  Collins