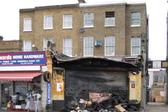 I'm catching up with my backblog and copying Diamond Geezer, I peruse the English Heritage Risk Register for my area. There are 19 in Lambeth. Even after all these years, I tend to think instinctively about my ward, which shows 90 Acre Lane.
There are other sites that I know, such as the shelter by walled garden in Brockwell Park - see sidebar for photos! West Norwood Cemetery and Catacombs - I keep meaning to visit the cemetery for reasons other than to attend a cremation or burial, ABC cinema - I kind of miss this fleapit
I had quite forgotten the existence of Raleigh Hall; I am amused that the gentleman's public convenience at Kennington Cross includes a horse trough - I had a brief fascination with Horse Troughs which must predate my digital camera days - but someone has been out and about photographing horsetroughs in South West London...ooh, Faded London newly added to Bloglines!
Other parts of London include Pedestrian subway under Crystal Palace Parade, Crystal Palace Low Level Station, Crystal Palace Sports Centre, Crystal Palace Park, St Pancras Chambers/Midland Grand Hotel,
Segas in Croydon (huh?), Cutty Sark, Upminster Windmill, Holland House, loads in Southwark I recognise without great interest, Battersea Park Station, Battersea Power Station (of course), Queenstown Road Station, Clapham Grand and surprisingly, none in Westminster that I have any great familiarity with.
In other parts of the country I recognise (at least vaguely) - Baguley Hall, Norton Priory, Bank Quay Transporter Bridge, and Lenton Lodge