It was raining when we exited the opera house, and I had rather assumed that Jimmy would want to be getting home, but he was quite happy to go and sit in the pub whilst I played the role of Groupie at the Stage Door. I managed to get inside the Stage Door Entrance, but unfortunately, in the place where the opening door must go in order to be open. At one stage I did find myself being constantly shoved by one rather rude woman who didn't seem to understand that my glaring at her was nothing personal, just that I rather resented her physically shoving me about. And after she had pinned me back against the glass panel so I couldn't get anywhere near Rolando Villazón, she turned to me and condescendingly informed me that she was going, now.
I don't normally criticise other people (rivals...sss) that I encounter at the Stage Door. There are times when I think things but that's no justification for writing it on the internet. In any given situation people behave in ways that I think 'I wouldn't do that' but that doesn't make it wrong, nor right for me to comment. And I don't think that my own behaviour is beyond reproach.
I think everybody has stories of people who have so many things to sign that they seem to monopolising the stars. Sometimes rumours abound that people are getting stars to sign so many things just so that they can then sell them on ebay or whatever. I think it's an imposition and an impertinence. Last night there was young man who had a whole load of photos for Rolando to sign. Rolando was there,signing away and signing away, and lightly and not nastily, he said "Are there many more?" Now, if a star had addressed me like that I would have been - probably embarrassed that it had ever got that far; certainly quick to realise that I was imposing. But this guy just said "Oh not many more," and fanned out a pile of photographs like a pack of cards. Again pleasantly Rolando mentioned that he would be doing a signing at the ROH shop on Sunday, when there would be more time...That will be at about 7.30 pm, by the way. AndI still don't think this guy got the hint.
Anyway, there was nearly a full round up of stars emerging through the Stage Door. I didn't get photos of all of them; sometimes I just like to chat a bit,and if they're clearly in a hurry or whatever, I just think, don't detain them any longer. First to emerge was Robert Lloyd, I didn't get a picture of him, because he seemed to be in a hurry, and we had already had a chat.
Then Ferruccio Furlanetto, and I got a picture of him.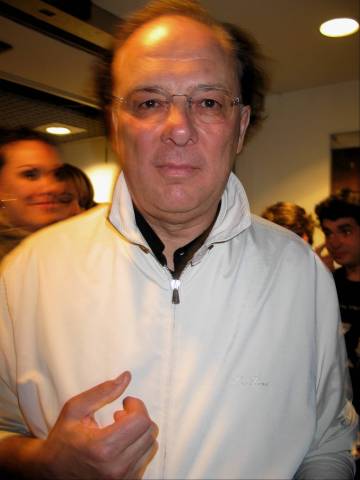 Next was Simon Keenlyside who I have actually never met before. He got to the outside door and exclaimed "It's raining! Thank god!" I said something like "You won't have to water the garden", at which he smiled and said "It's too hot!" It did occur to me afterwards, that he's got not so much a garden as a farm, so I doubt he gets on his motorbike down the M4 after a long night singing Posa and then gets out his watering can. I asked him for a photo, and he was all modest and "Oh no not me," but he posed nevertheless. He seemed very nice, and added bonus was that quite a few of his fans left after that, meaning that there were fewer people crowding into the tiny space out of the rain!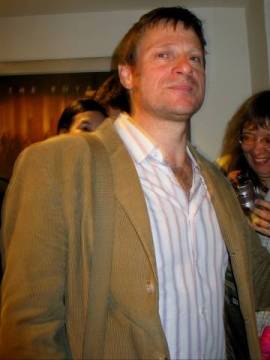 Next was Sonia Ganassi, who seems to be a friendly person. I took a picture of her but it didn't come out very well.
Then was Rolando, who took a long time to get where I was. Finally when I spoke to him, I said that I thought he was fabulous, really amazing,I really liked it. He said he hoped he was getting over his allergy. (I should have said, if that was merely 'getitng over' I would love to hear you when fully allergy-free). Instead I said something about looking forward to the DVD; he said it would be the performance on the 3rd. Then I noticed that he had his suitcase with him, so I said "Good luck for Vienna tomorrow night. Enjoy Vienna" (I can't do all that 'toi toi toi' and 'in boco del lupo' stuff). He said he was flying that night. And I took his photo. I can't think of many opera stars who would pose quite like this...he is the one and only!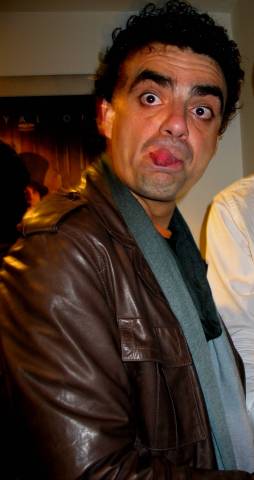 Next out was Tony Pappano. I managed to say something like "Thank you for tonight, and for the whole season."
I then realised that it was gone to five to eleven, so if I hurried, I could get in the pub just before last orders (isn't it amazing that all over the country pubs in fringe residential areas stay open until 1 am or whatever, but Westminster City council in their infinite wisdom have decreed that pubs in Central London, Theatreland and so on, should close strictly at 11pm, just as in the days when the ammunition workers had to be sober because the First World War was going on.)