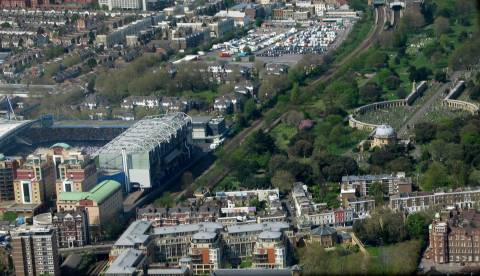 So, you know, we were sort of there, briefly.
And how did I manage to take such a photo?
I bought this trip months ago, for Jimmy's birthday back in August. With him working in the pub, there was never the opportunity to take it. Conscious that the voucher had a nine month life, I rang up just after we got back from Madrid, saying, can we go this weekend. The reply was, no, but you have a choice of 26 April, 3 May etc. I plumped randomly for 26 April, it was several days before I realised that it would clash with the Chelsea v Manchester United match, title decider, live on the TV blah de blah..
Then, earlier this week, we started to watch the weather forecast. And we were absolutely delighted that sheer chance had allocated us a day like yesterday, warm and sunny with an excellent view.
We booked with EBG helicopters, who are at Redhill aerodrome, fifteen minutes by taxi from Redhill station which is 37 minutes from Streatham Hill. There was us two, and another chap, along with the pilot. We took off at about one o'clock and arrived back about three quarters of an hour later. We flew North, reaching the Thames at Barnes, having seen landmarks such as Tolworth Tower and the windmill on Wimbledon Common. From Barnes we flew above the Thames, seeing Stamford Bridge, Chelsea Harbour, Battersea Power Station, the Houses of Parliament and so on (Jimmy saw more North of the River, I saw South of the River, although for some reason, I don't remember seeing the London Eye, I think I was too busy trying to get a photo of my office, like how sad is that?). We headed over to Docklands, seeing very clearly the runway at London City, before turning right at the Isle of Dogs and returning to Redhill.
Take off was very smooth as was progressing through the sky, until we hit some unexpected turbulence. For a moment I felt a touch of motion nausea, coupled with a sense of panic that we were in serious trouble. Irrational, and anyway it only lasted a few moments; after that it never even crossed my mind even to worry.