«No hay un día que no tenga miedo cuando canto»
Plácido Domingo habla con Efe de sus proyectos, entre los ensayos y las horas de estudio para el estreno el 26 de marzo de "Tamerlano".
"Ni viviendo dos vidas podría cantar todo lo que quiero"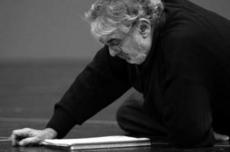 Domingo viaja al barroco: El tenor protagoniza Tamerlano a partir del próximo miércoles en el Teatro Real

Tamerlano opens on Wednesday. I don't suppose I shall have time to look-up reviews because after work on Thursday I shall be packing for an early start on Friday to fly to Madrid for a spot of sight-seeing and most importantly, to attend Tamerlano. I might take my lappy - there's Wi-Fi in the hotel - but I don't intend to waste valuable sight-seeing time, or even more valuable rest time in surfing the net. sigh
Five leaders of cultural Los Angeles weigh the city's past, progress and its potential
The next time Placido Domingo, the world's foremost operatic tenor, visits New Orleans, he won't have to look far for a stage.

He'll have his own.

Even though Domingo has never sung at the Mahalia Jackson Theatre of the Performing Arts, the New Orleans City Council voted 7-0 last week to name the city-owned theater's stage in his honor: the Placido Domingo Stage in the Mahalia Jackson Theatre in Louis Armstrong Park.

Such honors normally go to prominent local residents or national celebrities who were at least born in New Orleans, such as gospel singer Jackson and jazz great Armstrong.

Domingo, who at 67 is still one of the opera world's most in-demand performers, has never lived in New Orleans, though he appeared here frequently in the 1960s.

But Councilwoman Jackie Clarkson, sponsor of the ordinance naming the stage for the Spanish-born tenor, said she wanted to thank him for headlining a gala benefit concert the New Orleans Opera held in March 2006 at the New Orleans Arena. The event marked the company's revival after Hurricane Katrina flooded the Theatre of the Performing Arts and wiped out the opera's fall performances.

Clarkson said the concert, which drew more than 7,000 people, raised $700,000 for recovery efforts. Honoring the tenor "is repayment with gratitude," she said.
Like all the other opera stars who appeared at the 2006 gala -- Frederica von Stade, Denyce Graves, Richard Leech, Nathan Gunn, Elizabeth Futral, Paul Groves and others -- Domingo donated his services.

The tenor, who was singing in public for the first time after taking nearly three months off with health problems, told the audience that his first New Orleans appearance, 44 years earlier, had been good luck for him early in his career. He urged the storm-battered attendees to keep their spirits up. "Music is the voice of hope," he said.

The Domingo stage is expected to be formally dedicated in January during a weeklong series of cultural events marking the reopening of the Theatre of the Performing Arts after millions of dollars in post-Katrina repairs. Clarkson said Domingo will be present.

To prepare for its return to its home theater, the New Orleans Opera has launched a special fund drive. Both onstage and backstage forces will be larger at the theater than at the company's temporary home at Tulane University's McAlister Auditorium, meaning expenses also will increase.

As a young artist, Domingo performed frequently with the New Orleans Opera, singing a total of nine roles, including Don José in Bizet's "Carmen," Cavaradossi in Puccini's "Tosca," Manrico in Verdi's "Il Trovatore" and the title role in Giordano's "Andrea Chenier." His local performances of the latter two roles were the first time he sang them anywhere.

All those appearances were at the Municipal Auditorium, where the opera company performed until the Theatre of the Performing Arts opened in January 1973.

Until the 2006 gala, Domingo had not appeared on a New Orleans stage for more than 30 years.

During those years, he was almost constantly busy elsewhere -- singing at all of the world's major opera houses, building up a repertory of more than 125 roles and making more than 100 recordings. In recent years, he also has pursued two other careers: conducting opera and concert performances, and serving as general director of the Los Angeles Opera and the Washington National Opera in Washington, D.C.