I've spent a few weeks contemplating Fidelio. I am not short of recordings, both complete and audio-only. I have concluded that Fidelio is a tricky opera, far bettered enjoyed live. I know that the same could be said for all operas. All music in fact, but while I can thoroughly enjoy a Beethoven symphony at home whilst being aware that the concert hall experience is unmatchable, I cannot get any recording that surpasses the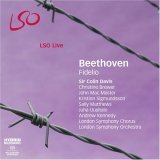 And they all lack the je ne sais quoi of the rather indifferent performance at ROH last year. I also saw an Opera North version in Nottingham when I was a student but other than a visual memory of the Prisoners' Chorus I have very little memory of it, other than being enjoyable. And cheap. Considerably cheaper than the Evita which we saw at about the same time in the same venue.
Fidelio is a fascinating study of what might have been or what nearly was. I think all educated people acknowledge Beethoven as one of the pillars of Western Music, even when not really knowing why. For me, it is above all his symphonies, whilst also loving the concerti, chamber and solo works with which I am familiar (embarrassingly few). I find his Missa Solemnis a weakness, in a genre where I would automatically look to Mozart or Haydn. He only wrote one opera. There is a reasonably comprehensive article in wikipedia, I certainly can't add to that. Ultimately the only way to really familiarise oneself with an opera is repeated viewings and hearings of different versions. And also study of the score, but I'm too much of a skinflint to buy scores. I shall make more of an effort to study scores when I hit forty.
Fidelio has many ingredients to make it one of my favourites, glorious tunes, believable characters, a serious storyline, and above all, a noble enlightenment ideal. So it's intensely frustrating that somehow it doesn't quite make it. I have always been fascinated by triumph against tyranny. Sadly the story, although ostensibly set in 18th century Seville, is applicable to universal time and place, a classic story of a political activist jailed for making a stand of principle. I could be cynical and sneer at the portrayal of unselfish love that Leonora/Fidelio shows. I could even make an intellectual feminist argument decrying the glorification of the selfless wife who is saintly enough to sacrifice herself for the husband who was stupid or reckless enough to get caught up in opposition to tyrannical politics. But I can't. Noble behaviour is noble behaviour. Courage is courage. Love is love.
The opening half of the first act is irritating. It is often played as comedy, and it took me a while to grasp its importance. Marzelline, dreaming of marriage with 'Fidelio' is a typical trivial opera wife. Her immaturity and her dreaming of the material comforts of marriage and a dreamy idea of love provides a sharp contrast with Leonora's attitude to marriage. We don't know whether Marzelline would be capable of such courage, or we wonder whether Leonora went into marriage with an equally rose-coloured-spectacle view and had to grow up.
Rocco is an equally fascinating character. He is so clearly a man without a moral compass. Not intrinsically evil, simply complacent. He will do what the governor tells him to do, especially when that is accompanied by a bribe. He refuses to carry out the murder of the prisoner which gives a glimpse of a sense of right-and-wrong. But he doesn't mind digging the grave. He stays obedient to the Governor until the Minister arrives, at which point he disowns the governor, because it's expedient to do so.
I have always been troubled by the argument that 'I was only obeying orders' is no defence. I think each case should be examined on its merits. I know, and have known throughout my working life, that if I encounter something in public policy or administration that is against my conscience, and secret, I have a robust structure within which to whistle-blow. And even if I spectacularly misjudged and was imprisoned, I would have considerable basic human rights in prison. Rocco didn't have those options. We don't know his economic circumstances, but, presumably uneducated, a job as a prison officer was a good living for his family. To rebel would mean poverty. Failing to stand up to the Governor seems a normal reaction to me.
I like the fact that it has a happy ending. But it's not a tritely happy ending. It's one that inspires hope, and enables one to consider the very personal aspect of the stories - abused maltreated human beings reunited with those they love, to live a normal life. Being of the 21st century with access to reams of pop psychology, I know it won't be a 'live happily ever after' situation. How robust is Florestan's mind after two years in solitary confinement? Can he adjust to normal society, will the marriage survive his post-traumatic stress disorder and the flashbacks? We also made a little joke in the comfort of home "He looks like he needs a shower".
Musically, it is absolutely Beethoven, and thus it should be easy to like. But I have found it to be too fragile to withstand poor or mediocre performances. There are some excellent set pieces arias and choruses, and the orchestra is always worth listening to, some gorgeous passages rich in characteristically lush orchestration. There is some delightful uses of leitmotifs, notably the Freiheit theme, the Don Pizzaro theme, and one that crops up whenever love is under discussion.
Two years ago I was indifferent to this opera, but since then I have grown in my understanding of it, and thus my love for it. I know there is so much more to discover and so many more thoughts for it to provoke, so it's rather exciting to be on this voyage of discovery. I first saw it half a lifetime ago, perhaps it will take that length of time again to understand it fully. And longer still to tire of it!
Having studied a number of different recordings I have decided that the key to a successful Fidelio is simply to have a conductor with vast experience of Beethoven conducting an orchestra absolutely steeped in Beethoven's symphonies as its lifeblood; a cast of excellent although not necessarily world-class singers; and, if complete, an imaginative and faithful staging. Having a world famous conductor or even a world class line-up of singers is not enough.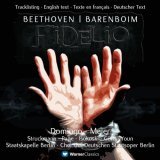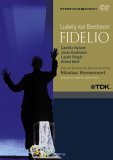 Another version I have is the Zurich one. The production does little for me. I find the late 18th century costumes a turn-off, even while I acknowledge the veracity of their setting. At times there are unnecessary details that only distract and do nothing to explain. For example, during much of the first half of the first act Marzelline and Rocco are sorting some metallic objects that turn out to be ammunition. How to occupy them clearly presents a problem to directors - I think I have seen Marzelline ironing - maybe that was the Opera North production. But it all looks a bit contrived. Overall, it is a strong presentation, and I was presently surprised by the conducting of Nicholas Harnoncourt. I have various recordings of his, bought for his impressive soloists and despite his idiosyncratic interpretations. For me he is a man who can single-handedly ruin Cosi fan Tutti, Messiah and much else besides, but whilst he brings no special insight, I can live with his rather commonplace playing. There are weaknesses in this DVD, again, a rather amateurish sounding Prisoners' Chorus, but overall there are no real weak links. Nevertheless, with a competitive market, I would not contemplate recommending this except for one vital factor which makes it a must have. That vital factor is Florestan. It's a strange role in that he is absent throughout Act I but is absolutely essential to Act II. Indeed, along with the Prisoners' Chorus, the absolute highlight is his amazing aria at the start of Act II. If all he had to sing was that, it would nevertheless require a top-class tenor. And on this DVD we have a world-class performance from Jonas Kaufmann.
I fell completely for this on You Tube but it is infinitely better on DVD. If only I could see him perform it live. He is performing it in Madrid in April, the first night being more than a week after the final night of Tamerlano. If only the two were closer together, it would make a superb double-header for a trip. I have a reluctance to travel to see Jonas because I have a perception he cancels frequently (although he survived all performances of ROH's Traviata which neither Trebs nor Dima managed).
Because of Jonas's superb Florestan, I find it impossible to say categorically that the Salzburg performance is the must-have (especially as it seems not to be available on commercial DVD, an extraordinary oversight! But it has been shown on SkyArts in the UK - and doubtlessly other TV channels in other countries - and is downloadable for those that have the means). Best to get both. In all other aspects Salzburg wins it. Which seems unfair to Jon Villars who turns in a very good performance as Florestan. Indeed, if I didn't have Jonas, I would be in praise of Villars, not a tenor I have ever really encountered before.
The starting point for the brilliance of this recording is orchestra. None other than the Berliner Philharmoniker under Simon Rattle. How much is him, how much them, I don't know. They know Beethoven inside out and backwards and have so much experience of Beethoven under Rattle. I don't have strong feelings either way about Rattle but there is something very special about the symphonic orchestra playing. I suspect that only the Viennas could surpass this - most opera house orchestras have little experience in Beethoven, considering that this is his only opera and it isn't performed nearly often enough.
On top of a superb orchestral performance is a fabulous production. People say you are either a fan of Nikolaus Lenhoff or you're not. I can't see what there's not to like about him. A thoroughly intelligent production, with no expense on the set or costumes, but all the creative effort put into realising the characters and a thorough fidelity to the story. The singers are naturalistic throughout, hardly ever static (with one important exception), no hamming, no superfluous action or detail. Monochrome runs throughout, except in key places. Marzelline wears a pink dress with red shoes, Florestan is in a neon yellow High Visibility strait jacket, and when Fidelio reveals himself to be Leonora she strips off her prison officer's uniform to reveal a salmon-coloured silk slip. There is a nice touch in that Don Pizarro the evil Prison Governor enters and leaves by a primitive lift (like one sees on building sites). Other than acting as a visual counterpoint, it adds little but does not distract or diminish.
One of the special parts of this DVD is Thomas Quasthoff as Don Fernando, a small but vital part that only enters in the second half of Act II. His entrance is superbly staged. The curtain rises on the almost-freed prisoners and their families. The crowd separates - and there is Quasthoff, in his operatic debut. One almost feels that Beethoven wrote this role especially for him - although he is officially a bass-baritone, he has been described as a bass and a baritone. I presume that the staging was designed especially for him, and because it is almost static it works really well to contrast the dignified benign minister with his enemy the evil and hyperactive Don Pizarro. I understand that Thomas Quasthoff has now retired from opera. I totally adore his voice but his Lieder repertoire does little for me, so I don't get to hear him very often.
Overall it is a strong if not entirely starry cast, with most of the protagonists being better than their rivals, even to the extent of Lászlo Polgár being noticeably superior to Lászlo Polgár in the Zurich DVD. Alan Held is wonderful as Pizarro, resisting the temptation to play the pantomime villain. Angela Denoke is an extraordinary Fidelio/Leonora conveying the full pathos in a moving dramatic appearance topped with a decent vocal performance. Julianne Banse and Rainier Trost are ahead of the game as Marzelline and Rocco.
Of course there are numerous commercial and private recordings avaialble and if I had another life, I would get them all. But I am primarily an opera-on-DVD girl. CDs represent poor substitutes even when they are superbly executed.