I like that word so much...
You would not believe the emails that were going around this week...
Anyway, I just found myself on Floral Street on Friday, and blimey, there was Mandy. And then, I thought, Anne Marie has texted me to say what she's wearing - okay that will be her over there. So the three of us stood on Floral Street. Like one does on a sunny autumn's day in the middle of a Friday afternoon...But we were far from alone. Lots of familiar faces and also unfamiliar faces. Hello Unfamiliar Faces! Hello Familiar Faces! And especially hello Mandy and Anne Marie. This was the first time I had met Anne Marie after months of correspondence via blog. And, Anne Marie, yes, he did notice you!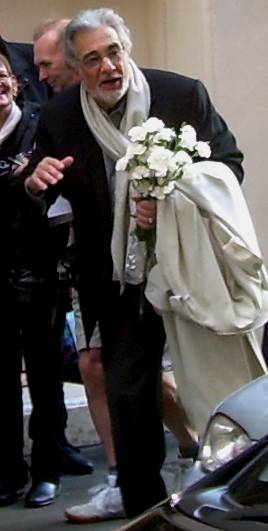 Needless to say, I didn't even notice that Plácido was walking up the other side of Floral Street, but thankfully, Anne Marie noticed him. And so did a lot of other people, too. He was surrounded by quite a group of admirers as he walked to the Stage Door. He must know there's going to be a welcome party for him; if I were him, I would go in another entrance, avoid us. But he's nice like that.
I had been pretty excited all afternoon day week year...and suddenly, there he was, just feet away from me. Did I swoon? Inwardly, of course, I did, but on the outside I was coolcalmcollected just gazing adoringly at him. This man I admire so much, this man I hero worship, was there, in front of my eyes. A superstar, and yet so approachable. (There were a couple of women walking along Floral Street as a cut-through from Covent Garden to Bow Street, and they said 'who's that' so someone said and suddenly they're all "ooh, ooh' excited...)
I didn't get to speak to him, just listened as he answered questions that other people were asking. I think he must have been feeling the cold because he only had two buttons of his shirt unfastened; yet I still found myself drawn to gazing at his chest hair. And into his eyes.
He said that he would be at the Stage Door after Act II; also that he would be returning to Washington straight afterwards. Somebody helpfully told him that would be to conduct Don Giovanni. I expect he knew already.
I did manage to take one - one - photo but it's pretty rubbish...well, it's of his back view. Sigh So a very big thank you to Anne Marie who emailed me these photos - including one of me with Plácido...well, sort of (that's me in the pink cardigan, gazing intently)
Then there was the opera...I will write a full and reflective review tomorrow, I promise. and I want to stress that my hunkentenor stalking was secondary to the actual performance of Die Walküre; just that the stalking (Part 1) came first.