Typical of the rudeness of stuck-up neighbours.
We were woken at 7 am on Monday by work commencing in the garden at the back. At 7.30 I had to don a dressing gown and stick my head out of the window to request politely "No power tools before 8 am." Interestingly, I got a nod and compliance from the builder, who knew precisely what I meant.
Yesterday I took a photo of RSJs: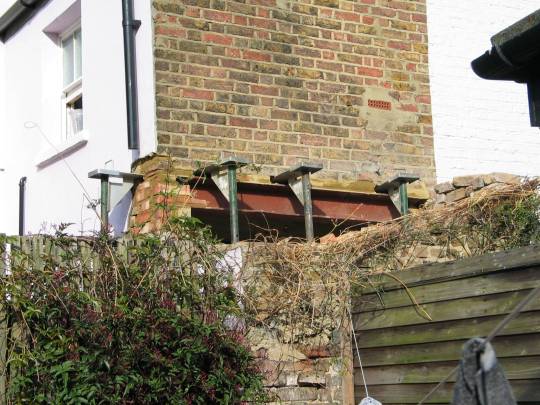 I told Jimmy to keep an eye on the party wall.
This evening, I take more photos: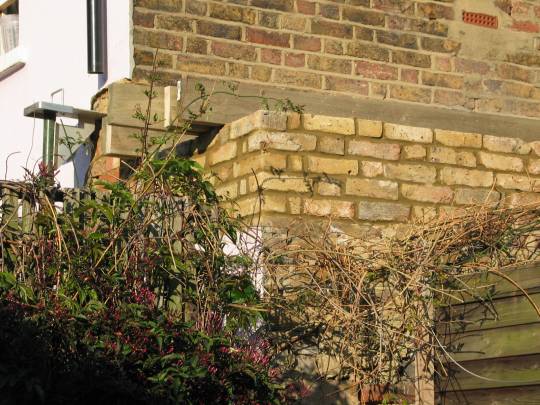 It seems that they are extending their back room by resting it on the party garden wall. We can see through the garden wall. It's a garden wall; it's held up by dust and ivy. I would love to know how much they are spending on this job. They've never knocked on our door to inform us of the building work, let alone have their architect or surveyor inspect the wall from our side. Maybe they did from next door (it's a three way party wall), but maybe it's in better condition next door...
I can't say I want to be underneath it when it crumbles under the weight - don't yet know whether it's going up two storeys. I would even less like to be in their extended back room when it collapses. I shall get onto Lambeth Building Control tomorrow, but I'm not messing around, I'm shall get onto a solicitor on Friday if Building Control are less than helpful
I don't want this hassle in my life. But I expect my neighbours at the back really don't want hassle or extra expense. If only they had shown neighbourly consideration in the first place, they wouldn't have gone ahead with such a ludicrous building project. I know that wall; I suspect that a heavy wet load of washing or an extra strong gust of wind could send it falling.
I'm not sure about the law on Party Walls and Planning Permission. I don't particularly want to. I shall just refer it to a solicitor - if anyone can recommend a good relevant solicitor handy for my area (Brixton) do please let me know.