The Mainstream Media Reviews are beginning to trickle in.
An entertaining read: Domingo Sings World Premiere of `First Emperor' at the Met - although perhaps the phrase "Even in his 60s, the tenor is still a handsome showboat and soprano magnet" isn't strictly necessary...!
He could have dressed as an elf and just sung ``Jingle Bells'' at the Metropolitan Opera last night and made everyone happy. Instead, always the over-achiever, the tenor waded through a strenuous new piece, ``The First Emperor,'' by composer Tan Dun, that started around 8 p.m. and ended 3 1/2 hours later with one intermission...
Tan Dun's 'First Emperor' has world premiere at the Met
The singing, with Domingo leading a strong cast a month before his 66th birthday, couldn't have been better. For Domingo, who has now mastered an extraordinary 124 roles*, it was the first time he had sung a world premiere at the Met in his 38 years with the company. His tireless tenor depicted the power of Emperor Qin Shi Huang, a task made easier because his part generally was in the brawnier, lower range.
First Emperor striking, but not quite successful
I expect that I shall update this post once or twice; updates will be clearly labelled in bold.
Update: Tan Dun mixes an East-West 'Emperor': Even with Domingo, Ha Jin and Zhang Yimou, what begins gloriously doesn't always thrill.
Update update: East meets West in ambitious 'First Emperor'
Tan Dun's 'First Emperor' big on style, short on substance
The Familiar Kingdom Of 'The First Emperor'
A Majestic Imperial Chinese Saga Has Its Premiere at the Met
with photos: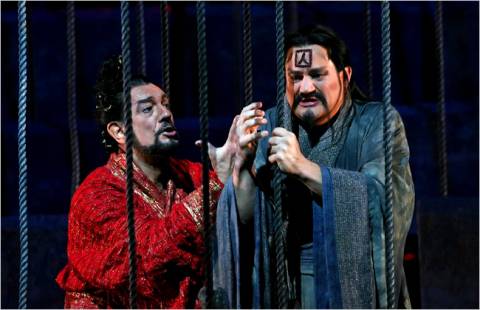 And give credit to Mr. Domingo, who at nearly 66 is still ambitious, still taking chances and challenging himself. He mostly sang with stamina and burnished power. True, his best friend onstage often seemed to be the experienced prompter, Donna Racik, invisible to the audience but quite often the focus of Mr. Domingo's attention. And though the role was written for him, he could not disguise the effort involved in singing it. Despite his trouble with top notes in recent years, Mr. Domingo's voice sounded freshest when the lines took him into his still clarion upper range. The man takes on too much. But what a major artist!
(but no characteristic Tony Tommasini adjectives...)
* I demand a recount...