I have to be careful what i write here because I know there are a great number of Bryn fans out there. I have two albums by Bryn, one of cr***o**r and one of opera.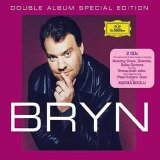 The imaginatively named Bryn actually isn't too crossover, in that it does contain some operatic arias, as well as traditional songs. I haven't got round yet to buying Simple Gifts. (Amazon seems to be offering a Double Album; I only have a single album...)
Bryn has a really fabulous voice and there are those who wonder why he has to waste it on cr***o**r. Actually, I like some of the crossover on here a great deal. Especially Bugeilio'r Gwenith Gwyn.
And it's one of the opera ones that I really don't like. Namely, "Au fond du temple saint" and I think you can guess why. I have a wonderful recording by Jussi Bjoerling and Robert Merrill. Additionally, from time to time they show on the TV a performance of Bryn singing this with Roberto Alagna and it's wonderful. So on this record he has to sing it with Andrea Bocelli. Which is a real shame, because Bocelli's whiny bleat with its approximation to pitch just goes and spoils it. I don't understand why one of the world's greatest opera singers feels the need to sing an operatic duet with a mediocre pop singer.
The only explanation I can think of is that it makes him feel more secure because when he does it the contrast is almost embarrassing. Last year, Songs of Praise came from Brynfest and they showed Bryn singing a duet with Aled Jones. And Aled Jones is by no means a bad singer. Jimmy summed it up
Bryn's not even trying but he's outsinging the other bloke in every way. The other bloke's singing his heart out but it's a different class.
I mean, really, Bryn has everything, when he makes the effort. In his voice alone: a delightful sound ,superb musicianship and the ability to colour the tone to convince the listener that he understands what he's singing - the words, the music, the emotion, the mood. Even things like Going Home, or Home Sweet Home, which you've heard a million times sung by all sorts of people - from his mouth it becomes something extra special.
And if you want to hear My Heart will Go On (or, rather Il Mio Cuore Va) performed superbly well, this is where you'll hear it.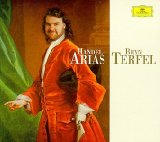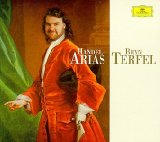 The other album I have of his is one of Handel Arias, which I got fairly soon after it was released in 1997. He hasn't made a big thing of Handel in his career, I don't think. A whole album of Handel arias is high risk gamble for the listener, in my opinion, because, basically, Handel was a churner-out of operas and oratorios for the commercial market. He wasn't striving for high art or the great truth in the way that, say, Wagner did later. His aim was to supply the paying public with entertainment, and it would be fair to say it was formulaic. If the formula works, that's a good thing, and for Handel, it definitely works. The downside is that a string of arias can be all a bit samey, and it doesn't really matter - Messiah aside - which work any particular aria is from. I'm knocking Handel. He wrote Messiah, for god's sake. And this album contains the gorgeous Where'er you walk (from Semele) and Ombra mai fu (from Serse) which are classics in their own right as well as three from Messiah.
What makes this album so enjoyable is pretty much what makes 'Bryn' also enjoyable - the wonderful voice, the musicality, the ability to colour the voice, and the sense that even though I'm not following the libretto, I know what emotions the aria is about because of the characterisation in his voice. The Scottish Chamber orchestra under Sir Charles Mackerras are lively with a lot of oomph