Oh, the Eighties!
OMD.
Or as they were very early on OMITD. Very popular they were in the Eighties. And I am very much a product of the Eighties. Everyone seemed to like OMD, but I do not recall anyone having teenage crushes on OMD. I don't remember any letters to Smash Hits or Just Seventeen from people angsting in their tormented teenaged bedrooms over OMD.
But I think most of us liked OMD.
I bought quite a few of their singles. In fact I would say of all the singles I own, Joan of Arc has the most satisfying cover. Not necessarily the most exciting, but it has a sleek beauty about it.
In the early, 1990s when Smash hits was de rigeur reading among many of my twenty-something colleagues (not least myself) we were somehow horrified and disappointed that they were back in the charts and back in Smash Hits. It didn't seem right, it was as if they had somehow lost their integrity. They were never a plastic manufactured band, they were artists.
It turns out they are due to tour with Joy Division. Ooh, guess the average age of the audience. 41, I reckon. And now, I don't see it as a loss of integrity or anything such. I would imagine it would be a good night out, some good tunes. I hope some youngsters do go, learn why old folks like me have such indifference to modern commercialised pop. No dates yet.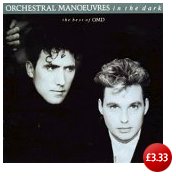 Every song on the album is good, but if the truth be told, the highlight of the album comes in a sequence of four tracks: Enola Gay, Souvenir, Joan of Arc and Maid Orleans. As for the rest, they would probably induce a smile of nostalgia if heard on the radio or a compilation album, but otherwise I wouldn't bother.
Of these Joan of Arc is the only one for consideration in my Top 100 pop sings of all time. It reached number five in the autumn of 1981. 1981 is undisoutedly the best year for pop music, and the autumn was extraordinary.
I have this album on vinyl (which I have recorded onto cassette) but even at £3.33 - probably less than half of what I paid for the original vinyl) I am not over-tempted to take this into my digital collection.