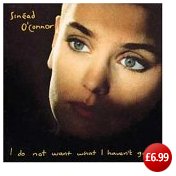 I have had this album for so very long. So long that I actually have it on vinyl - and a TDK AR60 cassette. I simply don't think I play it enough. It is jolly good, and has most definitely stood the test of time. I'm not embarrassed to say that buying it was a direct consequence of 'nothing compares to u' being number one in the singles' charts, back in the days when the Singles Chart mattered, and being number one mattered greatly. But I was already a Sinead fan.
There is no weak track on this album; every single track is really very good. Yet, perhaps, even though some are haunting, some are profound, not one really leaps out as being a contender for the Top Hundred pop songs that I might compile in two years time...And yet, this very great album is much greater than the sum of its not inconsiderable parts. I see it's available as a CD for £6.99 on Amazon. Ii expect I probably paid at least this for the vinyl version back in 1990. You kids just don't know what it was like back in the dreadful days of Thatcherism. Okay, I admit it, 'black boys on mopeds; is brilliant! (says Political Gert!)
There is no doubt that Sinéad O'Connor is a genius. A flawed genius, but you only have to listen to this album to realise the amount of rubbish that gets passed off as something worthwhile and profound these days.
Margaret Thatcher on TV
Shocked by the deaths that took place in Beijing
It seems strange that she should be offended
The same orders are given by her
I've said this before now
You said I was childish and you'll say it now
"Remember what I told you
If they hated me they will hate you"
England's not the mythical land of Madame George and roses
It's the home of police who kill black boys on mopeds
And I love my boy and that's why I'm leaving
I don't want him to be aware that there's
Any such thing as grieving
Young mother down at Smithfield
5 am, looking for food for her kids
In her arms she holds three cold babies
And the first word that they learned was "please"
These are dangerous days
To say what you feel is to dig your own grave
"Remember what I told you
If you were of the world they would love you"
England's not the mythical land of Madame George and roses
It's the home of police who kill blacks boys on mopeds
And I love my boy and that's why I'm leaving
I don't want him to be aware that there's
Any such thing as grieving