(Readers of my months ago post on Pink Floyd, which followed on from The Mission will realise the tenuous grip I have on the alphabet...! And on this All the Records by Forty Project)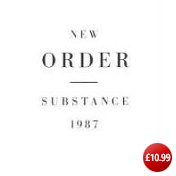 Now, there's a group. I had a friend who always insisted that they were from Macclesfield, in order that the Macc Lads (remember them? No? Hey, that's showbiz!) would not be Macclesfield's finest...But in actual fact, they are from Manchester, and, if I'm not mistaken, part of the Tony Wilson Factory.
In October they released Singles "Singles is the ultimate anthology of the works of one of the most exceptional and groundbreaking British bands to date." So, what was Substance?. Oh, I know, released in 1987. A generation ago...!
I used to think that New Order was Music for Grown Ups, in as much as when Blue Monday was first released and didn't chart, but was played on Piccadilly Radio, I didn't like it. Then on its second outing in August 1983 I was in the Body Shop in the Royal Exchange, in the days when the Body Shop was a trendy alternative place and not a multinational capitalist conglomerate. I remember it vividly; I bought two hairgrips that look like biros and I picked them from the basket just as New Order came on the radio. I've still got them. It was like an epiphany to me. I gravely that I had grown up a lot in the intervening months. I was all of fifteen. Blue Monday is the UK's biggest selling 12" single. They were/are blue, but I think this was a Tuesday.
Since then I have always liked New Order. It's reasonably intelligent music, good beat, reasonably good tunes, fairly innovative use of the electronics which in the Eighties were not exactly in their infancy but had only just begun to make an impact on the commercial music scene.
Back in the Eighties they were seen as bit Indy, non-cynical, non-sell-out. But see above comment about Substance vs Singles. Not to mention the extent they have milked and re-milked Blue Monday with re-releases, remixes, re-released-remixes. How our heroes have feet of clay.
Best not to dwell on that and just listen to the music.
Other Favourite tracks include Thieves Like Us, State of the Nation
But in the final analysis although I quite enjoy listening to New Order I could never get passionate about them. Possibly because they utterly fail to get passionate about the music themselves...