By special request, the so-called Aquarius Project makes a special Pisces return to celebrate the birthday of my favourite niece, Eleanor Mary born in 1999 (budget day; I went to a pub quiz and saw Screaming Lord Sutch with a budgie on his shoulder)
HAPPY BIRTHDAY ELEANOR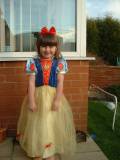 Celebrity birthdays include:
1454 Amerigo Vespucci. Had some continents named after him (north, Central and South Vespugha)
1829 Modest Mussorgsky, composer and habitual drunkard. Wrote night on a bare mountain and Pictures At An Exhibition
1881 Ernest Bevin, former Foreign Secretary
1890 Vyacheslav Mikhailovich Molotov, Soviet Foreign Minister. My Soviet and East European lecturer sat in Moscow Central library on the same table as Molotov who was writing his memoirs. When Molotov went off to the Gents, Tony sneaked a look. He said they were very boring...
1892 Vita Sackville-West, novelist and poet. Grandma could tell you things about her. I couldn't.
1910 Samuel Barber, composer - Adagio for Strings. He wrote a nine minute opera called A Hand of Bridge with a character called Geraldine
1934 Yuri Gagarin, Russian cosmonaut, first man in space
1936 Glenda Jackson, great actress, now MP for Hampstead and Highgate
1954, Bobby Sands, IRA hunger striker
1959 oh heck, I don't believe this... Barbie. Doll.
1964 Juliette Binoche, actress
1975 Juan Sebastian Veron, ex-Manchester United player
Update: How could I forget...
1965 Diamond Geezer
and
1935 Diamond Geezer's Mum