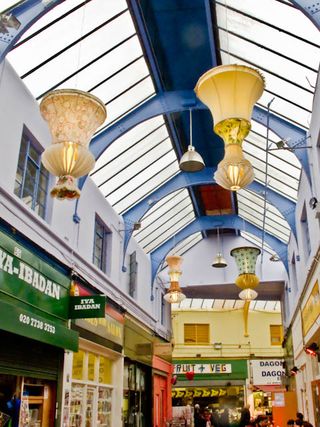 Brixton Village is nothing short of a phenomenon. Housed in the market hall previously known as Granville Arcade, and with some overflow in spirit if not in strict technical fact into Market Row. For years, the home of stalls you'd expect to find in any market. A useful if now somewhat dated article from the Evening Standard How Brixton's arcade got a new lease of life explains the background.
For a long time, there was very much a feeling that there's hardly anywhere worth eating in Brixton. I feel the renaissance of the market has had a knock-on effect more widely. I also feel that Twitter, Facebook, and sites such as Qype also help. I know you're supposed to find restaurants by word of mouth, but I've had too many people tell me somewhere's 'amazing', but their tastes extend no further than freezer-to-microwave-to-plate.
One Saturday in February, we made our way to the village. We had already decided on where we wanted to eat, although we also knew that if it were full, there were other options. We had been to Casa Sibilla before, and were pleased that a table for two, inside, came available just as we arrived. It is possible to sit 'outside' - actually under cover of the market, and most of the restaurants provide blankets, but at that time of year, inside is better.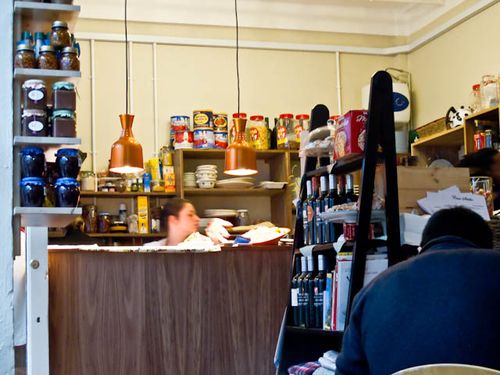 I am amazed at how Casa Sibilla and other restaurants (I was similarly struck at Etta's Seafood Kitchen) do it - create a range of gorgeous food in kitchens that are smaller than mine at home. As far as I can see, there was only one person cooking and two serving, hence my biggest 'criticism', we did have to wait a while. I don't mind waiting for a main, but I did start to feel slightly impatient when I felt I'd been waiting an age for our bread selection, wine and tap water. I wouldn't wish to labour the point, though. The bread selection was a nice selection of sourdough, grissini and plain but delicious rustic white.
I opted for the spinach & ricotta tortellini, whilst Jimmy went for roast chicken with veg and roast potatoes. He was perfectly satisfied with his, and he's a hard man to please when it comes to roast potatoes!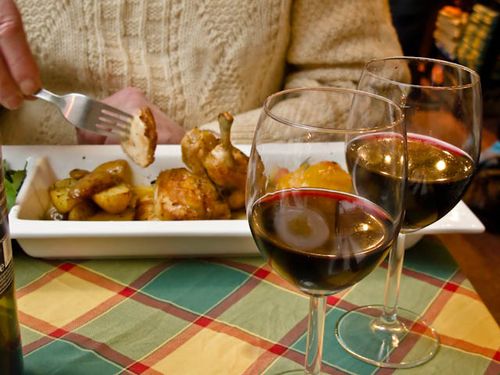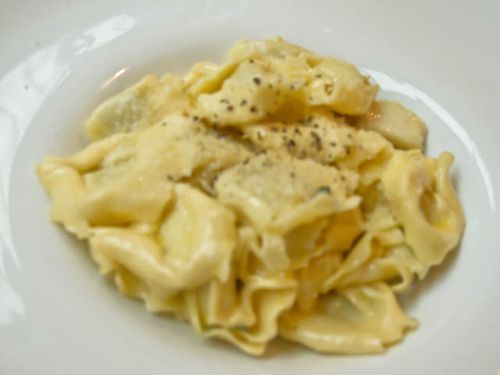 I would have thought that there's very little one can say about spinach & ricotta tortellini. A staple of supermarket ready meal shelves, it is what it is. But this a tortellini which highlighted how poor the supermarkets are. Smooth and delicate pasta, filled with a subtle combination of flavours which remained in the mouth to savour after the substance had been swallowed. Simple traditional food, prepared and cooked to perfection. But photographed out of focus...!
Although the pudding selection was tempting, we decided to move on, and savour Laboratorio Artigianale del Buon Gelato, or Lab G, which is what it says it is. I loved my white chocolate and salt caramel combination; Jimmy, a connoisseur of good ice cream, highly rated his chocolate and pistachio scoops.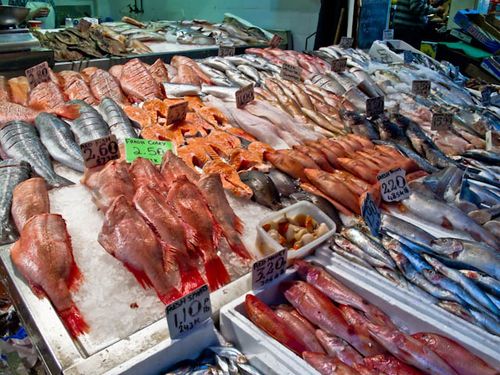 Another highlight of the market is Dagon's fish stall, which supplies many of the restaurants not just in the market but in the wider area. They've been there 25 years, so are not part of the new hip Brixton Village sensation. We bought some very nice monkfish, which I had for my Sunday dinner while Jimmy and our guests had roast beef.
Brixton Village is a remarkable place, even if there are compromises - Metro