I like the idea of the Capital Ring.
Wikipedia says
A strategic walking route promoted by London's 33 local councils, the Greater London Authority and Transport for London. It is called a "ring" because the route completely encircles inner and central London.
Walk London says
It's easy to forget just how green London is — this engaging walk offers a chance to savour some of the capital's most glorious scenery. 15 easily walked sections leave you free to enjoy it all at your own pace.
There are other similar initiatives, such as the  London Outer Orbital Path (LOOP) and the Green Chain Walk. 
We started the Capital Ring in an odd place, Crown Point, partway through Section 4: Crystal Palace to Streatham. That is a great stroll:
...then comes a level stretch through Biggin Wood, one of the few remnants of the Great North Wood. 

A final climb in Norwood Grove leads through beautiful gardens and past the former mansion. A welcome cafe serves refreshments at Rookery Gardens, then you descend Streatham Common.
Done that several times, I don't rate the café. We saw no point in continuing to Streatham Common station for its own sake, so made our own way to  Section 5 at Tooting Bec Gardens. Somehow, we missed the Pumping Station, and then took a short stroll across a tiny corner of the vast Tooting Commons. We missed a sign or took a wrong turn in Balham and ended up in a time-warped pub on the Weir Estate, which, splendidly, was showing unedited a Manchester United v Arsenal match from 1983.
I read a blog that described Streatham to Wimbledon Park as 
I'm gutted that this leg turns out to be one of the least interesting day walks on the whole Capital Ring
so I followed his advice and decided we would recommence the Capital Ring at Section 6
This stretch from Wimbledon Park to Richmond is, however, one of the greatest day walks in the whole of Greater London, and in its entire 6.9 miles it doesn't put a foot wrong. If you only do one day of the Ring, make it this one; it really is something special.
We didn't start well. As we approached Streatham station, I calculated that we would just miss a train and have to wait almost 30 minutes for the next, so we might as well as stay on the Wimbledon-bound bus. In some ways I wasn't wrong. We arrived at Wimbledon station (Underground and Overground) only five or so minutes later than if we had waited for a train. In other ways I was very wrong. A dull tedious trundle down through heavy traffic in Tooting and down to Colliers Wood in increasing stifling conditions. But on arrival at Wimbledon, it is simple enough to get on the District Line and travel one stop to Wimbledon Park.
Wimbledon Park is a delightful suburban park which is worth a half-day visit in its own right. We visited it two years ago and enjoyed a stroll around the Boating Lake and down to the village church. The Capital Ring is designed to take you through just one part of the park and march relentlessly past the the lake, barely pausing to spy the All England Tennis club in the distance.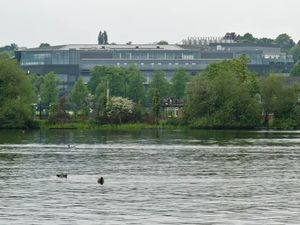 The next part of the route is through suburbia. The curiosity in looking at other people's houses soon fades. There's a limit to the number of times you can say "That building looks grim but they have a lovely view" or "Heck, they must be loaded." Even counting the Ocado vans isn't that much fun.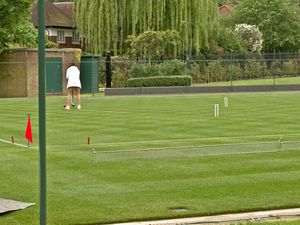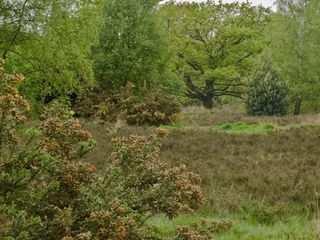 Eventually the path reaches Putney Heath, which has quite an interesting history, and is a surprisingly wild shrub land, even if it doesn't last very long. You are soon on Wimbledon Common and approaching its famous windmill. There's a nice little museum there, worth passing quarter of an hour. And they sell Wombles, although I was not allowed to buy one. I have already written about the café, which was a disgrace. After that we ploughed on along the Capital Ring route. Unfortunately, our time at Queensmere was ruined by a party of poorly supervised pre-pubescent children. I imagine on a good day that Queensmere is a lovely tranquil place. But a party of schoolboys running wild and loud, watched by schoolgirls brought up to be passive observers, echoes round the arena and makes a restful pause or stroll impossible.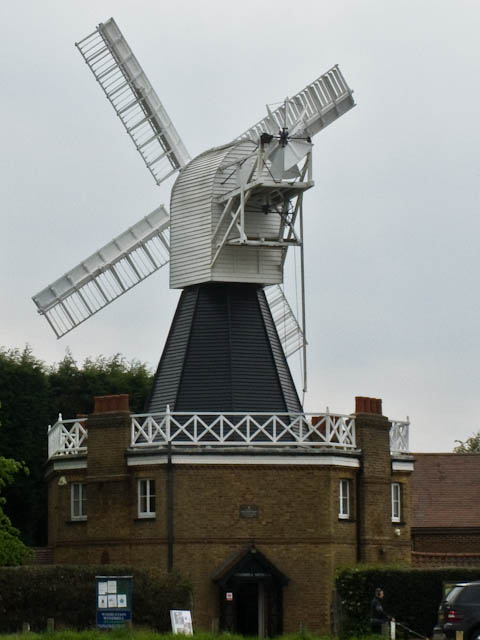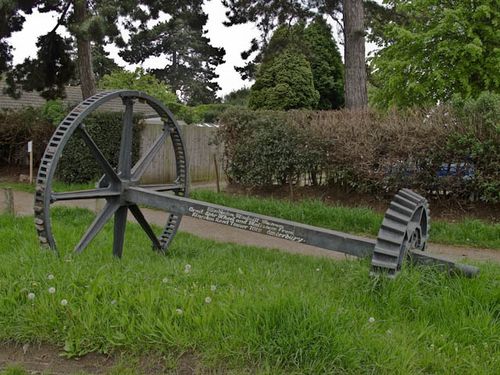 We walked across a golf course, which seems tastefully managed. No blot on the landscape, and golfers instructed to give way to walkers. And down through dense woodland. Dense, but not dense enough to muffle the noise of young men playing rugby in the far distance and, again, dominating public spaces to the possible detriment of everyone else not in their domineering demographic. Unpleasant.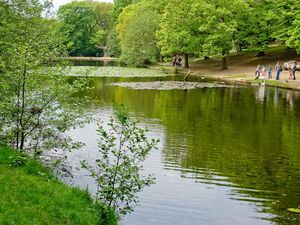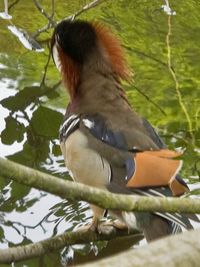 I am not made for walking, at all, so it was a relief to hit Kingston Vale. This is a necessary but horrible dual carriageway section of the A3 that is very unfriendly to non-motorised road users. I was intrigued by the Pegasus crossing - only recently installed - that allows mounted horse riders to cross from stables at Richmond Park to Wimbledon Common. I was less impressed by the difficulty in finding a bus stop when I was all but fit to drop.
Fortunately, we found a bus, and it took us to Putney, where we found a pub called the Spotted Horse. I was in there about twenty years ago and don't intend to leave it that long before returning again. An extremely nice pub, lovely decor, an excellent choice of drinks - Jimmy had real ale, I had a soft drink designed for discerning adults. And, most importantly, the food was of good quality and good value for money. If I lived nearby I'd be in there a lot.
So, the Capital Ring. It's a very good idea in theory. It's there to encourage Londoners to walk. I know many people have got pleasure from doing the entire Ring. 
I enjoy walking, but only up to a point. I can't walk far, and especially not on paving stones and other hard surfaces. If one follows the Ring precisely, you miss out on the glory of the parks it attempts to showcase. This section was supposed to continue into Richmond Park. I have subsequently done my homework and have decided that I would be better off doing the Tamsin trail. I have bought a Cycling Traffic-Free London book - this is from Sustrans, their website contains many walking and cycling books that cover the country. This book includes a cycle tour of Wimbledon common that criss-crosses it and is a day out in itself, rather than simply skimming across one corner, as Capital Ring does.
However, I will use the Capital Ring, London Loop and Green Chain Walk, as well as Walk London's other brands- Jubilee Walkway, Jubilee Greenway, even Lea Valley, and of course the Thames Path - for hints and inspiration, but rather than attempting the journey, I will focus on the featured parks and attractions.
Other people on Capital Ring Section 6