Placido Domingo offers free concert in Venezuela
Spanish tenor Placido Domingo thrilled several hundred Venezuelans on Tuesday (15/9)  by showcasing his soaring voice during a free concert and heaping praise on the founder of the South American country's famed youth orchestras.
Domingo said composer Jose Antonio Abreu "deserves a monument" for inspiring more than a million Venezuelan children to take up music since he founded "The System," a network of more than 200 youth and children's orchestras, over 30 years ago.
Interviews: "En la ducha he cantado las mejores funciones";
Plácido Domingo quiere ser redescubierto
He received the keys to the city (I think he has quite a collection by now!) Caracas rinde homenaje al tenor español Plácido Domingo

Plácido Domingo canta en acto popular en Caracas
Sueño con dirigir la Simón Bolívar
Luego escuchó algunos gritos de la audiencia y respondió: "Me han pedido que cante, pero yo llegué a las 6:00 am y no sé si tenga voz". Tras una pausa, sin calentamiento previo, pasó el switch del tono hablado al cantado, y dijo: "¿Y que pasaría si yo les dijera?: Yo nací en esta ribera del arauca vibrador..." Su voz retumbó en las cornetas, pero en el estribillo pareció exprimir las nubes. Cuando la lluvia arreció cantó una estrofa de "Granada" y observó los fuegos artificiales en el cielo gris, que marcaron el cierre de su visita fugaz a El Calvario.

Quince minutos con Plácido Domingo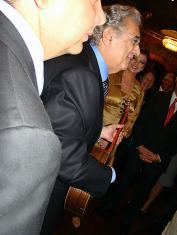 - report from the Sponsor's reception.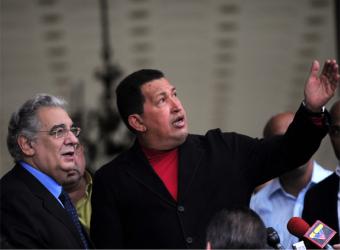 And of course, a visit to Caracas means a visit to Hugo Chavez:

Chávez: "Plácido es el mejor cantor del mundo"
El mandatario suramericano, afirmó sobre Domingo que "además de ser un gran cantor, es un hombre con una gran sensibilidad social" que está llevando su canto "a las bases populares"
Manifiesta Plácido Domingo admiración por música latinoamericana
Concert reviews!

Emociona Plácido Domingo a miles de caraqueños
En un ambiente de clima frío en la zona montañosa de Caracas, el tenor español Plácido Domingo emocionó anoche a miles de caraqueños, en una audición en la que interpretó áreas de ópera y canciones vernáculas...

...A invitación del maestro venezolano José Antonio Abreu, creador del movimiento Orquestas Sinfónicas Juveniles de Venezuela, Domingo tomó la batuta para dirigir el cuarto movimiento de la Quinta Sinfonía de Tchaikovsky.