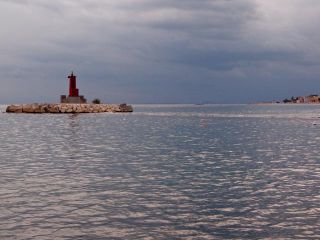 It wasn't exactly the most exciting holiday ever. Don't get me wrong, I thoroughly enjoyed it, but what is there to say when your objective of going away was achieved?
We didn't go and seek out high culture; we wanted to relax, Jimmy because he works too bloody hard, and me because I tire easily if I do the sightseeing too full on.
We swam in the sea almost every day, we had several good and a couple of very good meals, we had sex a few times, and we got out and about a bit. We never did get up in the mountains, and we forgot to go to the chocolate museum-factory. In fact, we didn't go to any museums, unless you count Alicante castle. For some inexplicable reason we didn't go out on any boats. Also, other than to change trams, we avoided Benidorm.
We actually stayed in Villajoyosa a laid-back town a few miles south of Benidorm. It wasn't exactly full of ritzy nightclubs, and, in some ways, coming to the end of the summer season, it was a bit dull. But that's the way we liked it.
We rented a flat a few metres from the beach, and spent most of the time just chilling. We never felt crowded on the beach - there was an absence of thud-thud music from public places; when two men (father and son, probably) started playing tableless ping-pong in front of us, I scared them off by laughing (FTW!).
There weren't really any water sports disturbing us - a few kitesurfers from time to time, and once a flotilla of jet-skis passed by. No aerobics on the beach, an almost complete absence of out-of-control kids, and nobody who wanted to impose themselves on us or use us to abate their loneliness.
We're currently thinking of returning next year, and exploring a bit more of the Costa Blanca. Jimmy's talking about going for three weeks and hiring a car for one week, to explore the mountains. I would like to see more of Calpe, and I suppose we ought to go to Benidorm at least once, if only to people-watch.
We did venture into Alicante, but although we enjoyed the castle, I don't think we will return there, other than for the airport or railway station. I have never found a place so badly sign-posted; considering its prosperity is built largely on tourism (including second homes) it isn't particularly tourist-friendly, and certainly not pedestrian-friendly. Ultimately, it's a historic town which has been ruined by intensive development, and it's a shame.
La Vila is different. The old town is the most attractive, somewhat reminiscent of Balamory. There is considerable sprawl beyond the old town, and that isn't much to look at. But where we were was charming - notwithstanding the roadworks! - and the beach is lovely. It's sandy - artificial we were told - and clean (dogs are not allowed, although that rule isn't entirely observed), and we loved swimming in the sea. Sometimes it was calm, but on other days there were rollers just big enough to be fun to jump in.
I took about 500 photos - some of them will be quickly rejected. I'm in no great hurry to edit them, but will do so over the weeks, and post one every day (or so - I do have quite a busy events diary for October, in addition to work, of course).