We went here on Saturday 21 January, just a very few weeks after it opened, and I think it has the potential to be a very good restaurant indeed. The decor and setting is pleasing - stupidly, I took no photos. I found the staff to be friendly, especially considering that I did have a grumpy turn, and the food was exquisite. So the fact that there was a mess-up with service won't deter me from returning. I have, however, read another review where the writer experienced a not dissimilar problem with service. Teething problems, I hope, because if it persists, it will detract significantly from a potentially superb place.
It is on Acre Lane, opposite the Grand Union (formerly Hope & Anchor) near the junction with KIngs Avenue, Clapham Park Road and Bedford Road, so neither Clapham nor Brixton, but a short hop from home (if one regards the 137/417 route as a hop!). Until  a few years ago the premises were a butcher's, and they appear to have used the space well: a bar when you enter, leading into the dining room at the back.
As an aide, but also an important observation, I am not sure Tapas works in England. My experience in Spain involves going into a bar where Tapas are served almost as a casual aside to an evening of drink and conversation, whereas my experience in England is plates called 'Tapas' being served as option or alternative to a main course. The only real difference is that 'main courses' are usually (not always) served as a complete product - protein, sauce, starch and veg, whereas a tapas dish is what it is. So, I ordered a fish dish, Jimmy ordered a meat dish and I said we'd share some patatas bravas & grilled vegetables.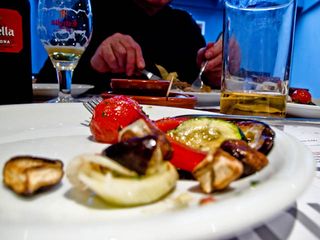 First the potatoes arrived, and, ravenously, we scoffed them. Only when they were finished did Jimmy's meat, and the vegetables arrive. I did enquire about my fish dish, which, eventually came only after Jimmy had finished his meat and the grilled vegetables had gone cold. It was explained that the fish takes time to prepare/cook. I'm more inclined to believe that the order was overlooked. Perhaps they assumed we wanted to share both protein dishes, one after the other, and it was a breakdown of understanding/culture. But they conceded that they're not serving them the authentic Spanish way; in future, I shall be clearer in how we intend to construct our meal. It's misery waiting for your main dish while your partner eats his - lest it go cold, as the vegetables did. I was offered a ham croquette on the house, which doesn't exactly do it for me, and they offered to replace the gone-cold veggies, but I had visions of my fish going cold as I waited for the veg! As it was, it went a bit tepid as we were discussing the issue.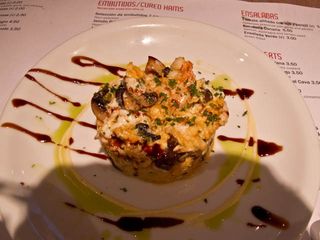 Fortunately, the Bacalao confitado was very nice, but Jimmy pointed out to me I had a long evening ahead of me in the cinema, and this would be my only meal of the day, so I then ordered revuelto de setas y langostino. I have to say this was the most exquisite egg dish I have ever tasted, and amongst the most beautiful dishes I can recall eating - it's basically scrambled egg with mushrooms and prawns, but so very different from what that phrase conjures up. A perfect blend of flavours, each complimenting the other, and just the right form and texture, neither too greasy nor too dry.
I finished with a Tarta de Santiago, essentially an almond tart. And that, too, was beautiful - a delicate melt-in-your-mouth texture with a robust flavour of almonds.
I can't comment on the wine, because, being mid-afternoon and ahead of a long operatic cinema evening, I chose to drink apple juice, while Jimmy had bottled beer.
To conclude, the staff were very friendly, and the decor is very nicely done. I can't forget the unfortunate hitch in service, or communication, but the food was so exceptional that it would be foolish not to return, perhaps for the Arroz Negro!