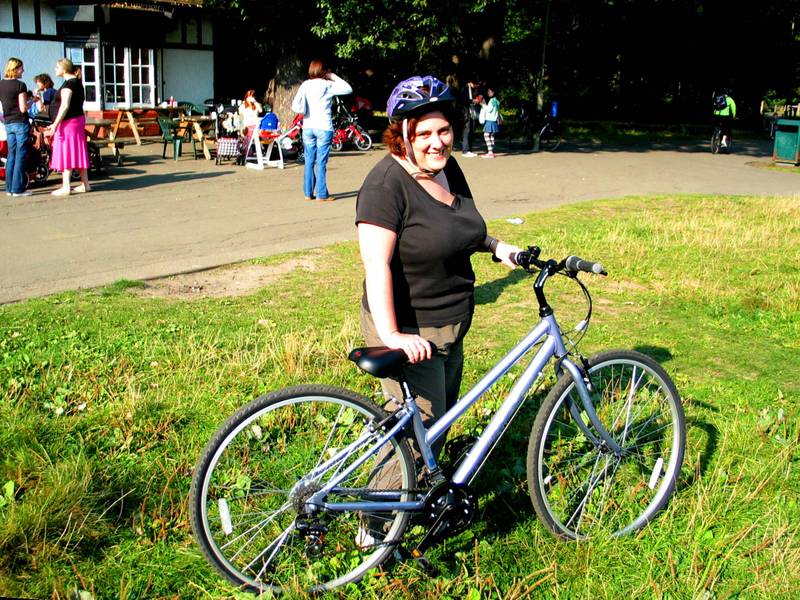 Buying a bike, you fill your head with all sorts of nonsense at how cheap it is. 'Less than two pound a week for a year'. Ridiculous, of course. I have so far bought the bare minimum of peripherals - locks, pump, puncture repair-kit. Not even lights, yet, although I intend to by the time the clocks go back. And the list of desirable, bordering on essential peripherals, is endless.
However, we have saved a small fortune on days out. The intention was, and remains, to use the bikes for travelling far afield. But we are frighteningly unfit. Last weekend we went to Streatham Hill station. I was shocked at how strenuous that was (there's a clue in the name!). But we got there. Only to find an absence of trains. So we changed our plans from "Richmond" to "local".
The weather has been a bonus. Not entirely surprising for the time of year - warm, sunny and dry - but better than anyone could reasonably have expected, especially after a lousy summer. We ended up in deepest darkest Streatham, which was a surprisingly pleasant ride. A couple of pints in the Pied Bull and a strenuous climb up Streatham Common allowed a long free-wheel home, well, until the last stretch, which is a slog up to the house (it's a climb from every direction, hopefully, before too much time passes, I can read this and mock myself at my almost inability to ride the final leg home!)
On Saturday we went to Clapham Common and decided to give The Windmill a miss; it was very busy, on account of the gorgeous weather. We cycled round the common and had been out only an hour when my chain came off. Now, this was a perfect example of how I have become a very pathetic girlie. It would have taken me seconds to replace the chain if I had applied my mind, rather than whingeing in a girlie way 'Jimmy, my chain's come off...'. They get you like that, blokes. Then five minutes later, I realised that I wasn't riding right and discovered I had a puncture. On the one occasion I had failed to bring out the pump or puncture repair kit. As far as Jimmy was concerned, the day was over. I suggested tentatively that he cycled home and back. As it only took him twenty minutes, that turned out to be a good idea.
It took us ages to repair the puncture. Or, rather, to get the pump to work. I was just about sussing it out when he decided he would take over. We had a conversation along the lines of, it won't stay in the hole, pump a bit harder, so I remarked, 'it's a bit like sex, this' to which he replied 'no, this takes longer'! Anyway, puncture repaired (it was caused by a bit of broken glass; Clapham Common seems to have way too much broken glass on too many tracks), we set off, and my bike gave off a big bang, which startled dozens of people all around. Don't know why, but the entire tyre had blown. I was not happy. I had the bright idea of walking down to Evans' on Clapham High Street and they fitted a new tyre, at not inconsiderable cost - although it was obvious that it was a far better quality than the one that had originally come with the bike. At Evans' they said "You'll be in next week for a matching one on the front".
I have to say that I was a bit pissed off. Punctures are inevitable and trivial, and I've mended plenty in my time, so I didn't expect a blow-out. I don't especially want to be getting new tyres too often (although the tread is wearing down significantly on the three remaining tyres on two bikes). We cycled across the common and down to the Nightingale, which I had never been in before, I don't think I've even been past!. It seemed decadent to be sitting outdoors as if it were summer, yet with the glorious autumnal light. And then back home. Miscommunication meant that we ended up cycling along the South Circular, which wasn't nice. The cars were fine, it was the encounter with first the coach then the articulated lorry that scared me. And the hill...
Yesterday we headed out round the back roads to Wandsworth Common. Neither of us has previously set foot on Wandsworth Common, so that was pleasant. Although it's not the most exciting Common in our area - it makes Clapham Common look exciting by contrast...maybe! Actually that's unfair, we stayed this side of the Railway Line, and the maps seem to indicated that there is more interesting stuff over the railway. We had planned our own route up going, and, other than crossing Balham Hill, it was fine. We even spotted a pub that neither of us knew existed, and might actually be the closest Youngs Pub to home, The Grove, so that might well be visited sometime. And we have been inspired to plan future outings round the existence of Young's pubs, of which there are gratifyingly many in South West London. On the way back we followed the 'official' cycle routes, which were inferior to mine - as well as taking us down roads with parked cars either side, we also had the dubious pleasure of passing Sainsburys, whose customers (Sunday afternoon) were characterised by a general sense of panic and despair, coupled with bad driving.
It was just so nice to sit for a while on the edge of Tooting Common, soaking up the sunshine, and watching the other people also taking advantage of a gorgeous day.