Celebrará Plácido Domingo 50 años de carrera artística en Guadalajara
This site says that the concert is 3 September; his site says 1 September.
Meanwhile, a week on Sunday, he conducts the Verdi Requiem for LA Opera's opening night, and the blogosphere offers up an insider's account of rehearsals
How many people get to say hello and exchange hugs with Placido Domingo on a regular basis? Well, I do. I don't think he knows my name but he is warm and friendly and likes pretty ladies and is always happy to see familiar faces....Today we were surprised that he took (led) the rehearsal....Placido took us through the entire piece, giving us his tempi and phrasing... He personally sang many of the solo lines in between the chorus sections. What a voice! It is still rich and full and beautiful even though he's past 60*. Amazing. He brings the singer's sensibility to conducting, with extreme sensitivity to the musical line and the meaning of the words. I realize what a gift it is to simply be in the presence of this great and wonderful world-class artist. The man *is* music. It's what he's made of.
And his site has a picture of the new statue in Mexico City.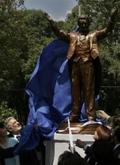 * and then some...