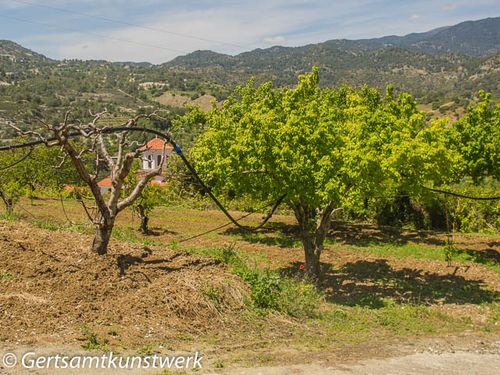 I suspect that one of the reasons I haven't been blogging is that I have hit a writer's block in respect of Cyprus. Like many people, I see the 'annual' holiday as one of the highlights of life, and also one of the highlights of photographing.
You spend a lot of money on the annual holiday. Flight and accommodation; airport transfers quickly add up. Eating out - and drinking - daily soon take up the savings made by not being in work. You raise your expectations, and it's annoying when they're not met.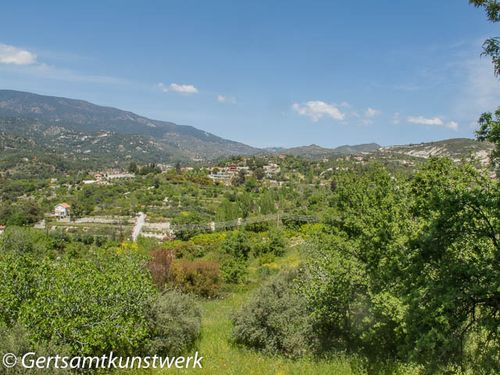 We spent most of the holiday on the beach, but also studied the weather forecast. So, we hired a card to see some sights. It seemed that one of the 'sights' highly recommended was 'The Mountains'. I had a chat with someone, a Yorkshire woman who had been to Cyprus before, and she pulled a face, implying that the 'mountains' weren't all that. I should have paid attention.
It was a long drive. Past Larnaca, and onto Nicosia, missing the turn off the motorway because there wasn't actually a sign for either the junction number or the road number. Eventually we reached the mountains. Okay, they were very nice, as all mountains are, but it's an awfully long way to go for nice mountains. I had suggested to the Yorkshire woman that she lives near to picturesque mountains; she gave me one of those looks which sort of implied 'I'm not going to ruin your enjoyment by my cynicism, but yes'.
We could have chosen to do a tour of vineyards. Actually, we could also choose to do a tour of vineyards in Sussex. You know the problem with that? You're utterly dependent on the car. What is the point of vineyard tour when one of you can't drink very much because of driving, and the other feels it's unfair to drink when the other is abstaining.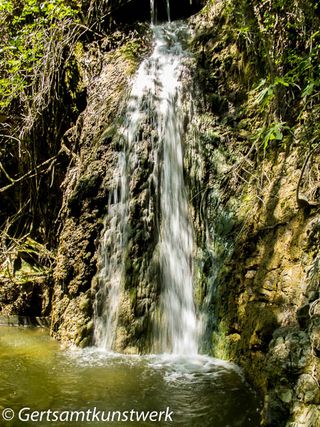 Probably the highlight was a visit to a waterfall.  It was utterly bizarre, but really rather fun. Enter through the cafe and walk down a treacherous path, uneven under foot, sometimes having to squeeze past people coming in the opposite direction, a certain amount of camaraderie. Except for Russians, of course, who look at you like you're a piece of dirt and fail to acknowledge that you've paused in (barely) a passing place. 
As you can see it wasn't much of a waterfall. Some of the attraction was the climb down through the wood, and at the bottom was a clearing with picnic tables. and I spotted a lizard.
Back at the top we were rewarded with coffee and more juicy tasty fruit than we could possibly eat.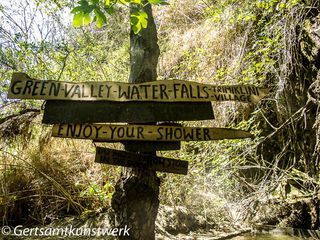 We carried on up the mountain pass, and stopped for lunch in Troodos. It was very nice but entirely predictable and samey samey just as where we were staying. And further up the mountain to Tourist Tat Central. Buy buy buy! Lots of tat! Guaranteed to weigh down your luggage on return. Hustle hustle hustle. Over priced refreshments. We could have had a horse ride, but other than that there wasn't much to do. There was the option of a shortish walk, and I suppose there was no reason why we couldn't have done it. We weren't exactly equipped for mountaineering, but we did have sensible shoes and layers, but neither of us was enthusiastic, thinking it was probably just a bit too much effort for...what?
I know travel is supposed to broaden the mind, but the more I go abroad, the more I yearn for England. I've never managed to get bored on an English holiday - generally running out of time to do everything on the list.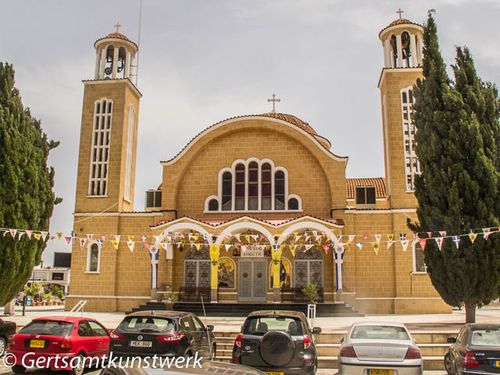 On the Sunday I realised that my phone charger cable had stopped working. A broken wire, I assumed. A quick google showed me a couple of electrical shops in Paralimni. So, a quick trip out. We stood at a bus stop waiting, with an older woman, who struck me as being a retired academic, holidaying alone - we'd seen her earlier in the car hire shop, planning a trip to the Baths of Aphrodite on the far west coast. The helpful car hire man gave her precise instructions to guard against snakes. A taxi driver stopped and offered to drive us into town - just as cheap as the bus - and by chance he dropped us right outside a CYTA (Cyprus Telecoms) shop, so mission accomplished. 
We took breakfast and wandered round the town centre. Not much to see; would have been nicer if it wasn't so utterly car dominated and designed for the dominance of the motor vehicle to the point of being unpleasant. I suppose we could have gone to the lake, but why bother, when we knew we had a good beach just a few minutes from our holiday flat?